/ Source: msnbc.com staff and news service reports
Republicans took a step Thursday toward a Senate confrontation over filibusters of President Bush's judicial nominees by advancing two of the White House's favored — and most controversial — candidates for prospective votes.
But private Republican polling shows scant support for a plan to stop minority Democrats from blocking such nominees, officials said Thursday.
By sending Texas judge Priscilla Owen and California judge Janice Rogers Brown to the full Senate for confirmation, GOP senators now have two of the candidates they want to use to challenge the Democrats' threat to filibuster U.S. appeals courts candidates. "We have now the vehicle. We have two qualified women. They have met every test," said Sen. Kay Bailey Hutchison, R-Texas.
Officials, speaking on condition of anonymity, said a recent survey taken for Senate Republicans showed 37 percent support for the GOP plan to deny Democrats the ability to filibuster judicial nominees, while 51 percent oppose.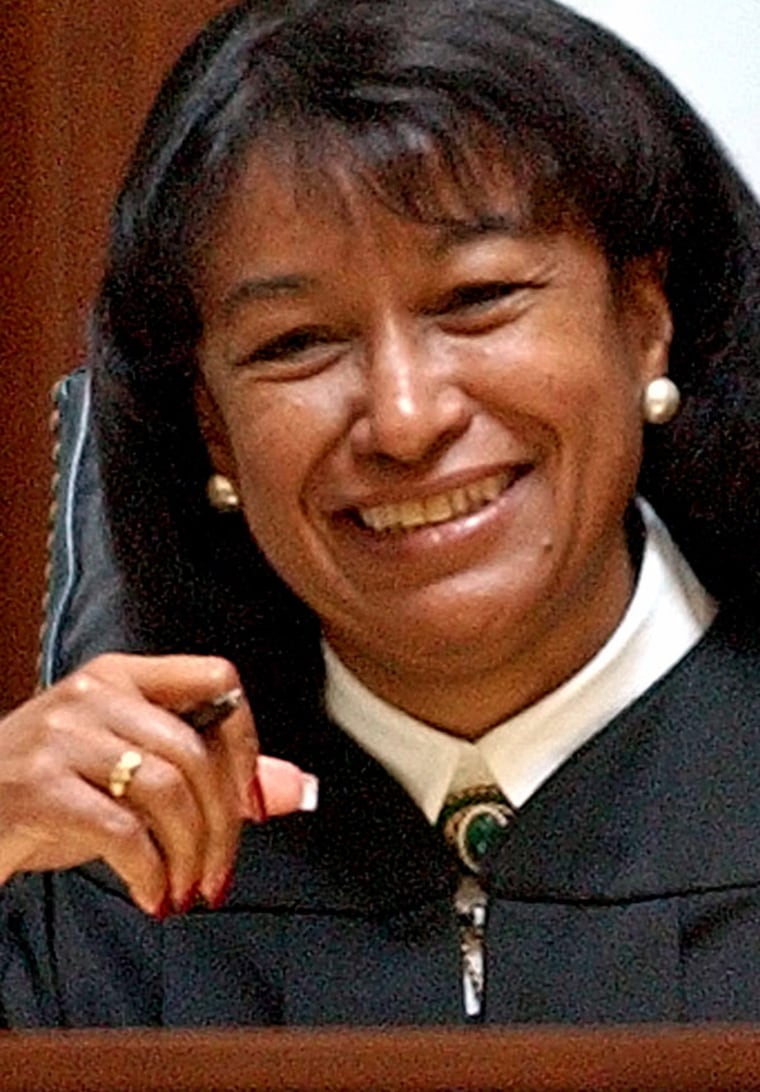 Additionally, the survey indicated only about 20 percent of Americans believe the Republican statement that Bush is the first president in history whose court appointees have been subjected to a filibuster, a tactic in which opponents can prevent a vote unless supporters gain 60 votes. The officials noted that the survey data has not been made public.
Owen is nominated for a seat on the 5th U.S. Circuit Court of Appeals in New Orleans; Brown is nominated to serve on the U.S. Circuit Court of Appeals in the District of Columbia. Democrats blocked them from lifetime seats on the nation's second highest courts during Bush's first term, but they were renominated by the president after he won a second term in November.
Dems expect clash with Frist
Democrats — who want to block the two women again — agree that a confrontation with Senate Majority Leader Bill Frist, R-Tenn., over whether to ban judicial filibusters is imminent following the strictly partisan votes in the Senate Judiciary Committee.
Republicans are "doing this as a prelude to setting up the greatest constitutional crisis that the Senate has faced," said Sen. Charles Schumer, D-N.Y.
Frist has threatened to ban judicial filibusters to stop Democrats from blocking nominees, which Republicans say is against Senate tradition. It requires 60 votes in the Senate to overcome a filibuster, but only 51 votes to ultimately ban the procedure.
Senate Democratic leader Harry Reid has vowed to slow or halt Senate action on much routine business if the GOP bans judicial filibusters and forces up-or-down votes in which nominees could be confirmed by a bare majority.
Some Republicans uncommitted
Frist has been working to secure the 50 votes he needs from his 55-member Republican caucus to make the rules change. At least a half-dozen Republicans have not yet committed to his plan.
GOP Conference chairman Rick Santorum, R-Pa., denied reports that he has urged Frist to go slow on the rules change and he said he is still behind getting all of Bush's judicial nominees confirmed. "As far as the timing, that's up to the majority leader," he said.
Another of Bush's 10 blocked nominees, Idaho lawyer William Myers, already has been approved by the Judiciary Committee. But conservatives would rather see the final showdown come over Brown, Owen or U.S. Appeals Judge William Pryor, who was given a temporary appointment by Bush after he was blocked by Democrats.
The Judiciary Committee is expected to advance Pryor's nomination next week.
Conservatives during the last Congress accused Democrats of being anti-minority for blocking Brown, who is black; anti-women for blocking Owen, and anti-Catholic for blocking Pryor.
Activists plan a similar tactic this year, with Frist planning to deliver a taped message to Christian conservatives on April 24 saying Democrats are "against people of faith" for blocking Bush's nominees.
Democrats: Nominees are activists
Democrats have condemned those attacks, saying they will block the nominees because they are too conservative, calling them judicial activists who should be stopped before they get lifetime appointments.
"The nomination of Janice Rogers Brown is a prime example of a nominee who sees the federal bench as a platform to advance her own extremist views," said Sen. Edward Kennedy, D-Mass.
And Owen "is an example of a judge who is very eager to make law from the bench," said Sen. Patrick Leahy of Vermont, the Judiciary Committee's top Democrat.
Republicans defended Owen and Brown, saying they were fine judges and that Democrats broke with Senate tradition by threatening to filibuster their nominations.
Owen "deserves to be confirmed and she deserves the professional courtesy of an up-or-down vote," said Sen. John Cornyn, R-Texas, who served with Owen on the Texas Supreme Court.
GOP Sen. Jeff Sessions of Alabama, Brown's home state, said Brown was the type of judge the country needs, who has "a reverence for our Constitution, who will approach these issues with independence, an open mind, a lot of common sense, a willingness to work hard and an ability to communicate clearly and effectively."
Brown now serves on the California Supreme Court.