/ Source: Arthur Frommer's Budget Travel
This issue's winner is Jessica Drollette, of Tahoe City, Calif. Her prize: a six-night trip to Malta, courtesy of Amelia International. On a four-week bicycle tour from San Diego to Cabo San Lucas, my boyfriend and I always got a friendly welcome from the locals. In La Paz, we met a barber and avid cyclist who invited us to spend the night; he wouldn't take no for an answer. His wife, however, was sick and tired of stinky cyclists in her house and politely said, "Absolutely not." So instead of the guest bedroom, we slept on the floor of the barber's shop. We loved it! It was clean, and the barber visited with us late into the night as we shared cycling stories and practiced our Spanish.
When you get seized by the Portuguese, you'll know it
On a cruise from Boston to Canada, my husband and I didn't know that our ship was in bankruptcy proceedings. On our fifth night, the ship turned around and began heading toward Nova Scotia. The captain, who spoke fairly limited English, made an announcement that we had been "seized by the Portuguese," and we were not being allowed to return to the United States. When did we go to war with Portugal? I thought to myself. After much confusion, we realized that the captain had intended to say we'd been seized by the mortgagees and the cruise line was doing what it could to save the ship. —Donna Chita, Blackstone, Mass.
Perhaps he was showing off his "WWJD" bracelet
Moving from California to Washington, D.C., after college was a big step for me, so I thought, Why not discover what lies between the two coasts and drive cross-country? My best friend and I packed up a big brown van and headed east. Just when we hit Oklahoma, we saw a bumper sticker that said HONK IF YOU LOVE JESUS. Excited to see some actual Bible action in the Bible Belt, I honked the horn with great zeal. To our surprise, the driver rolled down the car window and gave us the finger. —Stina Skewes-Cox, Washington, D.C.
It takes a kiwi to make polystyrene sound cute
My husband and I rented a car to visit remote areas of the South Island of New Zealand. Along the way, we stopped at a store to buy a Styrofoam cooler for our drinks and sandwiches. Suddenly, I wondered if I had landed in an alternate existence. Here were people who looked like me and spoke the same language but had no clue what I was asking for. With wide eyes, the lady at the counter indicated I should wait, then she ran from the store. After a few minutes, she returned with a man who asked if he could help. Again I requested a Styrofoam cooler. "Ah, yes, you'll be wanting a polystyrene chilly bin." Who would've thought you'd need a translator in New Zealand? —Stacy Ewing, Denton, Md.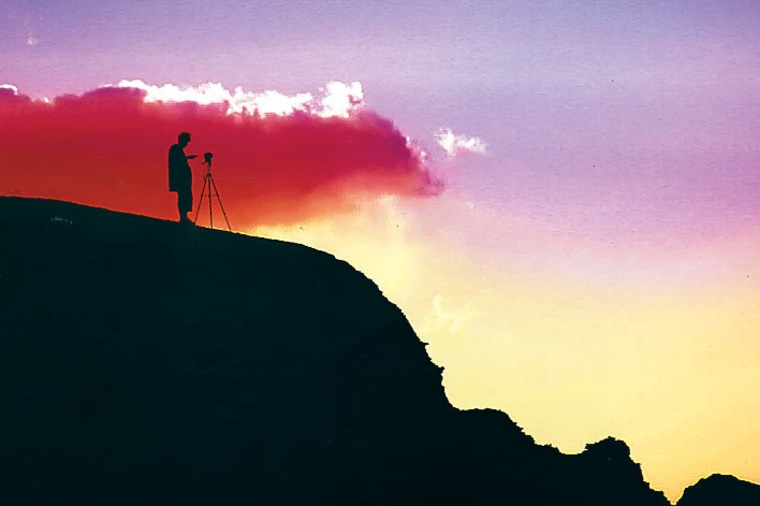 Camels? Haggling? Monty hall would definitely be pleased
Having argued for more than an hour over a lower price for a camel ride around the pyramids outside Cairo, I felt exceedingly proud that I'd gotten my stubborn guide's $20 price reduced to $10. Upon returning from my ride of a lifetime, I patiently waited for the guide to cue the camel to lower me down. Finally tired of the delay, I asked him if he would let me down—to which he angrily replied, "Ten dollars to ride on camel, ten dollars to get off!" —Suzanne Murrell, Orlando, Fla.
One woman's disappointment is another woman's relief
My friend and I wanted to try some new and unusual things while in New Orleans. Perusing the paper, we came across an ad for a "bottomless brunch" at Lucky Cheng's. We'd heard the restaurant employed waiters who were men dressed as women, and we were curious how they could pass themselves off while going bottomless. When we arrived, a fully clothed, attractive transvestite approached our table and asked if we wanted a glass of champagne. A bit perplexed, I went ahead and said, "You advertised a bottomless brunch, but we see you are clothed." The waiter laughed and told us that "bottomless brunch" meant our champagne glasses would never be empty. Not the adventure we had imagined, but fun nonetheless. —Louise Minnick, San Francisco, Calif.
Gross food story of the month
On a recent trip to Iceland, I stayed in a lovely hotel in Reykjavík that included a lavish breakfast buffet. The first morning, I was unable to find fruit juice and concluded that it was probably difficult to obtain in that part of the world. Spotting a glass pitcher with tiny juice glasses, I thought I'd found apple juice. Having filled the little glass, I took it to my table and started breakfast with my first dose of cod liver oil since my childhood in Scotland. No wonder the Icelanders are so healthy and attractive. I, unfortunately, had seal's breath the rest of the day. —Marion Hopkins, Aurora, Colo.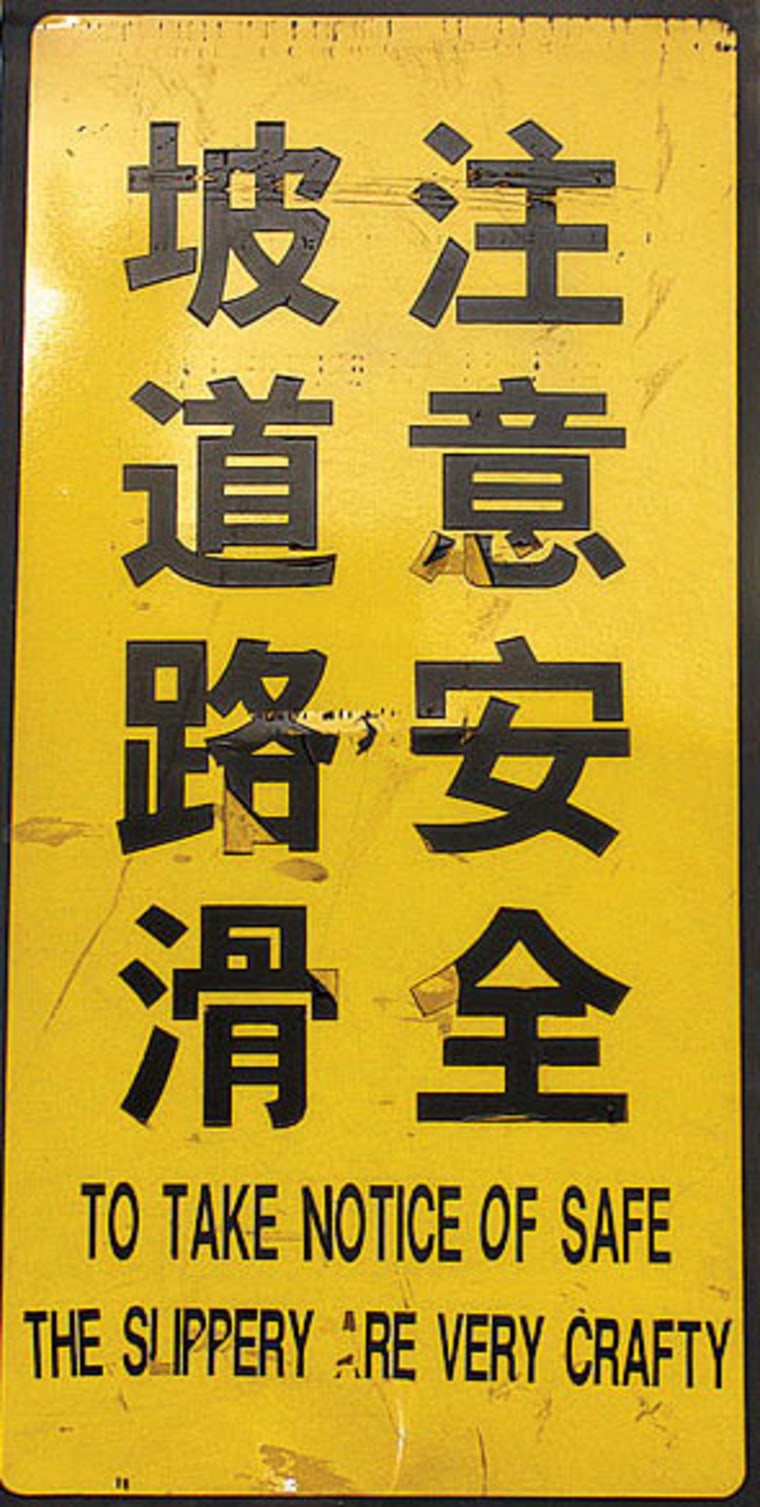 You might like lucky Cheng's
While dining at Bobby Chinn's Restaurant in Hanoi, Vietnam, my wife ordered—unbeknownst to me—a side dish called, "We tell you that you are beautiful all night long." (It was listed on the menu as a side dish, right above the green salad, for $2.) When the waiter brought our food, he paused, looked me in the eye, and, much to my surprise, told me that I was beautiful. This continued for the entire meal. Between the waiter, busboy, and bartender I was told no less than 10 times that I was beautiful. The food and service were hands down the best we had in Vietnam. My only complaint: I wish that we'd had a waitress! —Jason Mullin, Chicago, Ill.
Bambi the barbarian
Friends and I visited Nara Park while vacationing in Japan. There were hundreds of free-roaming deer, so I purchased wafers to feed them. Everything started out nice and peaceful, but they soon began to get aggressive, nudging, biting, and pushing me. Fear kicked in, and I ended up throwing the wafers in the air and running as far away from the animals as I could.—Hideka Suzuki, San Francisco, Calif.
It's one thing to lie about grapefruit, but holy water?!
Traveling in Israel, we rode a bus that was passing through orchards of grapefruits the size of mini-basketballs. A fellow passenger asked what I thought was growing on the trees. Seeing as how we were being served fresh grapefruit and juice at every hotel on our tour, I was a bit surprised. Struggling to keep a straight face—I was wearing my clerical collar—I said they were olives and that they were placed on drying racks where they'd shrink and turn black. Soon we stopped along the Jordan River to fill plastic bottles with water. She asked me why our group wanted it, and again I couldn't resist. I explained that since this was special water from the Holy Land, if she added it to the water under her Christmas tree, the tree would stay alive and green for several years. I watched her buying dozens of bottles to fill with the water for her friends back home. —Rev. Robert Neubauer, Farmington, N.M.
Speaking of grapefruit…
I was sunbathing on the Greek island of Zakinthos, where I'd grown unaccustomed to hearing English. "I say," I heard, my ears eagerly perking up. "Rather like two bald-headed men sleeping together under a blanket." And then I saw that two British men were looking down at me, commenting on my 42 DDD full figure in a bathing suit.—Gloria Cichy, Chicago, Ill.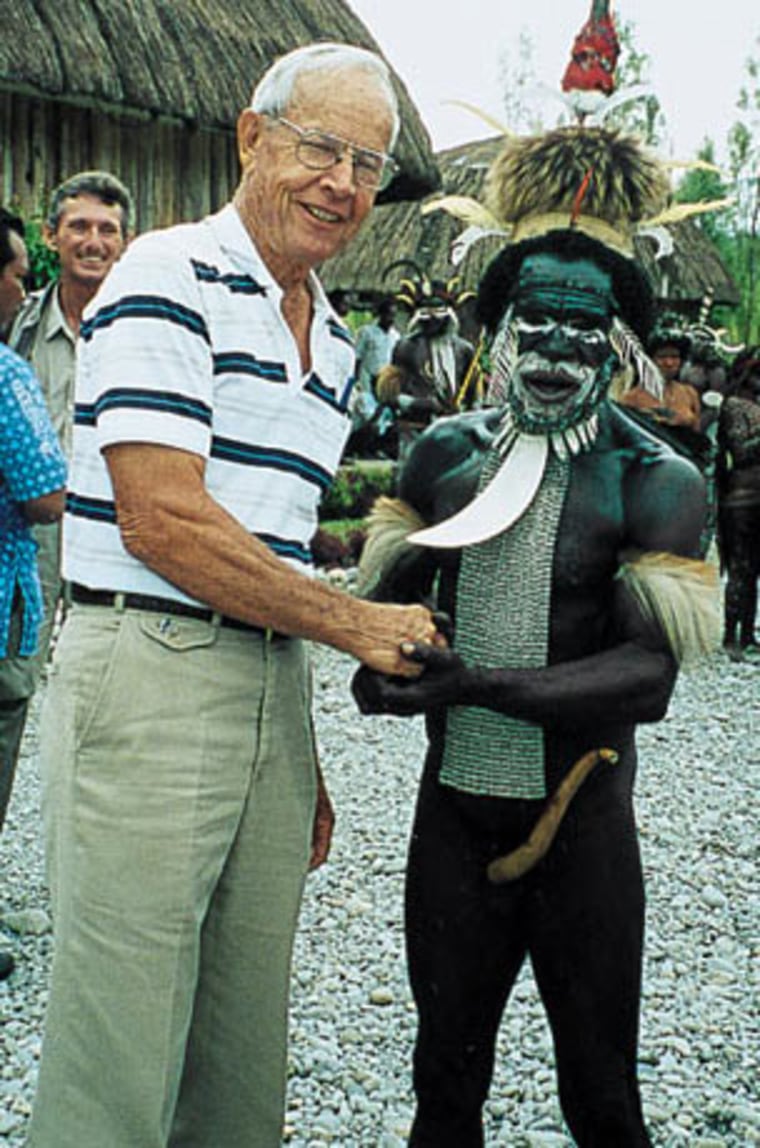 In Peru, thumbs-up means "the dude is out of money"
The local children had been polite but eager salesmen everywhere my husband Charlie and I went in Peru. So when we reached the hotel on our last day, my eyes didn't linger on the little boys clamoring for our attention. Charlie, however, dug into his pockets for our dwindling Peruvian soles, much to their delight. A short time later, Charlie and the boys sneaked past the doorman and rested together in the lobby as we waited for our flight home. Our last photo revealed them signaling "hook 'em horns" and "thumbs-up"—tired but happy, just boys being boys even though our soles were long gone.—Jennifer Hann, Jonesborough, Tenn.
Coming soon to a theater near you: whatever happened to baby doris?
Celebrating my husband's 50th birthday with a two-week trip to Italy was absolutely wonderful, even with our 3-year-old daughter Waverly as a travel companion. However, Waverly's own travel companion—her doll Baby Doris—gave us a few problems. After arriving in Milan before our flight home the next day, we unloaded the taxi as Waverly searched frantically for Baby Doris. Our lackadaisical, travel-weary comments consisted of "Waverly, you lost the baby!" and "The baby was the one thing you had to keep your eye on, and you lost it!" The driver gave us a few strange looks before finally exclaiming, "A baby doll! I thought you were looking for a real baby!" He was so relieved that it wasn't a real baby he drove back to the airport and fetched Baby Doris from the rental office where Waverly had forgotten it.—Lisa Williams, Elizabethtown, Ky.