Senate Majority Leader Bill Frist ruled out Tuesday a deal with Democrats on confirming some of President Bush's judicial nominees whom they'd blocked last year, in return for other nominees' being withdrawn.
Democratic sources had floated the idea Monday of a potential trade-off.
"My goal is to have fair up-or-down votes on judicial nominees," he told reporters at a morning briefing.  When reporters asked about a compromise, Frist said, "if the question is 'are you going to shift from that principle (of up-or-down votes on nominees), the answer is no."
Frist said he would not ask President Bush to withdraw any of his nominees to the federal bench. He added, "At the end of the day, one will be left standing — the Constitution, which allows up-or-down votes — or the filibuster."
In 2003 and 2004 Democrats used filibuster threats to block votes on 10 Bush appeals court nominees; they have allowed 34 to be confirmed. They have also allowed 171 Bush district court nominees to be confirmed.
Frist said he was continuing his discussions with Senate Democratic Leader Harry Reid in an effort to avert a showdown over Frist's proposal to end filibusters of judicial nominees with a majority of 51 votes, rather than the 60 needed under current Senate rules.
Rove huddles with GOP senators
At noon Tuesday, Bush's political strategist Karl Rove huddled with Republican leaders in the office of Senate GOP whip Mitch McConnell, but Rove made no comment as he left the meeting and Republican leaders gave no indication as to when Frist would bring the issue to a floor vote.
Reacting Tuesday afternoon, Reid defended the use of filibusters to stop Bush's judicial nominees and accused Frist of displaying "the arrogance of power" by seeking to lower the filibuster threshold.
Reid said he had proposed a compromise to Frist, but revealed few of its details.
He indicated that his proposed compromise would require Bush giving Democratic senators "a meaningful say" in picking judicial nominees who would serve in their home states.
Sen. Trent Lott, R- Miss. a key vote counter on the filibuster issue, emphatically rejected the idea of giving Democrats some say in picking Bush's judicial nominees.
"Hey, man, we had an election. Did they miss it?" Lott asked. "Their man lost, Bush won, and we're not going to start letting pools (of nominees) be presented from which the Senate will choose. No, under the Constitution the president makes that recommendation, he alone."
Reid insists on keeping filibuster
For his part, Reid warned that any accord was contingent on Frist's commitment to not seek a change in the filibuster rule.
Democrats would still want the filibuster to be handy if they needed it to block a Bush Supreme Court nomination.
"I'm told he (Frist) issued a statement that there will be no compromise. See, I don't believe that. I think the wires have crossed here somewhere," Reid said.
A lobbyist for a conservative advocacy group, who spoke on condition that he not be identified by name, told MSNBC.com Tuesday said, "We know the vote margin (on changing the filibuster rule) is very, very small. We don't want to handcuff Frist" by publicly pressuring him.
But he said at some point in May or early June as the potential announcement of a Supreme Court vacancy nears, conservative activists would go public with criticism of Frist if he did not bring the issue to a vote.
He also said some conservatives were puzzled and frustrated that groups such as the National Rifle Association and the Chamber of Commerce had not joined the fray by running ads supporting Frist's proposed filibuster change.
One key uncommitted vote on Frist's proposal, Sen. John Sununu, R- N.H. said he is speaking with Democratic and Republican senators — "more than three of each" — to seek an accord that would allow up-or-down votes on Bush's nominees.
"The current situation, where we've established a de facto threshold of 60 votes for appeals court and Supreme Court nominees is not tenable," Sununu said. "Democrats as well as Republicans understand this current environment, where we have a 60-vote threshold, is not keeping with his precedent and it's not sustainable."
He said that although Americans generally are not experts on the Senate's rules, "the vast majority of the people in the country think that nominees should get an up-or-down vote. I think they see that as basic fairness."
Super-majority required?
Democratic leaders have maintained that for the nominees they find objectionable, or "way off the deep end," as Sen. Charles Schumer, D- N.Y, has phrased it, there ought to be a de facto super-majority requirement of 60 votes, not 51.
"If you appoint a lifetime judge who has huge powers, there ought to at least be a strong leaning that they have some bipartisan support, that they have broader support than just 51-49," Schumer said two weeks ago.
One of Bush's appeals court nominees, California Supreme Court Justice Janice Rogers Brown, supplied some fodder for her critics with her comments over the weekend, some of her supporters acknowledged.
"There seems to have been no time since the Civil War that this country was so bitterly divided. It's not a shooting war, but it is a war," she said, according to a reports of her remarks in the Stamford, Conn. Advocate newspaper.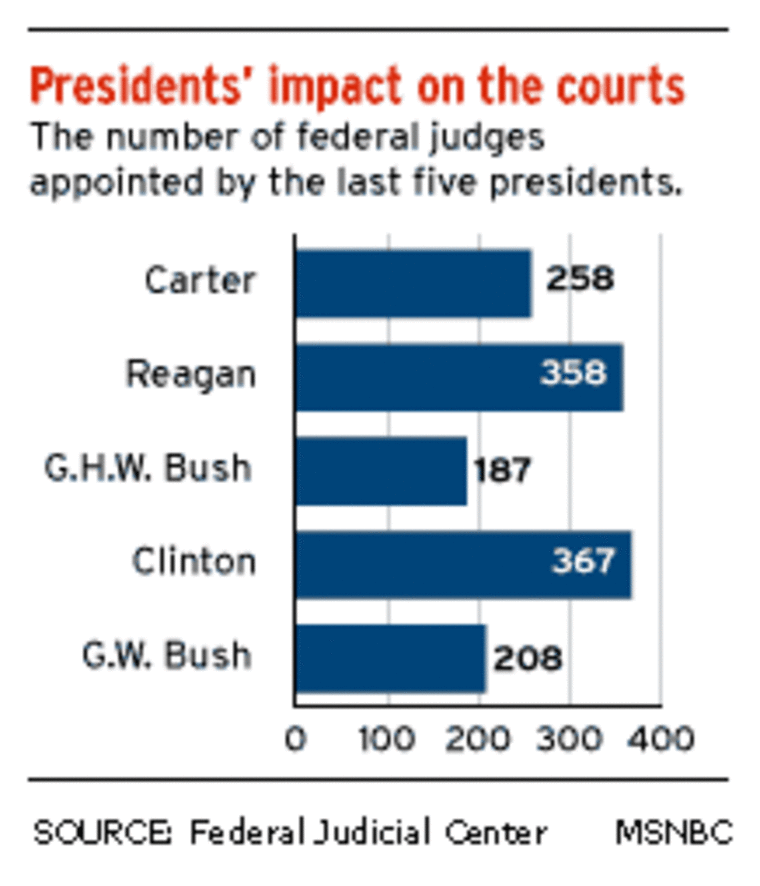 "These are perilous times for people of faith," she said, "not in the sense that we are going to lose our lives, but in the sense that it will cost you something if you are a person of faith who stands up for what you believe in…"
The possible deal on judges bruited Monday would have involved Bush's nominees to the bench in the Sixth Circuit, which covers Michigan. A long-running feud over two unconfirmed Clinton judicial nominees going back to 1997 has stymied action in that circuit.
But even if the two sides could agree to a swap on the Michigan judges, that would leave unresolved the fate of the most contentious nominees to the appeals court in District of Columbia circuit, Brown and Brett Kavanaugh, as well as Judge Bill Pryor in Alabama, who was given a recess appointment by Bush in 2004 after his nomination was blocked by filibuster threats, and Texas state Supreme Court Judge Priscilla Owen in Texas.
Bush first nominated Owen to the federal bench four years ago, on May 9, 2001, but Democrats defeated four attempts to bring her nomination to an up-or-down vote.
It is almost unthinkable that Democrats would relent in their opposition to Pryor, Owen, Kavanaugh and Brown.
A Washington Post/ ABC News poll released Monday found that 66 percent of those interviewed opposed "changing Senate rules to make it easier for Republicans to confirm Bush's judicial nominees."
GOP senators assailed the poll's methodology.
"The Washington Post phrased the question in a very biased and slanted way, presenting this as a partisan effort simply to move President Bush's nominees through, rather than an effort to give nominees a fair, up-or-down vote" complained Sununu.
The framing of the issue as "a fair, up-or-down vote," Republican strategists believe, is the most advantageous one for them in making their case to the American people. 
Asked to assess how well the Republicans had done so far in framing the issue, Sen. John Cornyn, R- Texas told reporters, Tuesday, "We've got some work to do. The other side beat us out of the starting blocks by a couple of weeks."