Sometimes you get to try a product that stands out in your mind. It might be because it's really good or because there's something very unusual about it. Motorola's A780 smartphone stands out because it's not only really good, but it's also very unusual in a number of ways.
First of all, it's nicely balanced. This is one smartphone that feels great in your hand.  By my simple measurements it's 4.25 by 2 by 0.875 inches and weighs just shy of 5 ounces. 
It also comes loaded with features: The A780 is a quad-band, GSM world phone for use on the 850, 900, 1,800 and 1,900 MHz bands. For data, it operates on GPRS and the somewhat speedier EDGE network.
There's a 312 MHz CPU inside along with 48 MB of internal memory.  The phone also supports the unbelievably tiny TransFlash cards (think in terms of a pinky fingernail that can hold up to 256 MB) and USB mass storage. On the back of the phone is a 1.3 mega pixel camera with 8x digital zoom. It handles 1280 by 1024 pixel stills and 176 by 144 pixel video (2 hours continuous).
A document viewer supports Adobe PDF, Microsoft® Word, Excel and PowerPoint formats, with Real Player on hand to support pretty much every media format you can think of: MP3, WMA, RealAudio, MIDI, WAV, AAC, AMR, RealVideo, MPEG4, H.263 and video streaming.
There's Bluetooth, and Java, and for alphabet soup fans this phone also supports MMS, SMS, WAP, WML, xHTML, GPPRS, POP3, SMTP and IMAP4. It also handles voice commands (Digit Dial, SMS text to speech, Command Recognition) and has a speakerphone function. Other software includes the Opera Web browser, a calendar, a world clock and alarm, file management programs -- the list goes on.
Depending on how much you use your phone and all its features the standard lithium-ion battery will provide 3-6 hours of talk time and 110-180 hours of standby.
Effortless switch from phone to PDA
On the outside, the A780 looks like many other handsets. Lift the keypad, however, and you're greeted by a terrific 240 by 320 pixel color touch-screen which supports handwriting recognition.
When closed, the A780 looks and acts just like a cell phone, which is always welcome relief from other phones where you waste time trying to figure out where the number and function buttons might be hiding.  No surprises here.
When the keypad is open, you can use your fingers if you like to get the screen all smudgy — or you can navigate everything with the included stylus. There are two other pointing/navigation devices: a rocker switch on the left side and the 5-way key (like a clickable joystick) on the front.
The interface is somewhat familiar looking, uncluttered and easy to understand.  It resembles a Microsoft-based smartphone's home screen more than a Palm Treo or Nokia's Symbian OS.  Icons on top and bottom are neat and easy to navigate.
Overall, using the A780 was a terrific experience. The smartphone did everything I asked it to — including the ability to handle my MSNBC e-mail. Normally, I'd mention that in passing because it's no big deal. But in this case it is.
That's because the A780 runs on the Linux operating system, not usually very compatible with anything Microsoft. But Motorola has also licensed Microsoft's Exchange Server ActiveSync software. That means this phone can synchronize over-the-air with my MSNBC e-mail, calendar and phone book entries.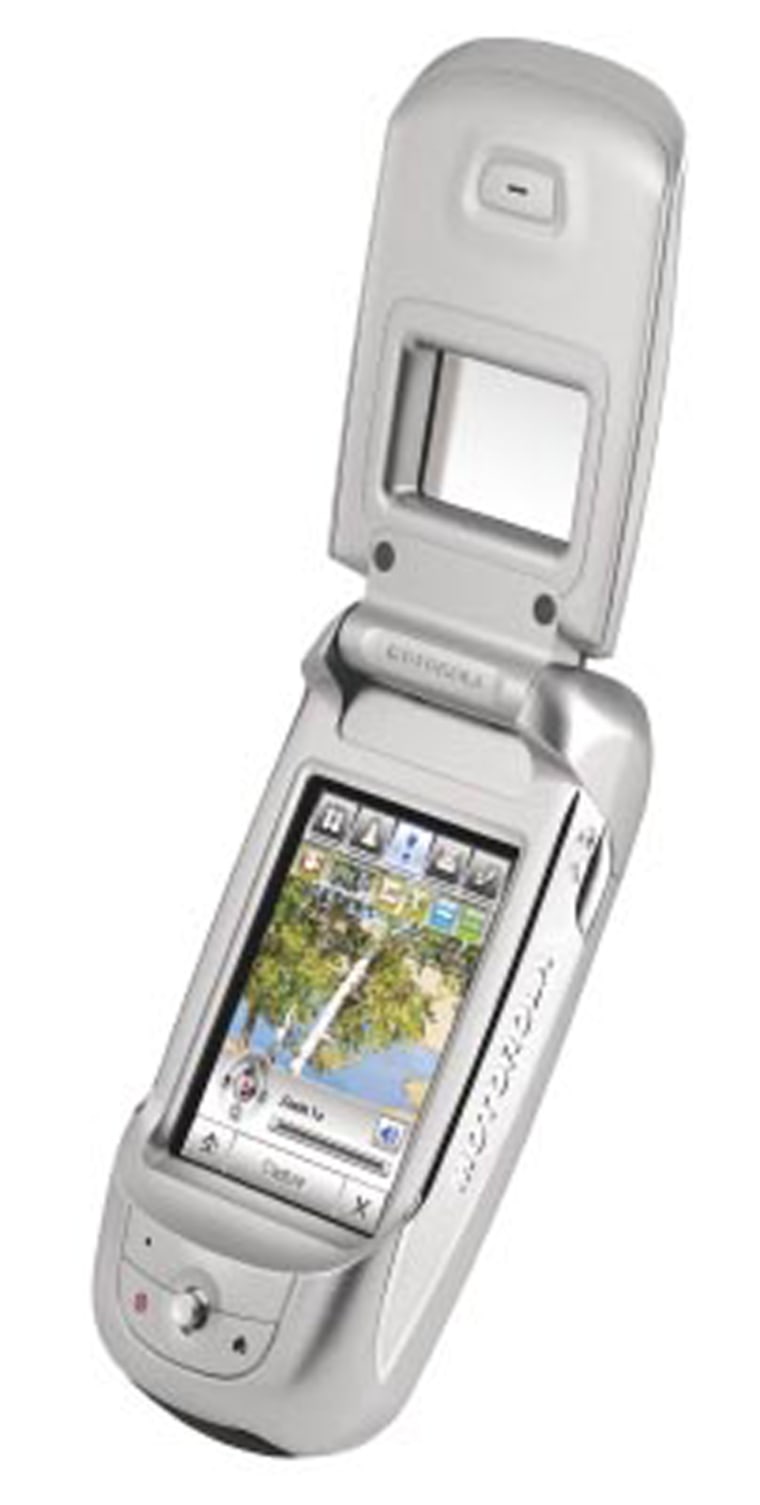 It's not perfect — one or two settings aren't 100 percent compatible with the MSNBC e-mail system — but for the most part, the A780 syncs when I ask it to.
Motorola planned for this model to be marketed in the Far East, not here in North America. That's too bad, we deserve the chance to have such a good product. I figure, if word gets out, U.S. cellular carriers will be fighting over the right to sell it here.
The A780 is not totally unavailable here. You can go online and spend a lot of money ($580) for an unlocked handset. Then you're on your own trying to figure out how to get it to work with your SIM card and your U.S. carrier's network. It would be a lot easier — and cheaper — if a carrier would market it here.
Competition is a good thing.  So is the A780.  I hope the right people are listening.