/ Source: The Associated Press
The son of Togo's late dictator won a resounding victory in a presidential election, sending enraged opposition supporters into the streets Tuesday, where they built flaming barricades and used machetes and nail-studded clubs to battle police and soldiers.
Faure Gnassingbe won 1.3 million votes, or 60 percent, while main opposition candidate Bob Akitani took 841,000, or 38 percent, electoral commission Chairwoman Kissem Tchangai Walla said.
Sunday's balloting in this impoverished West African nation was marred by violence and allegations of vote-tampering.
The military had installed Gnassingbe as president shortly after his father, Gnassingbe Eyadema, died of a heart attack Feb. 5. Eyadema's 38 years in power had made him Africa's longest-ruling dictator. Amid heavy international pressure, the 39-year old son agreed to an election.
'Freedom for Togo!'
After the results were announced, mobs of young men raged across the capital of Lome, setting stacks of tires ablaze and unleashing plumes of smoke that darkened the horizon. Through the afternoon, security forces with tear gas and concussion grenades scattered the protesters.
"Freedom for Togo!" they shouted, taunting police through clouds of tear gas. "Come and take us!"
An Associated Press reporter saw two men who had been shot and saw several soldiers beat a suspected looter with clubs, kicking him in the head once he fell.
The young man's mother ran onto the scene, stripping naked in protest and wailing: "Oh God, they're going to kill him!" As the boy was loaded into a military truck, she screamed, "Please don't take my son!" and the man was later released.
It wasn't immediately clear how many people had been hurt in the clashes.
Stores, Chinese mission attacked
Shops belonging to Lebanese merchants were looted and merchandise strewn in the streets. Windows of the Chinese Embassy were smashed in by rocks, and nervous guards peeked through slits in the gate.
Opposition party officials had urged supporters to protest the election results.
"Faure can't win this election and everyone knows it," Jean-Pierre Fabre, secretary general of Akitani's political party, told Radio France Internationale.
"The opposition is calling all its members to react and to stop this from happening," he said, without specifying what actions supporters should take.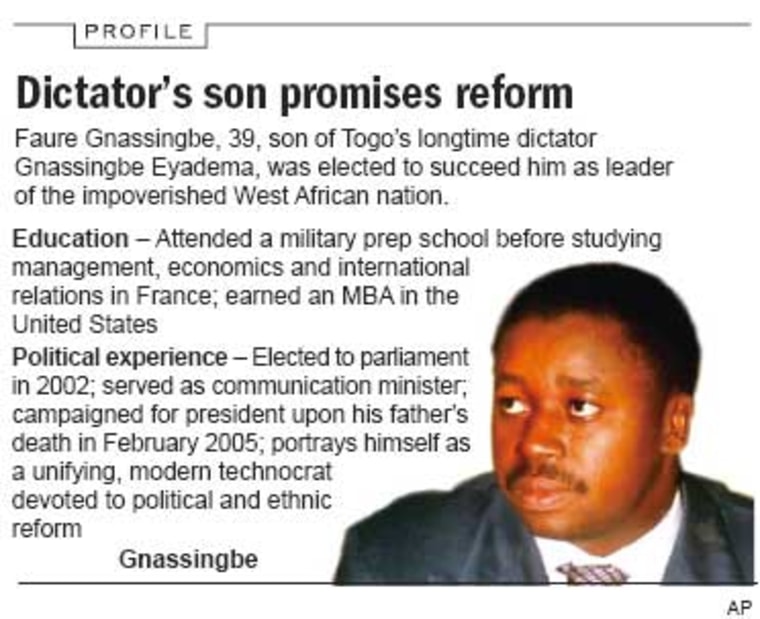 Hundreds of opposition supporters rioted Sunday, angry at reports that the ruling party stole ballot boxes or stuffed them with votes for Gnassingbe. A foreign diplomat said three men were shot to death near Lome's airport, but it was unclear by whom.
Akitani went into hiding as the voting took place, saying he feared for his life, and his whereabouts were not known.
The U.S. Embassy had six teams of observers in the field, according to State Department spokesman Adam Ereli. There was no immediate word on their findings.
ECOWAS: Election was fair
A spokeswoman for the 15-nation Economic Community of West African States, which had 127 observers in Togo, declared the elections fair, saying votes uncounted amid violence Sunday in Lome weren't enough to cause concern.
"The polls satisfy the criteria of credibility and international standards," Adrienne Diop, a spokeswoman for the regional body, said Tuesday.
Walla said the results must be certified by Togo's constitutional court in coming weeks but are considered the final tally.
In the opposition ghetto of Be, often the scene of clashes between demonstrators and police, giant trees had been felled to block the roads.
Hundreds of men rallied around burning tires and garbage, raking machetes across the pavement and hurling stones at soldiers with slingshots.
Sturdy resistance
"We're waiting for the opposition to bring us guns," said Felix Mensah, 39. "We cannot accept another Gnassingbe in power. Only guns will balance this fight."
Gnassingbe and a senior figure from Akitani's party had agreed Monday in nearby Nigeria that whoever won would form a government of national unity. Nigeria was among the West African nations that had intervened to ensure a democratic succession in Togo and now do not want to see their efforts destroyed by violence.
Gnassingbe had campaigned on a platform of national unity, promising to bring together the country's political parties, long divided by distrust and suspicion under Eyadema.
Despite his efforts to escape his negative legacy, many fear Gnassingbe is only a pawn of his father's political machine, which has left the country of 5 million in economic shambles.