/ Source: msnbc.com news services
Beijing will lift restrictions on Chinese tourists going to Taiwan and is offering the island a pair of giant pandas in a show of goodwill at the end of a visit by Taiwan opposition leader Lien Chan.
China has also offered to scrap tariffs on more than 10 kinds of fruit from Taiwan and allow imports of six more fruit species, bringing the total to 18, Xinhua news agency said on Tuesday.
Before leaving Shanghai for Taipei on Tuesday, Lien said the gestures from Beijing were good for cross-Straits ties, Xinhua  reported.
'Clear gestures of affinity'
The decision to scrap fruit tariffs and allow more varieties into the mainland "is of great significance to farmers in the central and southern parts of Taiwan. The KMT will actively facilitate the issue once we're back in Taiwan," Lien said.
Lien is the first chairman of the Kuomintang (KMT), or Nationalist Party, to set foot on mainland China since 1949 when the Communists swept to power and the KMT fled to Taiwan.
But the fate of what Xinhua called "clear gestures of affinity" toward Taiwan is in the hands of the island's government under independence-minded President Chen Shui-bian.
Critics say Lien's visit aided Beijing's divide-and-conquer strategy to isolate and undermine Chen.
Beijing considers Taiwan part of China and has vowed to bring it back into the fold. China's parliament passed an anti-secession law in March authorizing the use of force against Taiwan if it moves toward independence.
Taipei extends invitation, China rebuffs
In the wake of his political rival's visit to the mainland, Taiwan's pro-independence leader Chen said he hoped Chinese President Hu Jintao could visit Taipei.
"I hope he can come to see for himself whether Taiwan is a sovereign, independent country, and what our 23 million people have in mind," Chen said.
"They said they put their hopes on the Taiwanese people. We will have nothing to hide. We have no stereotypes, no media control," he told reporters in an interview broadcast by CTI cable television.
But China said Tuesday it wouldn't talk to Chen until his ruling party dropped a clause in its party constitution calling for formal independence for the island.
Wang Zaixi, a spokesman for the ruling Communist Party's Taiwan Work Office, said Chen's government also must first endorse a 1992 declaration that the self-ruled island and the mainland are "one China."
"Conditions for dialogue and consultations between us ... are recognition of the 1992 consensus, and the Democratic Progressive Party must drop the independence clause from its constitution," Wang said.
Taiwan closed to Chinese tourists
There are currently many restrictions on mainland Chinese going to Taiwan — not just from the Chinese side. Ordinary citizens cannot go as tourists to the island as they need invitations from Taiwan groups, such as professional delegations or academic institutions.
"Tourism administration and all relevant parties on the mainland welcome organizations from Taiwan's tourism industry to start consultations with us on an earlier date in order to make detailed arrangements accordingly," Xinhua quoted Chen Yunlin, Minister of China's Taiwan Affairs Office, as saying.
China said Taiwanese made 3.7 million trips to the mainland in 2004, while only 145,000 mainlanders visited Taiwan.
Farmers stand to benefit
The fruit tariff exemption could help the KMT win supporters in mainly agricultural southern Taiwan, eroding the support base of Chen, who is reviled on the mainland for his pro-independence stance.
"The mainland is ready to provide convenience in terms of customs pass, inspection and quarantine for Taiwan fruits to access the mainland market," Chen Yunlin was quoted as saying.
"We hope relevant Taiwan departments in charge of the issue will give the green light for Taiwan agricultural organizations to hold consultations with the mainland on issues concerning the place of origin certificate, inspection, quarantine as well as direct transport to improve efficiency and reduce risk."
The biggest obstacle to the sale of Taiwan's farm produce on the mainland was the absence of direct flights, Xinhua said. Beijing has been pushing for Taipei to end a decades-old ban on direct trade, transport and mail links — known as the "three links" — between the Taiwan and China.
Lien's visit, and one starting later this week by James Soong, head of Taiwan's People First Party (PFP), "helped deepen the affection between Chinese compatriots on the two sides of the Straits", Chen Yunlin said.
President Chen, under pressure to reconcile with China, said on Monday he asked Soong to deliver a message to Beijing when he comes to the mainland on Thursday. Soong is scheduled to meet Chinese President Hu Jintao next week.
Will pandas be accepted?
However, Beijing's offer of pandas to the island could run into trouble, depending on the wording of the formal message the mainland attaches to the gift. If, for instance, it refers to Taiwan as a province of China, or is seen as undercutting the island's status, Taiwan might not accept.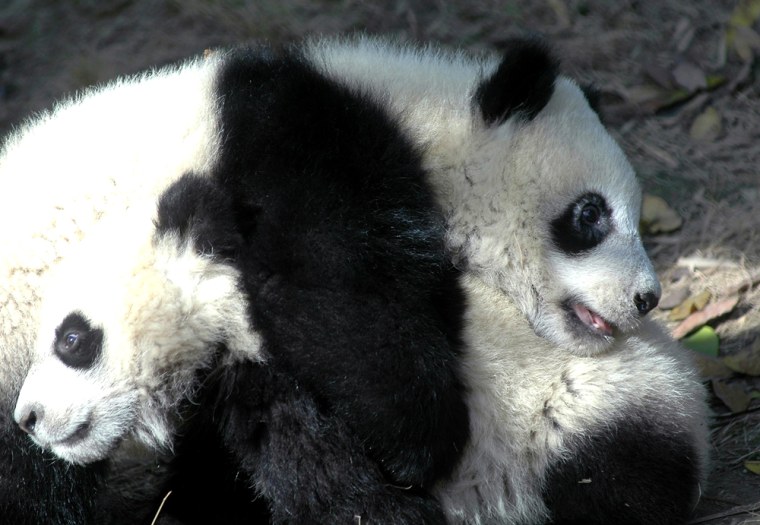 Members of Chen's Democratic Progressive Party (DPP) cast suspicion on China's motive behind the pandas.
"We feel that their gift of giant pandas is partly to further their political goal of unification," said DPP lawmaker Jao Yung-ching at a news conference.
But Chen Yunlin was hopeful the gift would be accepted.
"We hope the pandas, with their tame nature, air of nobleness and cuddly looks will bring joy and laughter to the Taiwan compatriots, children in particular," he said.