Portable radios and the great outdoors is a near perfect match.  Whether you're sitting on your porch, backpacking in the mountains or sunning yourself in the tropics listening to a great-sounding radio is one of the best ways I know of to keep informed and entertained.
Luckily, there are many terrific portable radios on the market.  I've gathered information on a few of my favorites.
As far as I'm concerned, Tivoli makes the best sounding table and portable radios on the planet.  Originally designed by the late audiophile genius Henry Kloss, Tivoli radio get the most from one small speaker placed in a small enclosure.
Kloss' final design is called the Portable Audio Laboratory or PAL.  It comes in a number of mind-boggling colors – including white – to match your iPod (which can plug into the back).  You have to hear how PAL sounds to believe that it's really a portable AM/FM radio.
PAL's treated 2.5" magnetically shielded driver and rubberized cabinet are weather resistant.  Its rechargeable Nickel Metal Hydride battery pack charges in about 3 hours, providing many hours of cordless playback (depending on how loud you like to listen).  The little green LED serves as both a power and battery status indicator.
PAL is priced at $129.99 and comes with a one-year warranty.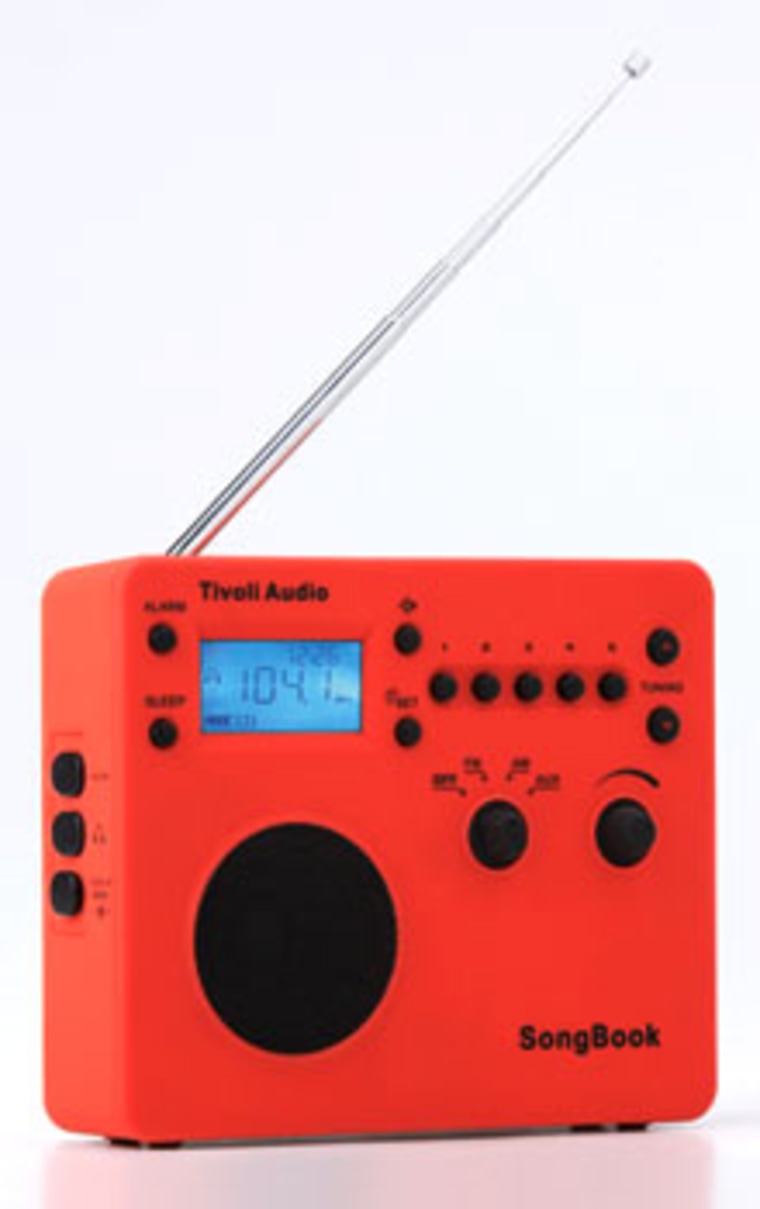 Tivoli's newest portable is called the SongBook.  It is everything that the PAL is and more.  I even think its slightly bigger size gives it an edge in overall sound quality too.
Think of SongBook as the ultimate portable clock radio.  There's a built-in alarm clock, sleep timer, and charger for your NiMH/NiCAD batteries (which aren't included).  The tuner has a digital readout, lights-up blue and comes with 5 buttons for you to pre-set your favorite stations.
Tivoli even added a rear keyhole cut-out for easy wall mounting.  SongBook is also available in many colors, sports a one year warranty and sells for $159.99.
Up the scale size wise, is one of my all-time favorite portables — the GE Superadio III — one of the most popular AM/FM portables of all time. (MSNBC is a joint venture of Microsoft and NBC, which is a GE company.)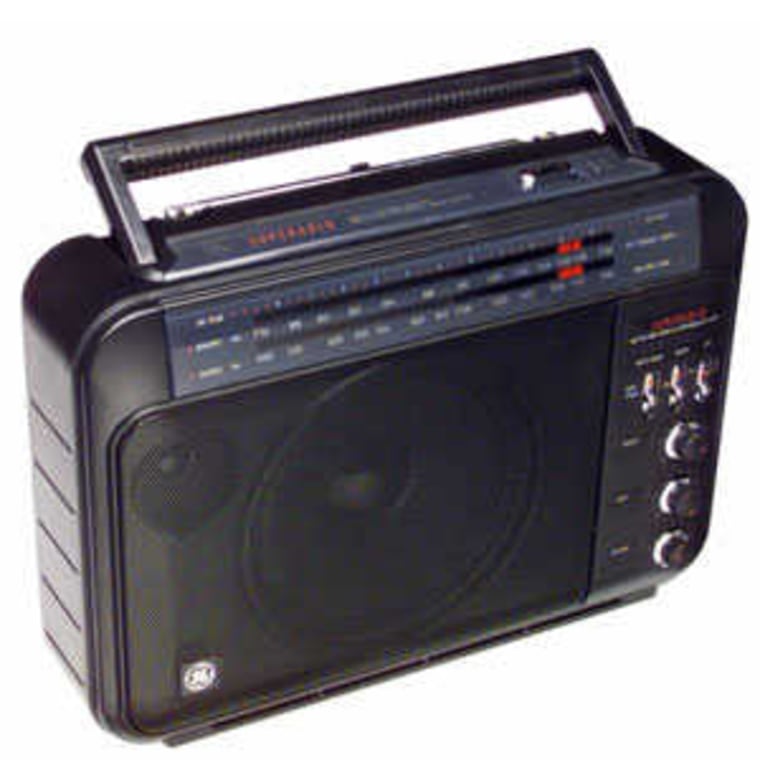 Superadio is beefy all over.  It's 12.5 by 10.5 by 4.5 inches and weighs in at 6.4 pounds. There's a 700MW amplifier pumping sound into a 2-inch cone tweeter and 6.5 inch woofer.   There are separate treble and bass tone controls and a loudness control (to boost the bass at low volumes).  It is powered by 6 "D" cell batteries (not included) or the built-in AC power cord.
Superadio has 2 separate settings for AM radio reception: wide and narrow.  If you're receiving a high-quality signal, you can use the wide mode and hear what AM radio is still capable of.  If the signal is kind of noisy, narrow mode does the trick.
Best part of all is the GE Superadio III retails for under $60.  You can find better prices by doing a search on the Web.
Another "super" radio comes from the experts at C Crane.  Their CCRadio-Plus is a star at receiving radio stations especially over long distances.
It's designed to highlight the human voice making it one of the best radios anywhere to listen to nationwide "talk radio" programs — especially at night.  It also sounds pretty darn good when playing music and everything else.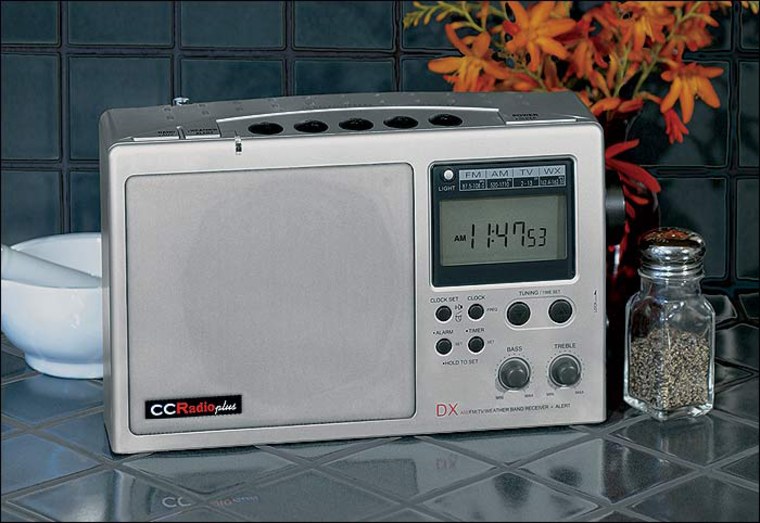 CCRadio-Plus is an AM/FM/Weather and TV audio (channels 2-13).   It has bass and treble controls, a clock alarm, sleep timer, auto scan, stereo headphone jack and an AC cord.  You can also expect up to 250 hours of listening from 4 "D" cell alkaline batteries.
The CCRadio-Plus comes in black or platinum and retails for $164.95.  C Crane stocks a huge number of accessories – everything from carrying cases to add-on antennas for improved reception.
C Crane also sells Freeplay's Lifeline Wind-up radio.  It's designed to withstand harsh conditions and climates, be easy to use, and work without batteries or AC power.  Lifeline is powered by winding it up or by solar power.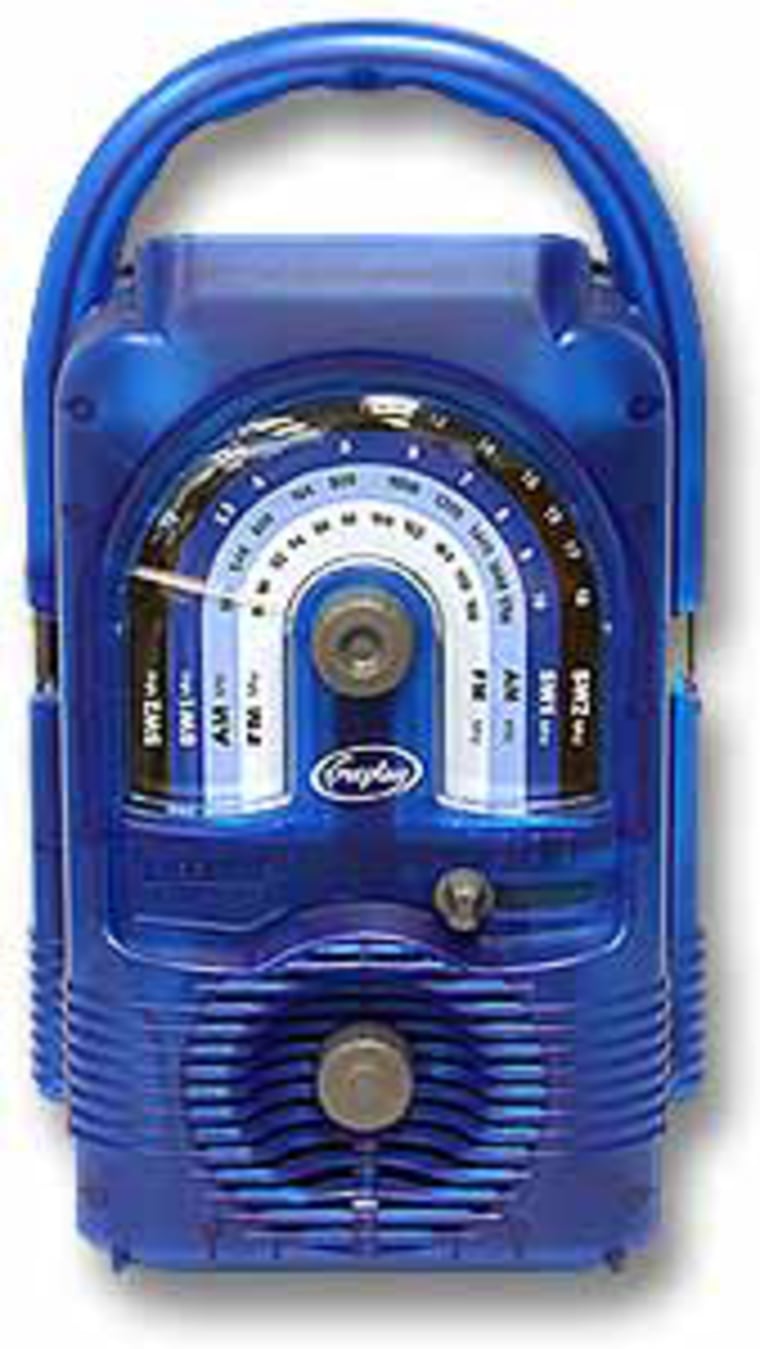 This AM/FM/Shortwave radio was originally produced for humanitarian projects in the developing world and for every Lifeline Wind-up Radio purchased one will automatically be donated free to help orphaned children in Africa.
Lifeline is big and blue and sounds very good.  It retails for $99.95 and boasts a 2-year manufacturer's warranty.
For inexpensive shortwave listening, I can highly recommend Sony's ICF-SW11 portable.  It's a 12-band, world band receiver (AM/FM/SW/LW) that features an easy to use analog tuner as well as an FM Stereo Headphone Jack.  The radio sounds good for its size and price – plus it's very portable.  It would fit in a large pocket, a purse or suitcase.  The ICF-SW11 retails for under $50.
Finally, you can't discuss portable radios without mentioning Delphi's MyFi XM satellite radio receiver.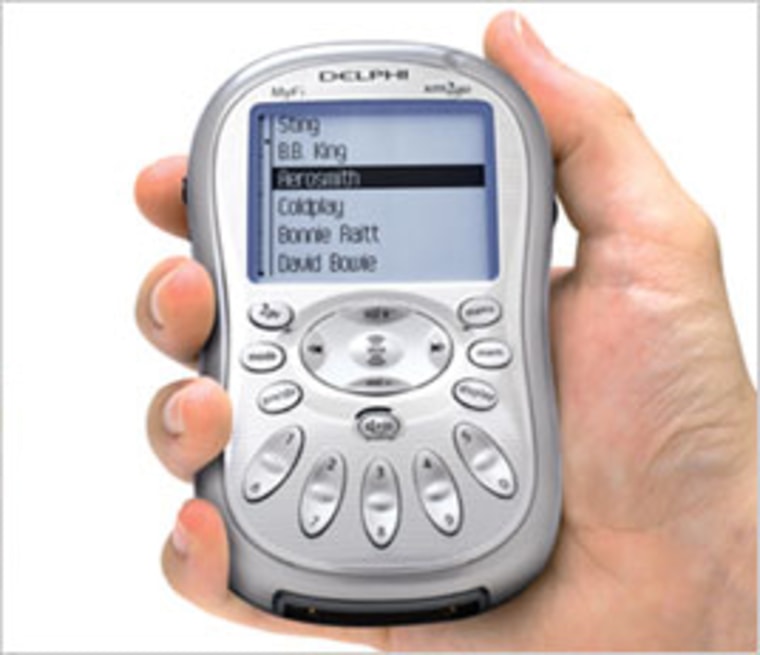 MyFi is the world's first portable satellite radio.  It also includes everything you need to enjoy listen to it anywhere - a car kit, home kit, rechargeable battery, headphones, antennas and more.
In addition to listening to the live satellite radio feeds, you can store up to 5 hours of music/news/talk – without having to deal with computers.
As a portable radio, Delphi's MyFi is very hard to beat.  It has the capability of being one of the best-sounding portables on the market – as long as you get yourself a good set of earphones (like a pair from Shure).  MyFi retails for $299.99.