Friday's strong employment report puts to rest most concerns about an oil-induced "soft patch" and makes it more likely the Federal Reserve will continue raising interest rates for the rest of the year, economists said.
"The U.S. economy is in the process of a gradual deceleration, a function of higher interest rates and higher oil prices," said Nariman Behravesh, chief economist for Global Insight, a forecasting firm. "But the doom and gloom that was triggered by some of the numbers in March was overdone."
The economy added 274,000 jobs in April, far more than expected, and job growth was revised upward for February and March by the Labor Department. So far this year job creation is slightly behind last year's pace, but since the beginning of 2004, the economy has added more than 3 million jobs, or nearly 200,000 a month.
"Relatively speaking it's not that bad, although compared to the past 25 years it's not that great," said Joel Naroff of Naroff Economic Advisors, who was almost exactly right with his employment forecast. Employers "are hiring, and they are hiring at a modest pace."
The employment report added some clarity to a picture of economic growth that had been clouded by reports of weak retail sales in March, slower-than-expected growth in the first quarter and a downturn in orders for durable goods.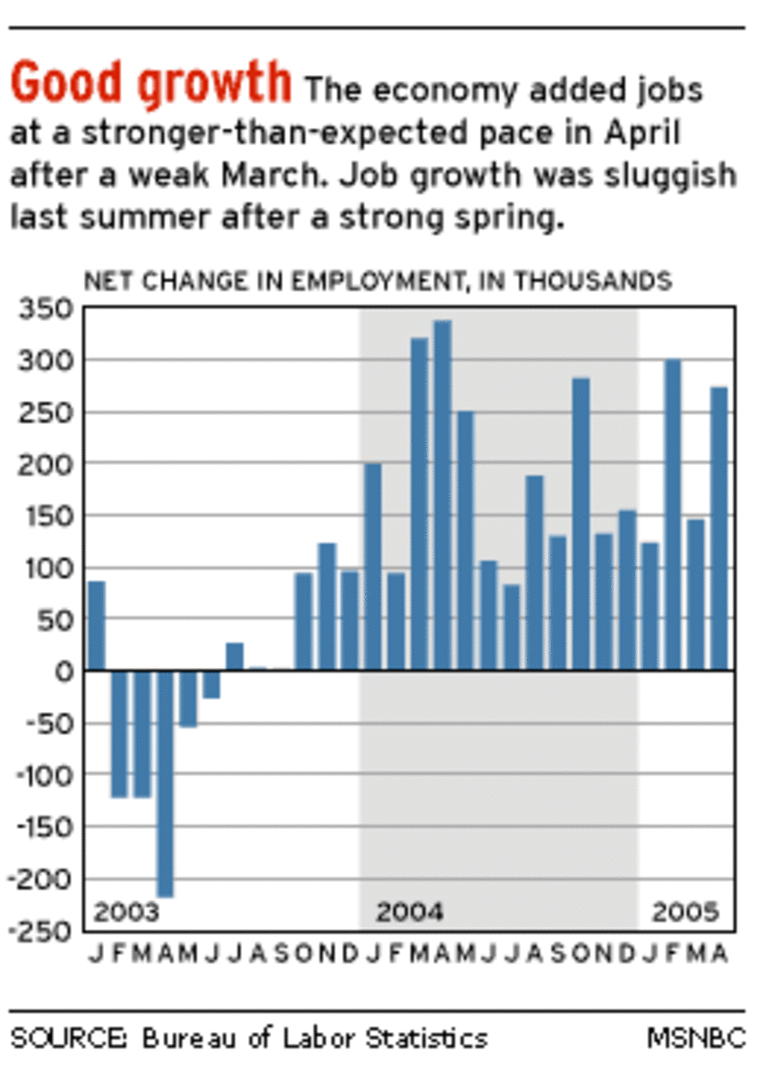 Demand still might slow in coming quarters as the Fed rate hikes begin to bite and higher oil prices work their way through the production chain.  But mainstream economists say the economy is growing at a healthy pace that should keep the jobless rate at or slightly below its current 5.2 percent rate, where it has stood most of this year.
"I think conditions are not that bad — not nearly as bad as the March reports indicated," Naroff said.
Fed Chairman Alan Greenspan and other central bankers appear to agree. In their statement Tuesday, when they raised rates for the eighth time in 10 months, they acknowledged the recent slowdown in spending growth, blaming it in part on higher energy costs. Still, they seemed more concerned with the prospects for higher inflation, saying, "Pressures on inflation have picked up in recent months and pricing power is more evident."
That concern, coupled with the robust employment growth, make it possible the Fed will raise short-term interest rates a quarter-percentage point at every meeting of policy-makers this year, as it has done since mid-2004.
"Core inflation is drifting upward, and the Fed is concerned about it," said Behravesh.  "There is no question the Fed is going to hike rates. The big question is, when does it stop?"
Behravesh does not expect the Fed to pause until after its December meeting, which would push the benchmark federal funds rate to 4.25 percent from its current 3 percent. The rate stood at a 46-year low of 1 percent when the Fed began hiking rates a year ago.
While it is notoriously difficult to predict month-to-month swings in employment, the April report could mark the peak for a while. Last year employment growth slowed markedly going into the summer, and the manufacturing sector looks particularly vulnerable given the latest troubles of Ford and General Motors.
"Common sense tells us that this pace of payroll job creation is unsustainable," said Rich Yamarone of Argus Research in a note. "The outlook for demand simply isn't strong enough to justify a sustained and voracious hiring spree."
And the cost of hiring is going up, although by just how much is a matter of some debate. Average hourly earnings rose a healthy 0.3 percent to $16 in April, and unit labor costs are up over 2.5 percent from a year ago, threatening to push core inflation higher, according to Ed McKelvey, senior economist at Goldman Sachs. A separate gauge shows labor costs rising only 0.9 percent, but the Fed is paying close attention to signs of rising wage growth, he said.
To be sure, not all economists are convinced that the surprisingly strong job report is an indicator of smooth sailing ahead. David Rosenberg, chief North American economist at Merrill Lynch, pointed to last summer's slowdown and said the strong results from April could be related to good weather in much of the country.
"Our sense is that the data vastly overstated economic conditions last month and there are very few indicators, outside of the weather, that corroborated the April employment results," he said in a note.
While the employment report was strong, conditions certainly are nothing like the late 1990s, when the economy routinely added 300,000 jobs a month or more, and the unemployment rate fell under 4 percent to a 30-year low.
But those higher growth levels are no longer likely now that women  are no longer pouring into the work force said Michael Englund, chief economist for Action Economics. The labor force participation rate for women peaked at about 60 percent in the late 1990s and since then has fallen back to about 59 percent.
In addition, strong productivity gains and the high costs of benefits like health care ensure that companies will remain cautious in hiring, economists said.
"I think none of us is expecting its going to be a quarter-million jobs (a month) going forward," said Rajeev Dhawan, director of the economic forecasting center at Georgia State University.