• May 24, 2005 |
Senate filibuster compromise
It was an exciting night for politics last night. Moderate senators from both parties got together to make a deal to preserve the filibuster. Below are some excerpts from last night's Hardball analysis:
Is it all over?
Norah O'Donnell, MSNBC Chief White House correspondent: We've heard some groups say that this compromise is ridiculous, that it's terrible. Some people don't like it  because not all of the president's judges under this deal will get an up-or-down vote.  So, again, it's important to remember the deal is still tenuous.  And we've still heard that from those in this group of 14 and those outside this group, saying this will have to be, in Frist's words, "closely monitored to see what happens."
Talking to senators all week about what would happen, one said to me, if this compromise is reached, in many ways, "it may just put off the inevitable."  In the future, there will perhaps still be use of a constitutional option if they get into a big, big fight over a future Supreme Court nominee. 
Why is the filibuster important to preserve?
Chris Matthews, Hardball host: The idea of the filibuster sounds to a lot of people like just a lot of hot air.  But it's so critical to the way Senate does business because without the filibuster, the right of every man and woman in the Senate to say "Stop right here, I want to say something" is gone.
On presidential politics at play
Matthews: There's presidential politics here. Bill Frist, as everyone knows, is only going to serve for two terms. He's leaving the Senate.  He's going to run for the presidency. Does this hurt him?  And does this help John McCain by showing that a maverick can also be a peacemaker, a broker of power? 
O'Donnell: This will inevitably be seen as a loss for Frist and a win for McCain. Frist had in many ways been the darling of conservatives who believe the Democrats had been acting in an unprecedented way— denying the president's judicial nominees an up-or-down vote. There were a lot of people involved in this fight. And it remains to be seen how unhappy they'll be with Frist. 
On cutting the deal
David Shuster, Hardball correspondent: On the Republican side, John Warner, a veteran Republican, had said just a couple weeks ago that while his ancestors shelled the Capitol, he didn't want to be part of destroying it this time. On the Democratic side, there was Bobby Byrd.
Those two (sort of) veterans of the Senate gave cover to the more moderate centrist senators to really stick it to the  base tonight. 
If you look at the judges that the Democrats now have to stomach, including William Pryor— he says Roe v. Wade legalized abortion and that is an abomination. Democrats can't stand Pryor.   That Pryor is one of the three that now the Democrats have to give up on is driving the liberal groups crazy tonight.
Likewise, on the Republican side, Republican interest groups are going crazy over the fact that their effort to remodel the 9th Circuit with William Myers, who is an attorney for the Interior Department, that's now gone, because Myers is essentially off the table. 
So, both sides are giving up some stuff that is just driving their respective bases crazy. And you have two senior senators, Bobby Byrd and John Warner, who are essentially providing cover for the moderates. 
John Warner may be the most powerful Republican. A lot of people are talking about John McCain, but this deal wouldn't have come together had it not been for John Warner saying to Frist a couple  weeks ago, "Look, I'm not going to go along with this and you better come up with a deal, because, in the end, I am not going to be there to provide cover for you to give you that vote to go with the nuclear option."
Likewise, Bobby Byrd had made it clear to the Democrats in his caucus that they needed to come up with some agreement, even if it meant infuriating the base.
What did you think about this compromise? E-mail Hardblogger@MSNBC.com.
• May 19, 2005 |
Ad wars (David Shuster)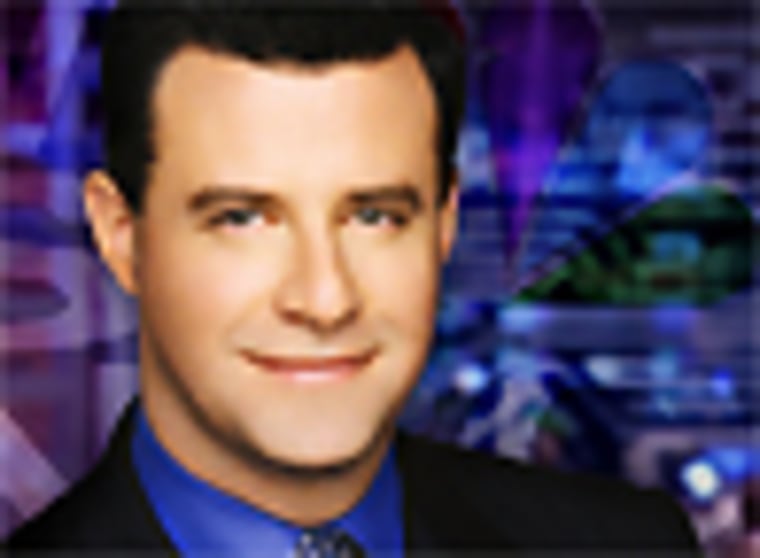 When I first saw the e-mail in my outlook, I immediately began to wonder if the group Moveon.org had crossed a line in the Senate filibuster fight over judicial nominees. After all, the statement from the Republican National Committee about Moveon's latest ad was matter of fact and straight forward:
"Moveon.org's vulgar depiction of a violent attack on the Capitol — a building that symbolizes our democracy — is beyond the pale of acceptable political discourse." 
Hmmm.  A "vulgar depiction of a violent attack," and "beyond the pale."  What could Moveon.org have done?  Did they rely on a video clip from the Capitol shootings?  Did they show the mass hysteria of the evacuation the other week?  Did they depict human bodies being ripped apart?"
I began my investigation by watching the . And I couldn't stop laughing.  The ad is an entertaining parody of the latest Star Wars movie.  You see a Darth Vader-like figure leading a group of storm troopers... the announcer plays off the word "far right clones."  Then, there is a reference to "the nightmare weapon known as the nuclear option."  And at the end, the Darth Vader turns out to be a bizarre looking Senate Majority Leader Bill Frist. 
As for the "violent attack," I had to watch the ad several times before I realized that the RNC must be referring to:  (1) the scene at the beginning where a giant spaceship fires laser beams at the Capitol in a fashion similar to what my 5-year-old nephew might draw with his crayons and (2) the clip near the end where the Capitol building is getting lifted off the ground by rocket ship engines.
A vulgar depiction of a violent attack?  Beyond the pale of acceptable political discourse?  The only thing "beyond the pale" is that whoever wrote such a ridiculous press release still has a job. Because if my nephew can figure out that this cartoon like ad couldn't possibly be "something real," a spokesman for a national political party ought to be able to figure it out as well.  
Questions:  DShuster@MSNBC.com
• May 18, 2005 |
Fade away old soldier (Greg Ebben, Hardball Associate Producer)
Every now and then when someone of some type of prominence dies, I like waiting to see how his or her passing is treated in the news. Well, it's been fourteen days since , and though his obituary did appear in many newspapers, his life's accomplishments may need one more mention before his burial later this month in Virginia.
Born to wear the uniform, he entered this world, fittingly, on November 11 (Veteran's Day).
This old man's parents were dead by the age of one, and his grandmother raised him in California until the age of 14 when he began his military career. That's right, fourteen.  In 1945, he lied about his age to join the Merchant Marine near the end of WWII. A year later, he enlisted in the U.S. Army and was ordered to stand a post in Trieste, Italy.  And during the next two and a half decades, he would rack up one of the most impressive military resumes in U.S. history. 
The motto of the Army— which he loved dearly and owed much of his own upbringing— is "This we'll defend."  And did he ever do that. In Korea, in Vietnam, and in retirement this old soldier defended the honor of the Armed Forces, only wanting the best possible scenario for our fighting men and women here at home and abroad. In his last published book, "Steel My Soldiers' Hearts" he took a personal look back on what transpired in Southeast Asia in the late 1960s within one certain battalion he commanded as a Lieutenant Colonel – the 4/39 Hardcore Battalion.  The title of the book comes from Shakespeare's "Henry V"— "O God of battles! Steel my soldiers' hearts/Possess them not with fear; take from now/The sense of reckoning if the opposed numbers/Pluck their hearts from them."  How appropriate.  In the press release for the book, he briefly described what that verse meant to him: "It's about making the soldiers tungsten-hard, so they could survive and win in the ultimate crucible of infantry combat.  It's what I and the Battalion small unit leaders did to transform the unit our commanding general called a 'P-ssy Battalion' into the most together fighting machine in Vietnam."  The 4/39 was an infantry unit made up of draftees with the worst casualty rate during the Vietnam War before this Lieutenant Colonel arrived.  He would turn it inside out and 180 degrees and make it into one of, if not, the best battalion to fight in Vietnam.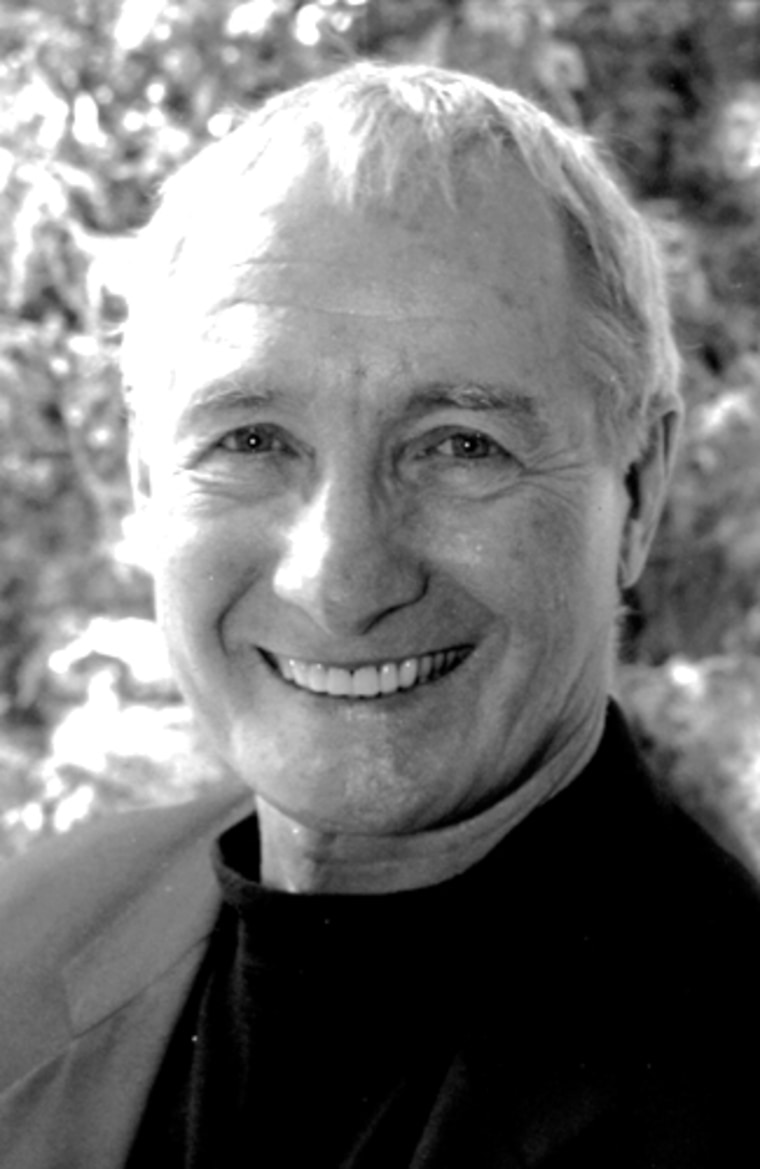 Throughout his entire life as a soldier and then as a retired colonel, he possessed courage under fire from both bullets and words. He took the heat from the Viet Cong as well as the higher-ups at the Pentagon.  He came through all of it trying to better the system. He even survived a kind of self-imposed personal exile after speaking out against the Vietnam War in 1971 on a TV news program. He gave the Army back his medals and headed to Australia for almost two decades.  He had enough.  As he mentioned in his book, "About Face," he just wanted to get to "the farthest place I could find from the United States and still speak English."  In 1989, this native son would though come home again.  How could this war hero really stay away forever from the homeland he loved and fought to protect? 
For the last 16 years of his life, he resided back here in the good ol' US of A—  and that bitter bite of public criticism for those in charge of our military was still alive and well whenever he felt our troops were getting the short shrift.  There weren't many like him, and I don't know if there are any still left.  His candor was rare and his passion was fierce.  He never backed down.  He fought for what he thought was right all the way to the end. 
In 1951, General Douglas MacArthur, gave his farewell address to a joint session of Congress.  He concluded his speech with the words from an old ballad—  "old soldiers never die; they just fade away."  Two weeks ago an old soldier— one of our most decorated— faded away in Tijuana, Mexico. Colonel David H. Hackworth, Infantry, United States Army (Retired) lost his final battle to cancer on May 4th.  He was 74.  He will be buried at Arlington National Cemetery later this month undoubtedly alongside some of those he fought with in Italy, Korea, and Vietnam and those he fought for since he left his boots on the battlefield.  So fade away old soldier, as we try to continue to "Fight with all our might…as the Army keeps rolling along."
E-mail Hardblogger@MSNBC.com   
• May 17, 2005 |
The Trump organization has just issued out the press release. "If someone knocked down the Statue of Liberty, you wouldn't put the Eiffel Tower in its place," says Trump.
.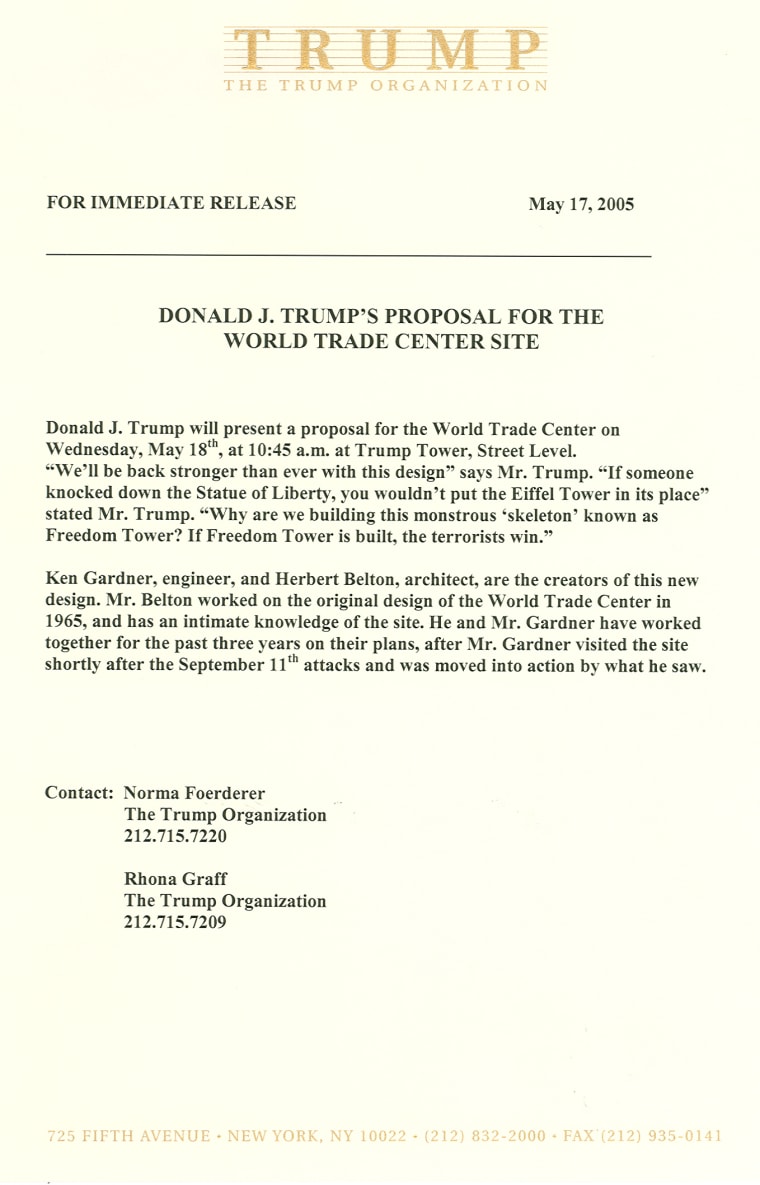 • May 17, 2005 |
Trump to spearhead Twin Tower effort (David Shuster)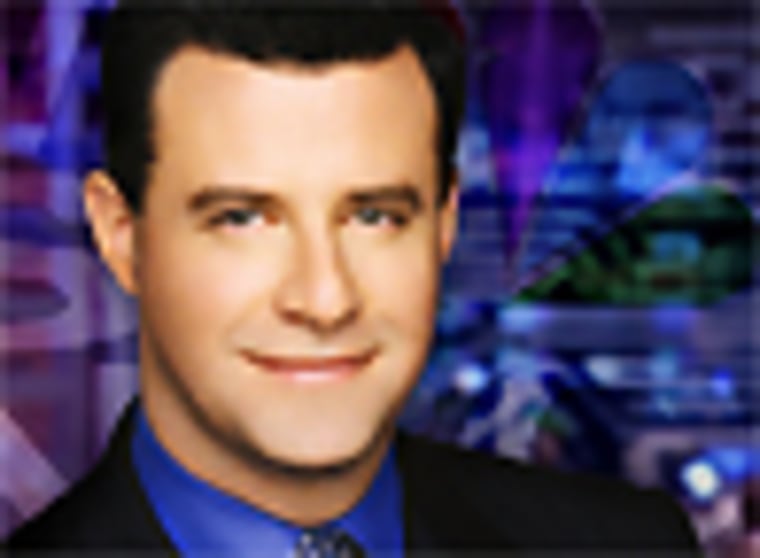 I would hate to be New York Governor George Pataki. As I write this blog, the press release from Donald Trump is on the way. Every major political leader and news organization in New York is about to learn that Trump is planning to hold a blockbuster news conference Wednesday morning. Trump will announce he is going to spearhead a group of developers to rebuild the Twin Towers stronger, safer, and taller than they were before 9/11. 
At his Wednesday morning press conference, Trump will stand next to the 9-foot tall model featured on MSNBC last week that was built by Ken Gardner of the group .  I'm told that Trump has now inspected the detailed model, will stand next to it Wednesday morning... and will announce something along the lines of, "Here is the proposal, it's ready to go, and it's time for the greatest city in the world to put the Twin Towers back up."
Governor Pataki, who still seems to be clinging to his embattled and publicly despised Freedom Tower, now has 24 hours to make the biggest decision of his political life. He can join the Twin Tower bandwagon, turn his poll numbers around, and launch a presidential campaign based on the spirit that will be on display Wednesday morning.  Or, Governor Pataki can continue to stand for what "  If Pataki chooses the latter, he will see his legacy permanently exiled to the dustbin of New York political history.
New York Senators Schumer and Clinton also face a critical decision. They may not pay an immediate price if they don't join Trump Wednesday morning.  But they will soon be asked about the blueprints, the models, and the ideas about what New York should and should not stand for. And I would hate to be a 2008 presidential candidate from New York and have to explain why my position on the Twin Towers came after statements issued by John McCain or John Kerry.  Likewise, I would hate to be a John McCain or John Kerry and see a rival like Hillary Rodham Clinton grab this issue first. 
Leadership, of course, is about taking a position. Donald Trump has been asked before about the Twin Towers being a "target again" and a "tough rent."  But he plans to talk about transforming Ground Zero from a symbol of death, as it is now, to a place that honors life and the American spirit.  The White House, the U.S. Capitol, the Pentagon, and buildings in New York may all be potential targets. But in America, as Trump plans to articulate, we don't let terrorists dictate our skylines, our opinions, our speech, or our future.  Trump believes, as other developers do, that once the Twin Towers are built, they will both be fully occupied, despite fears of another attack. Why?  It's as simple as this: Never mind the advanced technology that would make these buildings the safest in the world...  If you live anywhere in this great nation of ours and are trying to decide which company to give your personal business to, are you going to choose the company based in Hoboken, New Jersey... or the company that has the office in the new World Trade Twin Towers?  Not all of us will have an opportunity to rent an office on the 115th floor of one of the new Twin Towers.  But every American will be with those who do.
And now, it's only a matter of time before our nation recognizes the powerful American spirit reawakening in New York... and tells any politician who tries to stand in the way, "You're fired."
Questions/comments: DShuster@MSNBC.com
• May 13, 2005 |
Investing in interpreters (Alex Dresner, Hardball intern)
I am constantly reminded of the dire situation our armed forces are in. Despite assurances from the Pentagon, the alleged questionable recruiting practices of recent days indicate just how stretched our forces really are. However, this has only scratched the surface— the deeper issue involves our interpreters.
Let us not confuse interpreters (oral language) with translators (written language). Interpreters provide the vital link of communication between our forces and the Iraqi citizens, a link which is often overlooked. A misunderstanding could be the difference between life and death for our forces in the tense realities of daily life. Interpreters are with our troops on the front line in the mix of things. Imagine a house raid; there is screaming and confusion, the situation quickly escalates and with the presence of guns, everybody is on edge. This is where our interpreters are most valuable. They act as negotiators and can quickly bring an end to a potentially explosive situation.
However, Iraqi-born interpreters face a major dilemma. Given the importance of national identity in the Middle East, they must balance the idea of working for U.S. forces while maintaining their roots within the community. A balance between the two is critical not only for their safety but for the safety and integrity of U.S. forces. Seen as traitors by insurgents, Iraqi interpreters and their families are under constant threat. Many Iraqi interpreters now wear masks to conceal their identity, fearful that they may be the targets of anti-American attacks.
Another problem is that U.S. forces view insurgents with suspicion, sometimes with good reason. Case in point: In 2003 an interpreter working for Titan, a defense contractor, working at the U.S. prison compound at Guantanamo Bay, Cuba was arrested on espionage charges.
The solution is to train Americans to do the work of the Iraqi interpreters. We need people who understand foreign languages, understand foreign cultures, but do not have the cultural ties that leave our current interpreters vulnerable. And we must not be short-sighted about this, interpreters have and will always play a major role in our wars— and we must begin acknowledging it.
E-mail Hardblogger@MSNBC.com
• May 12, 2005 |
Donald Trump comes out swinging (David Shuster)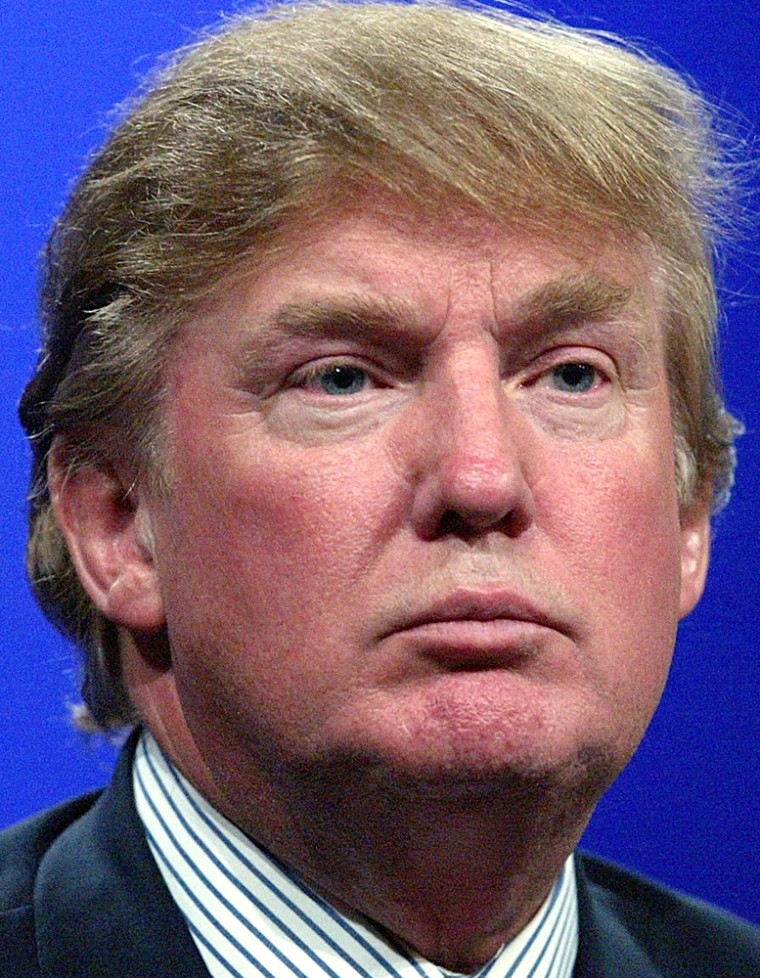 All of us at Hardball were expecting a solid interview this morning with Donald Trump.  (Chris Matthews interviewed him about the Freedom Tower vs. Twin Tower debate for tonight's show -- 7 p.m. and 11 p.m. ET.)  What we got, was a Donald Trump as passionate and outspoken as any of us have ever seen.  It was absolutely spellbinding.
Trump on the proposed Freedom Tower for Ground Zero:  "I'd rather have nothing than what they're building, Chris.  It's a terrible design, designed by an egg head architect who really doesn't have a lot of experience in designing something like this."
Trump specifically on the Freedom Tower design:  "It's a 60 story building with a skeleton on top of it that goes forty or fifty stories with nothing in between.  It's a disgusting design that we're going to have to live with for many many years in New York.  And actually, in the world because New York City is so international.  And it doesn't represent what we want to have represented.  What I want to see built is the World Trade Center stronger and maybe a story taller.  And that's what everybody wants."
Trump again on the Freedom Tower total plan: "It's a terrible design, and not only the Freedom Tower - the buildings around it - they all  have roofs at all different angles.  It looks like a junkyard... and I'd rather see nothing than see that pile of junk."
Yes, Donald Trump called the Freedom Tower plans "a pile of junk."
So, what has New York Governor George Pataki done today?  Governor Pataki is digging in his heels. Despite the fact that his Lower Manhattan Development Corporation spokesman is resigning, despite the fact the freedom tower plan is back to the drawing board because of design flaws, despite the fact that polls consistently show the public hates the freedom tower... Governor Pataki announced today, "The construction of the freedom tower will proceed undeterred and all other key elements of the rebuilding will continue on schedule."
On schedule? Since when is 2010 "on schedule?" The Department of Defense rebuilt the Pentagon less than a year after the 9/11 attack. We are now 3 and a half years after 9/11 and nobody, at the moment, has any idea or plan for what the Freedom Tower might look like.  (Not to be confused with the Gardner/Belton Twin Tower plan previously discussed which is ready to go.)  
Well, it appears that our questions for Governor Pataki will not be answered today. The governor did his talking with us this afternoon via written "press release."  And as of this note, the governor has not responded to MSNBC invitations to appear tonight on Hardball.  But,  tonight's show will be riveting none the less...  if you watched on 9/11 and consider Ground Zero in New York to be sacred... you don't want to miss the update tonight.  Thanks for watching.
Questions/Comments: DShuster@MSNBC.com
Links to previous blogs on this subject: 
• May 11, 2005 |
Twin Towers model at MSNBC (David Shuster)
I've been getting phone calls and e-mails all morning from my colleagues at MSNBC's main studios. Today, engineer Ken Gardner brought his 9-foot model of the Twin Towers that he and others at have proposed. The segment was incredible... and I think, for a brief moment today, we saw why so many people feel it is so important that newer, safer, stronger Twin Towers be built at Ground Zero.
We've posted dozens of your e-mails in this very space. Today, however, I'd like to share a statement from engineer Ken Gardner who graciously brought his inspiring vision to MSNBC studios today:
Statement by Kenneth Gardner:
After literally hundreds of hours of study of the WTC site, architect Herbert Belton and I concluded that the appropriate solution for rebuilding is to design new towers that restore the skyline to its former glory. Our plan is a design for completely new buildings that bring back the familiar iconic silhouettes and employ all of the latest technologies in skyscraper design. Those that advocate rebuilding the towers with the exact former outdated design are unrealistic and academically bankrupt. However, building new advanced versions of the Twin Towers would not only provide one of the most powerful remedies to heal this country from the 9/11 tragedy, the towers themselves would become one of the most successful developments and tourist attractions in the world. The towers represent not only the resilience of a great nation, but also the "bigness" of New York, which is what attracted so many visitors to the former twins. Each floor plate covered one full acre. The current plan put forth by the LMDC is much less significant. Mr. Libeskind and Mr. Childs are trying to invent a new icon. I believe that icons evolve. The original towers were not very popular when they were first built, but they became one of the great symbols of this country over time. Elements of these buildings symbolize this country and always will. I cannot imagine replacing the magnificent dome over the Capitol Rotunda with some kind of twisted trapezoidal structure. In Europe after the World War, many landmark structures were rebuilt. This is how a country and civilization develop a rich history. In my travels to Europe, there was a sense of longevity engendered by the presence of architecture that marked significant eras in each country's history. America will not have this kind of history if we do not protect and preserve our symbols of who we are and what we stand for. I am a great fan of change and technology, but I am also a student of history and a preservationist. To allow the image of these icons to vanish into the memories of this generation and never be seen by future generations is to erase a part of what makes us American.
Questions/Comments: DShuster@MSNBC.com
Links to previous blogs on this subject: 
• May 9, 2005 |
Ground Zero debate: Freedom Tower Vs. Twin Tower (David Shuster)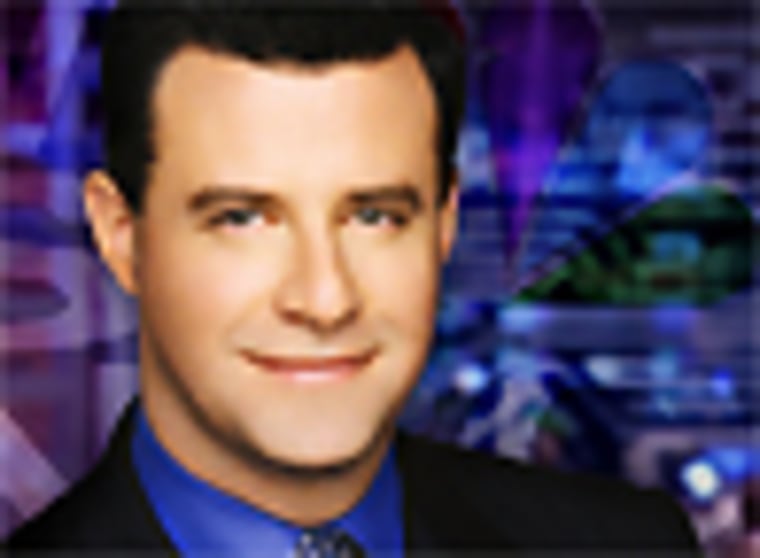 You've followed the story right here on this blog for the last several weeks.  On Tuesday night at 7 p.m. ET, the Freedom Tower v. Twin Tower debate will take center stage on "Hardball with Chris Matthews."  The segment will start with a background piece that explains why, three and a half years after 9-11, New York is back to an important and passion filled choice over Ground Zero.  Then, we will run some of the interviews that Chris Matthews has conducted with New Yorkers...
We have issued interview invitations to several high profile politicians and figures in this story.  And will make time for all who choose to participate.   But, regardless of who accepts/declines our invitations... this topic is going to be part of Tuesday night's show.  . and 11 p.m. ET eastern.  Thanks in advance for watching...
In the meantime, your e-mails on the Freedom Tower/Twin Tower debate continue to pour in to this blog:.
Sue Cohen:  "I lost my twin brother John G. Chipura, a NYC Firefighter, on September 11, 2001 -- the day "most of the world cried."  He was only 39 and six weeks from getting married. My sisters Eileen Cella and Nancy Chipura as well as my brother FDNY Lieutenant Gerard Chipura miss him so much, and think about him every day... (Governor Pataki) how could you put up that (Freedom Tower) and say this is in memory of those lost that day? They would want the towers back...
Elaine Eames:  "We lost our son-in-law on Feb. 17, 2005 in Tal Afar Iraq. His name was Sgt. Frank B. Hernandez, Jr. and he was 21 years old. He died in that damn war for this country and all the people who died in the towers and the Pentagon. After 9/11 he gave up a college scholarship to go to war, he was on his second tour....   The only thing that should go in the gaping heart of America is the Twin Towers. I would build them exactly as they were, just one floor higher. It's the only way to get our country back to where we need to be.  That Freedom Tower is just plain ugly and does not represent anything except someone's ego...it would be refreshing to have the people's wishes heard for once."
Sandra Bach:  "I don't live in New York, I live in Chicago, but I would expect that the Twin Towers hold the same meaning for New Yorkers as the Hancock Building or the Sears Tower holds for Chicagoans. I know I wouldn't want some memorial skeleton to be built where my beloved Hancock Bldg. or Sears Tower once proudly stood - I would want them back. I feel for the people of New York and hope that their governor will see the way to what's right. We need to rebuild and it needs to start now. If we wait, they have won and all those people who died in the towers and in the war we currently fight, have died for nothing."
Philip Katz:  "If we rebuild smaller it would only give the terrorists who wrought this destruction something to hold up as a trophy, the ability to say "look what we've done, altered for the worse one of the most recognizable skylines in the world."  It would be a constant reminder of our failure to take this opportunity to make a statement of our own.  The American people and especially New Yorkers, must take this opportunity to tell the terrorists of the world that although we've suffered a loss, we will not stand aside in fear." 
J.Y. Brattan:  "I can't believe that politicians aren't jumping at the idea of rebuilding the towers!! With one quick change of thought Governor Pataki could ensure his next re-election, or even use the successful rebuilding of the towers in a run for president!! Mayor Bloomberg could become a hero to the people of New York! The first one to publicly declare and fight for the towers would become a local hero to many. In a world with limited interest in the politicians that govern them, doesn't that sound like a political dream? Or am I missing something?"
Jack Purcell:  "Every time I see a movie or pick up a picture of New York- there are the Twin Towers- a symbol of our nation, our pride, our engineering prowess.  What has happened to this great nation? I say put the Twin Towers back up... This is America… the place where we're supposed to be able to take a punch, and then get right back up and come back stronger. The Twin Towers should go right back up where they were. Let's quit the crying and pick up a shovel."
Scott Schuckman: "We just can't let the terrorists succeed, and if we don't rebuild the towers that's exactly what they have accomplished, and those that perished on the fateful day will have died in vain. Just seeing the towers again in our lives would remind us daily of those we lost. I can not think of a greater way to honor someone than to never forget them."
Sam Ransom:  "Twin Towers should be rebuilt. This would be the most fitting memorial to those that were lost on that tragic day, and a statement to the world of our resolve not to be intimidated by terrorists. I was born in Brooklyn, and was there when the original towers were built. The Pataki/Libeskind design should be tossed into the East River. To build that 'Freedom Tower' would be a colossal mistake."
Questions/comments:  DShuster@MSNBC.com
Shuster's previous blogs on this subject: 
• May 6, 2005 |
A leader steps forward (David Shuster)
Regardless of your views of billionaire Donald Trump... the guy is a leader.  And he has proven it once again. With New York politicians including Hillary Clinton, Chuck Schumer, Rudy Giuliani, and others afraid to state the obvious about Governor Pataki's problem plagued Freedom Tower, there was . "The design for the Freedom Tower is an egghead design... which has no practical application and which, frankly, didn't look very good."  Trump went on to say that the Twin Towers should be rebuilt. "I think the World Trade Center should be rebuilt on the site, only stronger and a little bit taller, even if it's only one story taller."
Trump also provided a life raft to Larry Silverstein, the man in charge of developing the site.  Trump called him a "wonderful professional who sort of got roped" by Pataki into the freedom tower plan.  "I don't think this is something he (Silverstein) really wanted."
The impact of Donald Trump should not be underestimated. He has just pushed a gigantic boulder downhill. The only question now is whether New York's politicians get behind this or whether they get flattened.   The fact is, Donald Trump has just made it clear to everybody that the Freedom Tower is dead and that some version of the Twin Towers is, sooner or later, coming back.
Late today, I did an on-camera interview with engineer Ken Gardner of .  He and architect Herb Belton have produced blue prints, site plans, and a 9-foot architectural model to help officials visualize the leading proposal to rebuild the Twin Towers.  (We are preparing a segment for Monday's Hardball.)  Gardner underscored that the plans are meant to be a basis for discussion... and that if David Childs' architectural firm (responsible for turning any proposal into reality) wants to add modern architectrual spires, glass, or anything else to bring the Twin Towers theme into the 21st century... "terrific."  Gardner also underscored that he and Belton have spent their own money on this project and have no financial interest in the outcome. 
Many of you have written to us at Hardblogger on all of this. Here are some of your e-mails:
Ray Brown: "In my opinion, the proposed Freedom Tower is perhaps the worst possible outcome... a half-building that's the perfect metaphor for the timid politicians and the uninspired bureaucratic process that made it possible; a Vichy-like capitulation to fear and
doubt. The fact that there's so little enthusiasm for the design should be a big clue in New York and Albany that it's the wrong thing to do."
JJ Walts: "I am very fortunate to be able to say my husband survived the September 11th attacks in New York.  Living downtown, we were in the shadow of those massive landmarks; they were a part of our culture and identity as New Yorkers and Americans. The Twin Towers symbolized strength, hope, and prosperity.  My children (ages 6 and 7 ) ask me when the "Twins" will be rebuilt.  Even at that young age they understand the importance of bringing the Towers back to the "people"... just as they were, standing tall and proud, announcing to the world the intensity of our determination and the power of our spirit."
John Hitchcock: "Donald Trump spoke what 90% of the people feel. Rebuild the Twins back. It only makes sense. Let's get to work and get this accomplished."
George Signoriello, Jr.: "I grew up on Staten Island in New Brighton on a huge hill that overlooked New York Bay. My friends and I would sometimes stop and watch the construction of the Twin Towers and talk about them. I was a Flight Attendant for United Airlines based out of JFK with my flights departing and returning to LaGuardia Airport. There was nothing more breathtakingly beautiful than the sight of those two magnificently lit buildings as we would fly through above the bay and up the East River towards LaGuardia. The buildings need to be rebuilt... If we don't put back what was there, then the terrorists win."
Dan Carlisle: "Finally I am reading something about Ground Zero that makes my heart beat faster. I can only hope that it's not too late for an alternate design. I have always felt that the Towers should be redone."
Deb Spell:  "I worked in tower 1 for five years... What's this freedom thing?  Freedom is putting those towers back.  We want our towers back.  This would send a message to the world that we are strong and we will have our lives back.  The governor needs a reality check."
Patricia Hale: "If they are not built back, the terrorists win.  They will say they took us down, & we stayed down."
Thomas C. Teteak: "The Towers were, have always been and continue to be America's financial landmark. What better way to show to the world our national pride, resolve and determination... the only option is to bring the Twin Towers back."
Randy Butler: "Maybe Pataki will start listening to the 80% of Americans who want to rebuild the Twin Towers and tell the world that we will rise from the ashes, bigger and better."
Amy Raker: "Why should we change because of other countries?  My whole theory is if you don't like us or how we do things, get out. No one made you come here and no one is making you stay. I say build the Twin Towers again and make Ground Zero the attraction it used to be."
Christopher Agombar (a Canadian):  "By not rebuilding the original buildings, America is giving into the terrorists. They were beautiful structures and totally marked the skyline and identified it as being NY City. It would be as if Toronto was to loose our landmark CN tower and never have it replaced."
Bill Radigan: "The Towers should be re-built, stronger and taller than before. We all agree there would be no better way to show the American spirit and at the same time pay tribute to those who lost their lives that day. Anything short of this would be an empty hole in our hearts, spirit and the skyline... I cannot convey in words how strongly I feel about this issue."
Hartley Baker:  "We need to be bold and face the challenge head on. The Twin Towers stood as an example of who we are; strength and resolve. I believe better engineering can be put into place in the event of another attack... We must not back down from these terrorists; we must build these towers just as tall and stand firm in defiance."
John Krasner: "I live in California but saw 9/11 unfold before my eyes early that fateful morning while watching this horrible event. Even though I don't live in NY., I still felt like I was losing a family member.  We are a human family here in the United States of America.  And when something tragic happens, we bleed together, cry together, and heal together.  We are a strong nation... and as a strong nation... we should rebuild the Twin Towers."
Ed Parker: "I applaud the efforts of those who wish to see the Twin Towers rise again.. Let's honor those lost at the Trade Center as we honored those lost at the Pentagon. REBUILD!"
Irvin Haynes: "I spent 20 years in the military defending our freedoms that most take for granted.  But every time I came home,  and especially the first time I saw the N.Y. skyline from the ship I was on... I felt the 20 years was well spent... Rebuild those towers."
John Henderson: "The Twin Tower II proposal by Gardner & Belton is a beacon of strength and hope, not just for us, but for all nations who would stand in the face of the terrorists and shout that they will not be thwarted by fear."
Mathieu Chabert: "I very much hope the Twin Tower Plan gets to see the light of day. I'm a New Yorker who thought from the beginning those buildings should be rebuilt with today's technology and safety standards... Will common sense prevail in the end?"
Questions/comments:  DShuster@MSNBC.com
Shuster's previous blogs on this subject: