/ Source: The Associated Press
Suicide bombers ripped through a crowded market and a line of security force recruits Wednesday as a wave of explosions and gunfire across Iraq killed at least 69 people — pushing the death toll from insurgent violence to more than 400 in less than two weeks.
The bloody attacks, which also wounded 160 people, came despite a major U.S. offensive targeting followers of Iraq's most-wanted terrorist near the Syrian border, a remote desert region believed to be a staging ground for some of the insurgents' deadliest assaults.
More than two years after the United States declared the end of major combat, the day's events underscored how intense the fight for Iraq's future has become in the scant three months since Iraqis voted in the country's first democratic elections.
Insurgents averaged about 70 attacks a day at the start of May, up from 30-40 in February and March, said Lt. Col. Steven Boylan, a spokesman for U.S. forces in Iraq.
In Saddam Hussein's hometown of Tikrit, 130 kilometers (80 miles) north of Baghdad, a suicide car bomb exploded in a small market near a police station, killing at least 33 people and injuring 92, police and hospital officials said. The attacker swerved into a crowd of day laborers waiting to be picked up for work at construction sites after heavy security prevented the vehicle from reaching the station, police said.
Associated Press Television News footage showed charred and mutilated bodies piled up at the Tikrit General Hospital morgue. As yet another body arrived, a man with bloodied trousers sank to the floor and sobbed.
The attack came despite a new regulation barring anyone from driving alone in Tikrit. The rule, announced by local police and officials after a suicide car bombing last week, was designed to make it easier for security forces to spot suicide attackers, who generally act alone.
It was not immediately clear why it did not help prevent Wednesday's attack. The rule may not have been firmly enforced, or the 7:15 a.m. attack may have happened so early that police were not prepared for it.
Sunni militant group claims responsibility
The Sunni militant Ansar al-Sunnah Army claimed responsibility for the attack in a posting on its Web site Wednesday. But it differed in the details, denying the attack was carried out by a suicide bomber and saying it was aimed at Iraqis who work in the U.S. base in Tikrit. The claim of responsibility could not be verified.
About 90 minutes later, in Hawija, a town 240 kilometers (150 miles) north of Baghdad, a man with hidden explosives slipped past security guards at a police and army recruitment center and blew himself up outside the building where applicants were lined up. At least 30 people were killed and 35 injured, police said.
"I was standing near the center and all of a sudden it turned into a scene of dead bodies and pools of blood," police Sgt. Khalaf Abbas said by telephone from the site. "Windows were blown out in nearby houses, leaving the street covered with glass."
Four more car bombs exploded in Baghdad, including one that wounded three U.S. soldiers, the U.S. military said. In the other three, four Iraqis were killed and 14 wounded, including at least three policemen, Iraqi police said.
In western Baghdad, gunmen clashed with a police patrol on a highway, killing one officer and wounding another.
Another bomb exploded at Iraq's largest fertilizer plant in the southern city of Basra, killing one person and wounding 23, police and employees said. The blast set fire to a gas pipeline and destroyed about 60 percent of the plant.
Late Wednesday, rockets were fired in the usually peaceful city of Samawah, where a contingent of Japanese troops is based, but there were no casualties, the U.S. military said.
The target of the attack was not immediately clear, but residents said the explosions seemed to be in the direction of the Japanese base outside the city, 370 kilometers (230 miles) southeast of Baghdad. Japan has about 600 troops based there on a humanitarian, non-combat mission in support of reconstruction efforts.
President appeals to South American nations
President Jalal Talabani, on his first foreign trip as head of state, appealed to South American nations to support his country's efforts to defeat its insurgency.
"Terrorism is not limited to Iraq, it is a global curse," Talabani told heads of state and ministers in Brazil for the first summit of South American and Arab countries.
The latest violence came as hundreds of American troops in tanks and light armored vehicles rolled through desert outposts along the Euphrates River in search of followers of Abu Musab al-Zarqawi.
Operation Matador was launched after U.S. intelligence showed insurgents had moved into the northern Jazirah Desert after losses in the cities of Fallujah and Ramadi.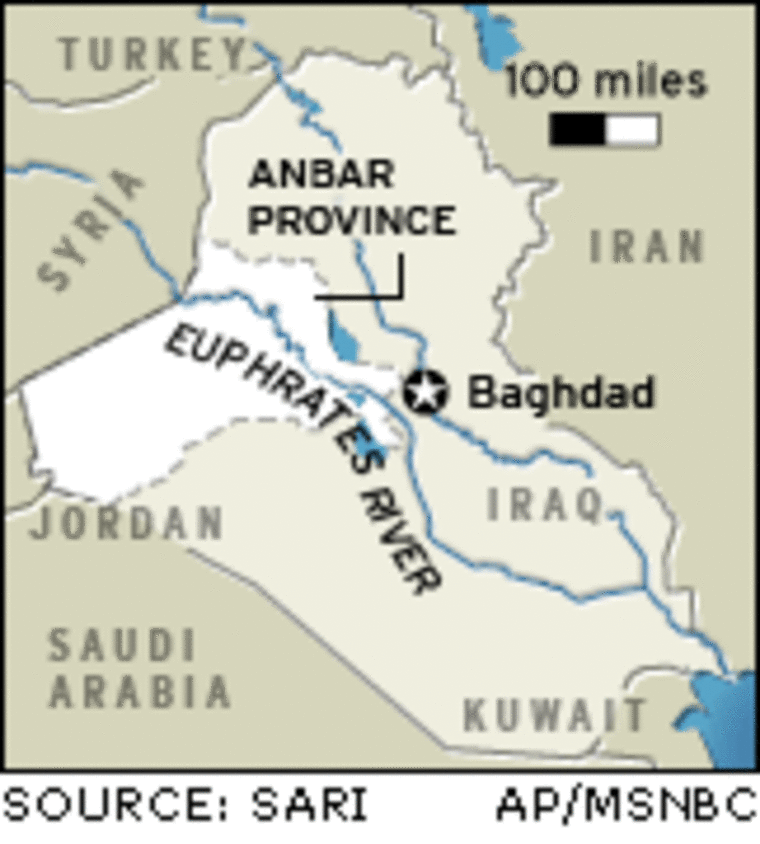 U.S. military spokesman Capt. Jeffrey Pool said the region is used as staging area for foreign fighters who cross into Iraq from Syria along ancient smuggling routes known as "rat lines."
"It is here that these foreign fighters receive the weapons and equipment to conduct attacks, such as suicide car bombs and assassination or kidnapping of political or civilian targets," Pool said in a statement.
The presence of foreign fighters has been confirmed by detainees captured during the operation, he said.
As many as 100 insurgents reported killed
As many as 100 insurgents were killed in the first 48 hours of the offensive when U.S. forces clashed with well-organized and well-equipped fighters in Obeidi, 320 kilometers (200 miles) west of Baghdad, the U.S. military said.
At least three Marines were reported killed and 20 wounded in the offensive — one of the biggest U.S. operations since Fallujah was taken from militants six months ago.
A woman and a child were killed Tuesday at a U.S. checkpoint southeast of Obeidi, the military said. Pool said Marines fired at their vehicle after it ignored repeated warnings to stop. The driver jumped out of the moving car but was caught and held for questioning, Pool said. The Marines believed the vehicle was a suicide car bomb, the statement said.
Qaim, where the offensive began late Saturday, was calm Wednesday and a few shops opened, according to residents reached by telephone. Few people ventured into the streets, apart from families who piled their belongings into cars and fled to safety.
Overwhelmed doctors at a local clinic took over a neighboring house to cope with the casualties, said Abu Omar al-Ani, who lives in Qaim. Fighting continued not far away.
"We hear echoes of shells and sporadic gunfire," said al-Ani.
East of Husaybah, another border town, Marine AH-1W Super Cobra helicopters shot and killed three armed men seen digging holes for explosives in a road Tuesday, Pool said. Late that night, in the same town, Marines shot and killed another four insurgents armed with AK-47 automatic rifles, he said.
Offer on kidnapped governor
The brother of kidnapped provincial Gov. Raja Nawaf Farhan al-Mahalawi told The Associated Press on Wednesday that the kidnappers were offering to release the governor in exchange for three al-Zarqawi followers captured by U.S. forces in Qaim. The U.S. military said it does not negotiate with terrorists.
Also Wednesday, a security firm said an eyewitness reported that a Japanese worker taken hostage in Iraq may have suffered fatal wounds. The international security company Hart said in a statement on its Web site that it has not given up hope that Akihito Saito, 44, may be alive.
There was also no word on the fate of another hostage, Australian national Douglas Wood. Militants who kidnapped the 63-year-old California resident released a video Friday demanding that Australia start pulling its troops out of Iraq within 72 hours. The deadline passed Monday with no word of his fate.