Conservative leaders urged Senate Majority Leader Bill Frist Monday to end the long-running stalemate over President Bush's judicial nominees by putting to a vote this week a proposed change in Senate rules that would allow a simple majority to halt a filibuster of a nominee.
And they warned potential 2008 Republican presidential hopeful Sen. Chuck Hagel of Nebraska that his party's primary voters would reject him if he did not support the rules change.
Underscoring the stakes, both now and for 2008, former Frist aide Manuel Miranda, one of the leaders of the anti-filibuster coalition, said Frist "now has a long-awaited appointment with his destiny."
Like Hagel, Frist is a potential GOP presidential contender in 2008. 
Does Frist have the votes?
The biggest question for Frist is whether he has the 51 votes he needs to make the filibuster rules change.
Asked Monday whether Frist has the votes to pass his proposed rule change, Sen. Edward Kennedy, D- Mass said, "I think that at this time there are probably three, maybe four senators that haven't indicated where they are on this vote. But I don't underestimate the power of this executive and the administration in trying to win the last couple of votes. As we have seen on vote after vote in the United States Senate, when the administration wants to lean hard on members, they have been very, very effective."
Among the uncommitted Republicans are Hagel, Sen. Susan Collins of Maine, Sen. Arlen Specter of Pennsylvania, and Sen. John Warner of Virginia.
Three Republicans, Sen. Lincoln Chafee of Rhode Island, Sen. John McCain of Arizona, and Sen. Olympia Snowe of Maine, have indicated they would vote against the proposed rules change
Hagel made equivocal statements Sunday that kept observers guessing. On the one hand, Hagel said, "you can't give up a minority rights tool in the interest of the country, like the filibuster."
But he added, "The other part of this, which I also believe strongly, is that presidents deserve votes on their nominees."
Hagel did not explain how presidents could get votes on their nominees if filibusters blocked those nominees from ever coming to a vote.
Frist's proposed change to the filibuster rule applies only to nominations, not to legislation.
"Sen. Hagel has been spending a lot of time in New Hampshire lately," noted Wendy Long, chief counsel to the Judicial Confirmation Network and a former law clerk to Justice Clarence Thomas. "I grew up in New Hampshire and I'll tell you something: somebody who, on this issue, is on the side of (liberal groups) Moveon.org and People for the American Way is not going to fare very well in the New Hampshire Republican primary. They are going to be laughed across the border to Vermont."
Hagel spent two days in New Hampshire last week, speaking to Republican groups and on college campuses. New Hampshire holds its first-in-the-nation presidential primary in January 2008.
Jan LaRue, chief counsel to the Concerned Women for America, said, "Sen. Hagel needs to come to grips with the fact that Frist has tried to compromise and has been rejected."
While Bush and other Republicans, marked on Monday the four-year anniversary of Bush's May 9, 2001 nomination of Texas Supreme Court Justice Priscilla Owen to serve on the federal appeals court, Kennedy appeared at a Capitol press briefing to vow her nomination would never come to a vote.
On four separate occasions in 2003 , Senate Democrats blocked up-or-down votes on her nomination.
"She shouldn't be confirmed regardless of what rules are in effect," Kennedy declared. He charged that her rulings proved that she was unsympathetic to consumers who sued large companies.
"Her record shows that she would roll back basic rights and repudiate much of this country's hard-won progress toward equality and opportunity," he said. "She repeatedly rules against the most vulnerable members of our society."
While urging his fellow senators to allow a confirmation vote on Owen, Sen. John Cornyn, R- Texas, sounded a note of hope that a confrontation with Democrats over judicial filibusters might somehow be avoided.
"It's encouraging that we're having this discussion go forward; as long as we're talking we're not fighting," he said, adding that he expected a vote on the rules change "in the next few weeks."
Rumor of a deal
The Capitol Hill newspaper Roll Call reported Monday that a bipartisan group of senators led by Sen. Ben Nelson, D- Neb., and Sen. Trent Lott, R- Miss., was close to reaching an accord that would avert a vote on changing the filibuster rule.
The reported deal entailed an agreement by several Democrats to not filibuster four of the seven Bush nominees who were stymied last year. Democrats would also have pledged to not use a filibuster to block a vote on a Supreme Court nominee this summer.
In return a handful of Republicans would agree to not support Frist on a vote to lower the filibuster-ending threshold from 60 to 51.
But Lott's spokeswoman issued a statement Monday saying that Lott "has not agreed to this deal reported today….There is no deal."
"Why would we justify throwing some nominees overboard and confirming a handful of others?" Cornyn asked reporters. "The promise to not filibuster a Supreme Court nominee is not clear – that would have to be absolutely clear."
No 'smarmy political deal'
He added, "I don't think he (Bush) is going to be part of any smarmy political deal. He's going to want make sure this is resolved on a basis of principle, and one that applies not just to these nominees, but going forward"
Only one other possibility seemed to remain: that some of Bush's judicial nominees would voluntarily withdraw their names.
Asked about this, Cornyn said, "That's another matter. There's another piece of the equation, that is the president of the United States, it's not all in the hands of the Senate."
Miranda said the idea of nominees voluntarily withdrawing would be "terrible for the Republicans, terrible for the presidency" and would make Americans "cynical."
Miranda also urged Frist to bring Owen's nomination to the Senate floor for debate this week, while "double-tracking," that is simultaneous proceeding with other Senate business such as voting on the Iraq supplemental spending bill and the highway bill.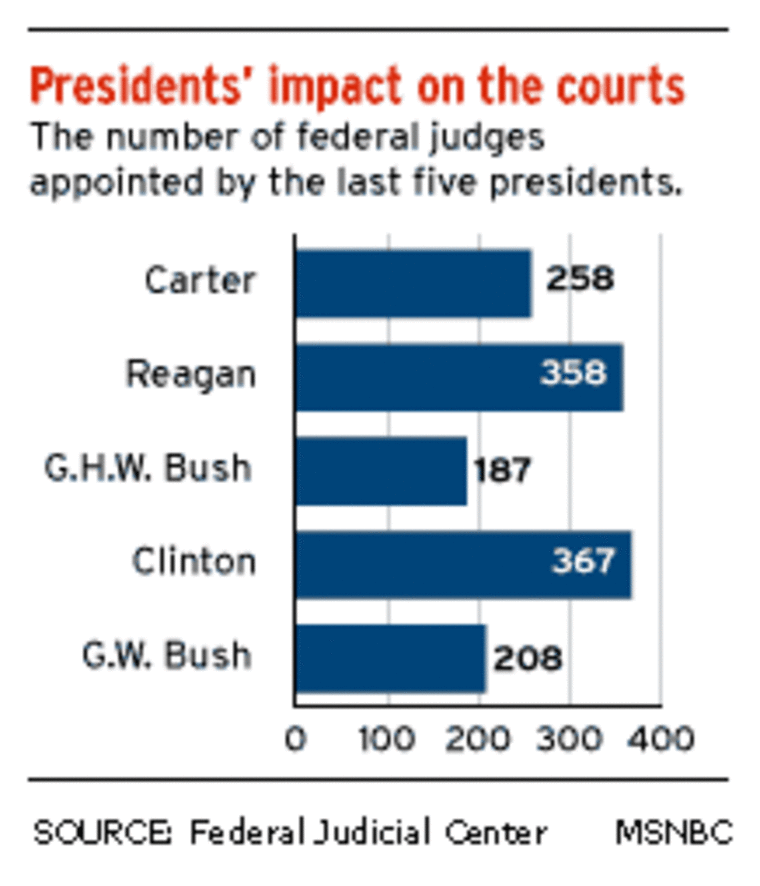 "This debate is getting a little bit stale, the GOP leadership should throw something new into the mix," Miranda said. He said Americans either didn't know of or had lost sight of the biographies of Owen and Bush appeals court nominee Janice Rogers Brown -- the daughter of an Alabama sharecropper -- who is now on the California Supreme Court.
In 2003 and 2004 Senate Democrats blocked up-or-down votes on ten of Bush's appeals court nominees, by threatening to use filibusters, endless debate, to stop all Senate business. Current Senate rules require 60 votes to stop a filibuster.
The Senate has confirmed 35 of Bush's appeals court nominees. It is those judges who are at the heart of the controversy since they issue far-reaching decisions on constitutional law, such as the 2002 ruling banning recitation in public schools of the words "under God" in the Pledge of Allegiance.