/ Source: The Associated Press
The father of an 8-year-old girl who was slain along with her best friend admitted to authorities that he was the killer, saying he was angry at his daughter for taking money, authorities said Wednesday.
A judge denied bond for Jerry Hobbs after prosecutors described a videotaped interview in court in which they said he told investigators he stabbed the girls to death. Hobbs' daughter, Laura Hobbs, and her friend Krystal Tobias, 9, were found dead Monday in a park in Zion, the day after they vanished.
The 34-year-old father, who had been released from a Texas prison last month, told investigators he was angry at Laura when he tracked her and Krystal in the wooded park, punched her and then killed both girls, prosecutors said.
Hobbs stared at the floor as Assistant Lake County State's Attorney Jeff Pavletic described the case against him.
'A slaughter of two little girls'
"This was a slaughter of two little girls," Pavletic said.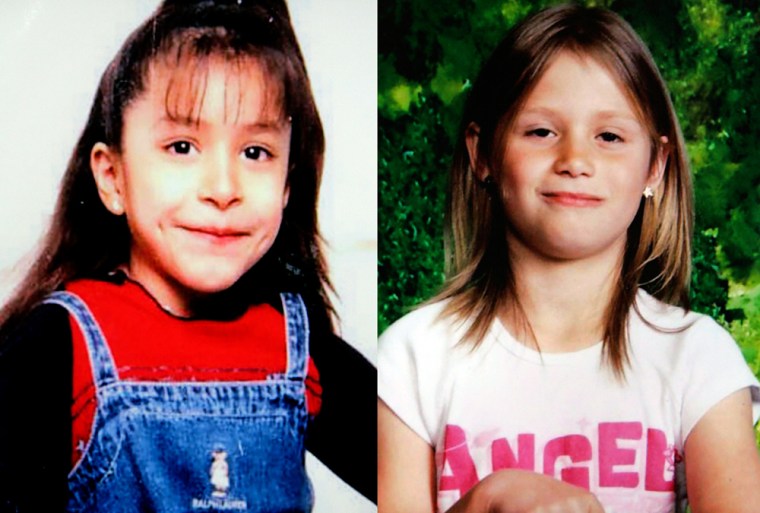 Hobbs had led police to the bodies Monday morning, claiming he had come across them off the bike path while searching for his missing daughter. In videotaped interviews over the following two days, however, prosecutors say Hobbs told them that he killed both girls after Laura refused to leave the park and that he then dragged their bodies into the woods.
Pavletic said Hobbs told investigators he believed Laura had stolen money from her mother. She had been grounded, but her mother let her go out and play on Sunday, Mother's Day.
Hobbs told investigators he was angry that the girl had gone out and went looking for her, authorities said. He told Laura to go home but she refused, so he punched her for disobeying, Pavletic said. Krystal then pulled out a potato knife to try to defend her friend, and he attacked her as well, getting the knife away and stabbing both girls, according to the interviews.
He dragged them into the woods and left them face-up, side-by-side, Pavletic said.
"It was a brutal beating, repeated punching of the two little girls and then repeated stabs. It's pretty horrible," Lake County State's Attorney Michael Waller said.
He said after the hearing that he didn't believe Krystal had brought the knife, but that that was what Hobbs had told investigators in the interviews and written statements.
Father showed lack of emotion
Waller told NBC's "Today" earlier Wednesday that the father had showed a lack of emotion and that "things didn't add up" in his interviews with police.
Hobbs has an extensive criminal history dating to 1990 in Texas, including arrests for assault and resisting arrest, according to Texas Department of Public Safety records.
Just last month, he was released from a Texas prison after serving time for an assault in 2001. He had argued with Laura's mother, Sheila Hollabaugh, then grabbed a chain saw and chased neighbors until someone hit him in the back with a shovel, according to Rick Mahler, assistant district attorney for Wichita County, Texas. No one was injured.
Hobbs was sentenced to 10 years probation but failed to appear for required meetings, so his probation was revoked in 2003.
Arthur Hollabaugh said Hobbs had been living with the Hollabaughs after his release.
"Jerry just got out of prison for aggravated assault, and I think they're holding that against him," Hollabaugh said before police announced the charges. "I don't think he did it."
Zion, along Lake Michigan, was founded in 1901 by a religious faith healer. It has about 22,000 residents but retains a quiet — at times, rural — feel despite being on the edge of both the Chicago and Milwaukee metropolitan areas.
Memorial in park
At the entrance to Beulah Park, where the bodies were found, more than a dozen children stood quietly around a growing memorial of flowers, balloons and stuffed animals.
One sign read: "May your angels rest peacefully in heaven."
At a prayer vigil later Tuesday evening, Krystal's family and about 200 community members gathered outside her home and somberly walked the block and a half to Laura's house. The slain girls' families hugged each other and began crying.