/ Source: The Associated Press
Two European politicians on Thursday adamantly denied accusations from a U.S. Senate committee that Saddam Hussein's regime allocated them millions of barrels of Iraqi oil in exchange for their support.
The denials came a day after the committee investigating corruption in the U.N. oil-for-food program released new evidence purporting to show that the two politicians, from Britain and France, received vouchers for Iraqi oil in exchange for supporting Saddam's regime.
British lawmaker George Galloway called the claim against him "patently absurd."
Former French Interior Minister Charles Pasqua said he has already repeatedly denied having "received any benefit whatsoever in whatever form from the authorities or the Iraqi regime of Saddam Hussein."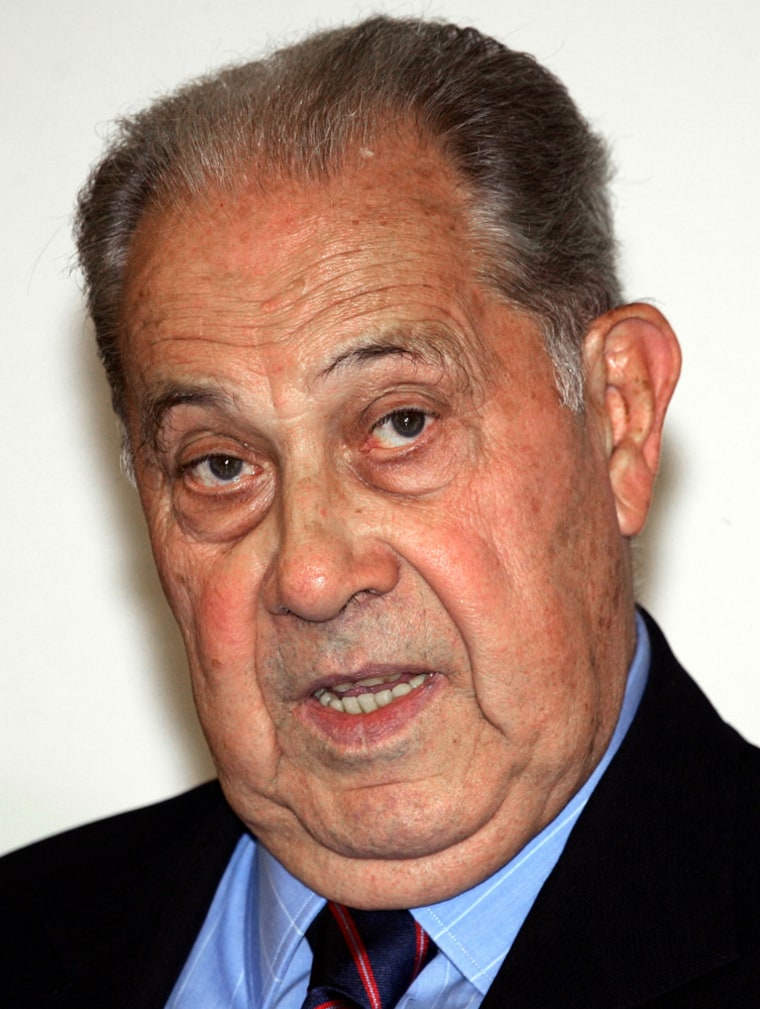 Without backing Pasqua, France's Foreign Ministry was critical of the Senate committee's approach.
Ministry spokeswoman Cecile Pozzo di Borgo said France could not comment on the allegations, but added that they "were formulated without the people or entities implicated being in a position to defend themselves."
"We have already indicated that we disapprove of this manner of proceeding," she said.
Evidence laid out
The Senate committee, citing contracts, letters and interviews, set out evidence Wednesday to back claims that Galloway and Pasqua accepted oil allocations under the U.N. oil-for-food program.
"This report exposes how Saddam Hussein turned the oil-for-food program on its head and used the program to reward his political allies like Pasqua and Galloway," Sen. Norm Coleman, chairman of the Senate's permanent subcommittee on investigations, said Wednesday.
The oil-for-food program was designed to let Saddam's government sell oil in exchange for humanitarian goods to help the Iraqi people cope with U.N. sanctions imposed in 1991 following Iraq's invasion of Kuwait.
But Saddam manipulated the $64 billion program to earn illegal revenues and peddle influence, by awarding former government officials, activists, U.N. officials and journalists vouchers for Iraqi oil that could then be resold at a profit.
Coleman's committee said Pasqua had received allocations worth 11 million barrels from 1999 to 2000, and Galloway received allocations worth 20 million barrels from 2000 to 2003.
Accusations aren't new, but details are
The allegations against Pasqua and Galloway, both outspoken opponents of U.N. sanctions against Iraq in the 1990s, have been made before, including in a report in October by U.S. arms inspector Charles Duelfer.
But Coleman's report provided several new details. It also included information from interviews with former high-ranking officials now in U.S. custody, including former Foreign Minister Tariq Aziz and former Vice President Taha Yassin Ramadan.
Among the claims: New evidence suggests that a children's leukemia charity founded by Galloway was in fact used to conceal oil payments.
Coleman claimed Saddam also approved Pasqua's allocations himself. The report cites Ramadan as saying in an interview that Galloway was allocated oil "because of his opinions about Iraq."
Pasqua, 78, headed the Interior Ministry from 1986-88 under then-Prime Minister Jacques Chirac and again from 1993-95 under Edouard Balladur. Once a Chirac loyalist, Pasqua supported Balladur against Chirac in presidential elections in 1995.
Now a senator, Pasqua appeared to suggest in his statement refuting the Senate committee's allegations of corruption that other French politicians should shoulder responsibility.
"Having not exercised governmental responsibilities in France since 1995, I expect that those who have directed the country's affairs since that date assume theirs," he said.
Pasqua said the Senate committee's investigation reiterated previous accusations against him "in large measure."
"I deny them one more time," Pasqua said.
Hatchet job?
Galloway said the committee had done "a political hatchet job."
Speaking to Sky News television, he said: "The idea that the most scrutinized politician in Britain was secretly moonlighting as an oil trading billionaire is patently absurd. If I had millions of barrels of oil, I would be a billionaire."
Galloway, who was expelled from Prime Minister Tony Blair's Labour Party after urging British soldiers not to fight in Iraq, won re-election to Parliament last week as a representative of his own anti-war Respect party.
He also issued a statement saying he "never traded in a barrel of oil, or any vouchers for it."
He added: "And no one has acted on my behalf, trading in oil — Middle Eastern, olive, patchouli or any other — or in vouchers, whatever they are."