/ Source: The Associated Press
Eight Uzbek soldiers and three Islamic militants died in a clash near the Kyrgyz border Sunday and more than 500 Uzbeks fled to safety across the frontier, witnesses said, in spreading violence that further threatened stability in this Central Asia country, a key American ally and host to an important U.S. military outpost.
The explosions of pent-up anger have now hit at least two Uzbek border towns in the volatile Fergana Valley. As many as 500 people reportedly were killed Friday in Andijan, Uzbekistan's fourth-largest city about 30 miles west of the Kyrgyz frontier, when government troops were called in to put down an uprising by alleged Islamic militants and citizens protesting dire economic conditions.
About 500 bodies were laid out in rows at an Andijan school, according to a respected doctor in the town, seeming to corroborate other witness accounts of hundreds killed in the fighting. Relatives were arriving at Andijan's School No. 15 to identify the dead, said the doctor, who spoke by telephone on condition she not be named.
2,000 wounded?
The doctor, who also said about 2,000 people were wounded, is widely regarded as knowledgeable about local affairs. She did not say how she arrived at her estimate.
Andijan officials were trying to reach a nearby airport to escape the unrest, she said, while some uprising organizers were trying to flee to Kyrgyzstan.
A resident who asked to be identified only by his first name, Ilkhom, said, "The city was burying its victims throughout the entire day, and the people are very angry at the president for his order to open fire at peaceful civilians."
He said he saw the bodies of three men killed Sunday — apparently by a soldier who feared they were going to attack him, according to witnesses.
Gunfire on the outskirts of town
There were no more protesters in the square at the center of the uprising, the doctor said.
But reporters trying to enter the city late Sunday heard bursts of automatic gunfire on its western outskirts. Police officers at a checkpoint dropped to the ground and fired in the direction of the gunfire.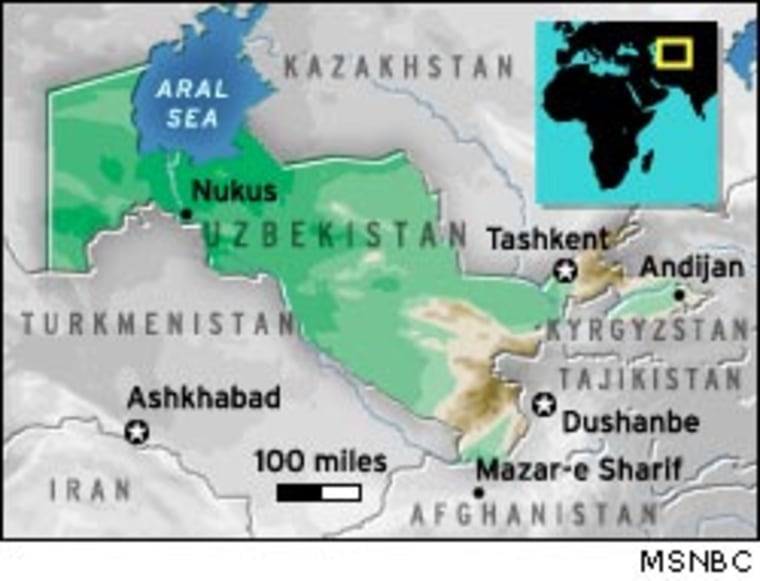 An Andijan resident reached by phone said gunfire rang out briefly near the city market in the afternoon. The resident, who also spoke on condition of anonymity, said scores of troops backed by armored vehicles were deployed around the city's main avenues, and authorities Sunday arrested several relatives of suspected participants in the unrest.
Abdugapur Dadaboyev, an Uzbek rights activist who visited Andijan on Saturday, said he saw dead bodies in police and military uniforms lying in the streets.
Civilians' bodies, in contrast, were quickly removed from the streets, he said.
Russia's state-run Channel One television showed footage of uniformed men with rifles slung over their shoulders carrying a corpse toward a truck and of a dead man lying face-down on a street, his head thrust between the bars of a fence and his legs still straddling an old bicycle. It said the video was shot Saturday.
Dadaboyev said two local officials who were among the hostages seized in Andijan were buried Saturday in the nearby town of Asaka.
Difficult position for U.S.
The unrest presents a quandary for the United States because President Islam Karimov is considered a key ally in the fight against terrorism and the United States maintains a military base in Uzbekistan to support anti-terrorist operations in Afghanistan.
On Friday, White House spokesman Scott McClellan urged restraint by both sides and Uzbeks should pursue their goals peacefully.
On Sunday, British Foreign Secretary Jack Straw called for democratic change in Uzbekistan.
"The situation is very serious. There has been a clear abuse of human rights, a lack of democracy and a lack of openness," Straw told British Broadcasting Corp. radio.
Uzbekistan's government denied Straw's previous claim that soldiers fired on demonstrators.
"From where has Jack Straw learned that law enforcement had 'opened fire on demonstrators' if that did not take place at all?,"' the Foreign Ministry said.
Following the day of violence in Andijan, some 5,000 angry protesters swarmed the border town of Korasuv on Saturday, looting and burning official buildings, torching police cars and assaulting local officials.
Protesters fault government
Participants in the protest accused the government of failing to improve living conditions. The town that straddles the river border was split in two following the 1991 Soviet collapse, and Uzbek officials dismantled a bridge two years ago as part of their effort to impose new restrictions on traders.
The move vexed Korasuv residents, who depended on a big market on the Kyrgyz side of the border to earn their living. Many people have drowned while trying to cross the river using ropes.
Korasuv residents quickly rebuilt the metal bridge and scores of jubilant traders went to the market Sunday.
At another section of the border, some 6,000 Uzbeks sought to cross into Kyrgyzstan to get shelter. About 500 were gathered on Kyrgyz territory, and Kyrgyz authorities and international relief groups were considering efforts to help them, said Almambet Matubraimov, the Kyrgyz presidential envoy to the region.
Uzbek president blames extremists
Karimov blamed Islamic extremists for the uprising in Andijan, the ex-Soviet republic's fourth-largest city. He claimed that people from Kyrgyzstan were among the organizers of the violence in the city, where protesters stormed a prison and occupied the local government offices before government forces put down the uprising.
Karimov said 10 government soldiers and "many more" militants died in Friday's fighting. Witnesses said 200-300 people were shot dead, and an AP reporter saw at least 30 bodies in Andijan. Karimov said at least 100 people were wounded.
He claimed negotiations with the militants collapsed after they demanded all their followers be released from jails across the Fergana Valley, Central Asia's conservative heartland. The uprising began when the militants stormed a prison where the 23 were being held. Karimov said they freed 600 prisoners.
"To accept their terms would mean that we are setting a precedent that no other country in the world would accept," Karimov told a news conference in the capital, Tashkent, on Saturday.
Karimov claimed the uprising was orchestrated by a "faction of Hizb ut-Tahrir," a banned movement seeking to create an Islamic state in Central Asia. Hizb-ut-Tahrir has long been targeted by the Uzbek regime — a campaign that has been one of human rights activists' top grievances against the authoritarian government.
The 23 businessmen at the focus of the uprising were charged with membership in a group allegedly allied with Hizb-ut-Tahrir, which seeks to create a worldwide Islamic state and has been forced underground throughout most of Central Asia and Russia.
The men are alleged members of Akramia — a group named for their founder, Akram Yuldashev, an Islamic dissident sentenced in 1999 to 17 years in prison for purportedly urging Karimov's ouster. He has proclaimed his innocence. The group forms the heart of the city's small business community.