/ Source: The Associated Press
A city fond of imploding its past and reinventing itself paused this weekend to celebrate its 100th birthday with a look back at a surprisingly rich pioneer history.
"Las Vegas was a speck in the desert in 1905," Nevada state archivist Guy Rocha said of a town in a bowl-shaped valley rimmed by jagged gray mountains and nourished by a natural spring. The name is Spanish for "the meadows."
"Now there's not a place in the modern world that doesn't recognize Las Vegas," Rocha said. "That's not hype. It is what it is."
American Indians and travelers on the Old Spanish Trail watered at the springs, but the town got its start because the railroad from Salt Lake City to Los Angeles needed a place to house workers.
Today, it's a go-go, 24-hour metropolis of casinos, nightclubs and restaurants that lures 37 million tourists a year. Marquee casinos with dancing fountains and canals sprouted where the springs dried up long ago.
Down the Las Vegas Strip are scale models of the Eiffel Tower, the Statue of Liberty and an Egyptian pyramid. Up the Strip, the curvy Wynn Las Vegas resort opened last month at a cost of $2.7 billion.
Not surprising for this city of excess, there's nothing humble about Las Vegas' celebration of the May 15, 1905, land auction that drew hardy buyers to dusty home sites in what is now downtown.
A birthday cake larger than a basketball court, fireworks, concerts, simultaneous "I Do's" for 100 couples, and a resurrected "Helldorado Days" parade were scheduled in and around the town that didn't have a paved road until 1924.
It now has 1.7 million residents and car-choked freeways to funnel residents to work from sprawling suburbs.
"We want the whole world to celebrate with us," said Mayor Oscar Goodman, a former mob lawyer now in his second term.
Drawing attention and people was a lesson learned a century ago from townsfolk artful with hyperbole and unblinking pragmatism.
Round-trip ticket offered
Skeptical of the 1900 U.S. Census, which put the area population at 30 people, Michael Green, a Community College of Southern Nevada professor, checked residents' signatures.
"They look uncharacteristically alike," said Green, co-author of "Las Vegas: A Centennial History." Many probably worked a ranch owned by Helen Stewart, who sold almost 3 square miles to William Andrews Clark for home sites. Clark, namesake for what is now Clark County, was principal owner of the San Pedro, Los Angeles & Salt Lake Railroad.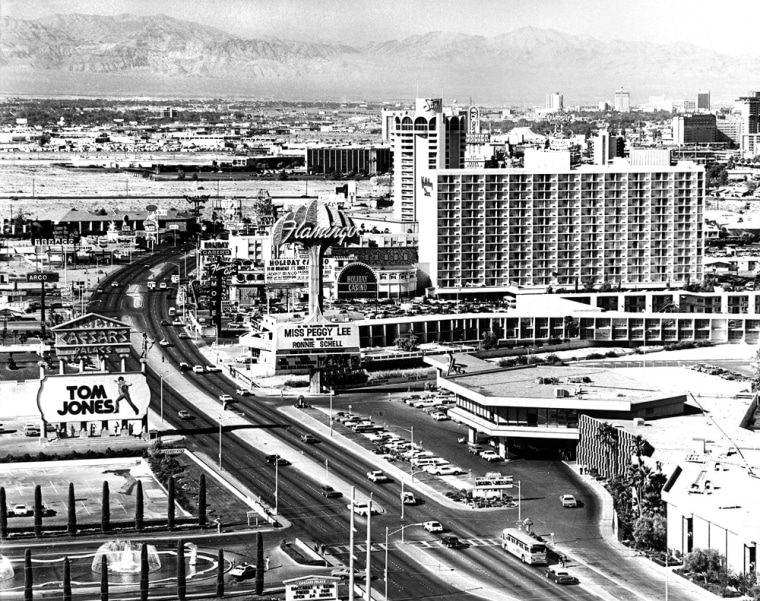 More settlers soon came — drawn from Los Angeles and Salt Lake City by cheap land and the promise of train ticket refund if they plunked down as little as $100 on a lot.
"A $25 down payment and a $22 round-trip ticket to L.A.," recalled Ed Von Tobel Jr., 92, whose father bought two parcels and opened a lumber yard to supply the town's first building boom.
Air conditioning was invented in 1906, but it would be years before it reached the Hotel Nevada, now named the Golden Gate.
"The first question is always, 'What did you do about the hot weather?'" said Von Tobel.
"We didn't notice the heat in those days," said his wife, Evelyne Von Tobel, 90.
Years later, motorists would be lured off the Los Angeles-to-Salt Lake City route by billboards touting cheap shrimp cocktail (still 99 cents at the Golden Gate) and free rooms for gamblers.
Las Vegas got its first highway, golf course and daily passenger air service in the 1920s, but was hurt by a railroad strike.
It recovered in 1931 when state lawmakers relaxed divorce laws and legalized casino gambling, and the federal government began building what would become Hoover Dam on the Colorado River, 30 miles east of town.
Rocha called dam construction "a threshold event."
"It was one of the largest public works project in the history of the nation, and with water and hydroelectric power available, people could start thinking about bigger things."
World War II brought soldiers to a gunnery range that became Nellis Air Force Base, workers to Basic Magnesium Inc. to produce lightweight metal in Henderson for the war effort, and gamblers to downtown Fremont Street.
"The Apache, the Boulder, the Frontier Club, the Pioneer. A lot had Western names and a very Western orientation," Green said of the neon-lit casinos in downtown's "Glitter Gulch."
Helldorado Days started in 1935 as a Western-themed pageant featuring a parade, rodeo and "Whiskerino" beard-growing contest that ran until 1998.
The Western theme continued with the opening of the El Rancho on the Strip — a stretch of Las Vegas Boulevard south of town in Clark County.
Benjamin "Bugsy" Siegel broke ground in 1945 with $1.5 million from New York and California underworld associates on a hotel farther down the Strip. A year later and $4.5 million over budget, it opened as the Flamingo. Within months the legendary mobster was shot to death —  but his hotel would thrive.
"The Flamingo touched off the Strip building boom," Green said. Casino hotels that followed included the Thunderbird, Desert Inn, Sahara, Sands, Riviera, Hacienda, New Frontier and Tropicana.
In 1949, mobster Morris "Mo" Dalitz arrived from Cleveland to open the Desert Inn and Las Vegas Country Club, and diversified into housing, a hospital and other development.
In 1955, the Moulin Rouge opened as the city's first integrated casino, drawing black and white entertainers after their Strip performances. It closed within six months, but it led to a landmark 1960 agreement to desegregate Strip hotels.
On the Strip, Frank Sinatra played the Sands' Copa Room nightly and caroused after hours with "Rat Pack" buddies Dean Martin, Sammy Davis Jr., Joey Bishop and Peter Lawford.
The gambling industry gained credibility with the creation of the Nevada Gaming Commission and "respectability," Green said, when reclusive tycoon Howard Hughes decided to settle in the Desert Inn, one of several casinos he bought.
Elvis in the house
"After he arrived, the city was seen as a clean investment for people who didn't have to have a rap sheet," Green said.
Hughes moved in in 1966, by coincidence the same year that Caesar's Palace, Las Vegas' first themed casino, opened. Elvis Presley gave Las Vegas a "viva" identity during his 837 performances at the Hilton from 1969 to 1977.
Twelve years later, Steve Wynn opened The Mirage with an exotic tropical theme and a fire-belching volcano. The first new hotel on the Strip in 16 years sparked a competitive casino boom — and a wave of spectacular implosions.
Gone are the Dunes, the Landmark, the Sands, the Hacienda, the El Rancho and the Desert Inn.
In their places are multibillion dollar hotel-casinos and a tourism machine that runs ads in the nation's biggest cities inviting visitors to a town where, "What Happens Here, Stays Here."
"There's so much one-upmanship going on with the hotels," observed Leslie Smith, 77, a retired builder and lifelong resident. "How can they spend so much money?"
"Megastars, megabucks megacasinos," Rocha said. "You can't find anything else like it on the planet. The question is, what's next?"