A new venture, drawing upon a Canadian retooling of 60-year-old rocket technology and fresh funding from a former backer of Russia's Mir space station, on Tuesday announced plans to start launching paying passengers into outer space by mid-2007.
The new company, called PlanetSpace, is a 50-50 venture involving Canadian Arrow, one of last year's leading contenders in the X Prize space race, and Chirinjeev Kathuria, an Indian-American entrepreneur who put millions of dollars into an effort to extend Mir's life five years ago.  PlanetSpace's plans were detailed Tuesday at Canadian Arrow's space center in London, Ontario.
Kathuria, a physician who made his fortune in a series of businesses ranging from medical technology to Internet and telecom services, ran for the U.S. Senate in Illinois as a Republican last year but failed to win the nomination.  He recently announced his candidacy for Illinois lieutenant governor in the 2006 election.
During his Senate run, Kathuria's net worth was reported at $30 million to $100 million.  On Monday, Kathuria declined to say how much he was investing in PlanetSpace but told MSNBC.com it would be "enough to complete the vehicle" that Canadian Arrow has been building.
The Canadian arrow rocket is based on the V-2 rocket that was developed by the Nazis during World War II, then adapted after the war by the Soviets and the Americans with the aid of German engineers.  Canadian Arrow didn't finish developing their rocket in time to try for the $10 million X Prize, but it did conduct a drop test of its crew capsule last August.
At that time, team leader Geoff Sheerin was quoted as saying he needed $2 million to get the rocket to the launch pad for its maiden flight.  Since then, the team has continued testing its V-2-inspired rocket engine.  This month, the liquid-propellant engine was run up to 50,000 pounds of thrust, essentially achieving its target for actual spaceflights, Sheerin told MSNBC.com.
"We expect to be finishing the Canadian Arrow in 11 to 12 months," he said.  "In 18 months, we expect it to have flown manned flights."
Plans for future flights
The first flights would be piloted by Canadian Arrow's six-person astronaut team, and PlanetSpace intends to make spaceflights available to the public within 24 months, Sheerin said.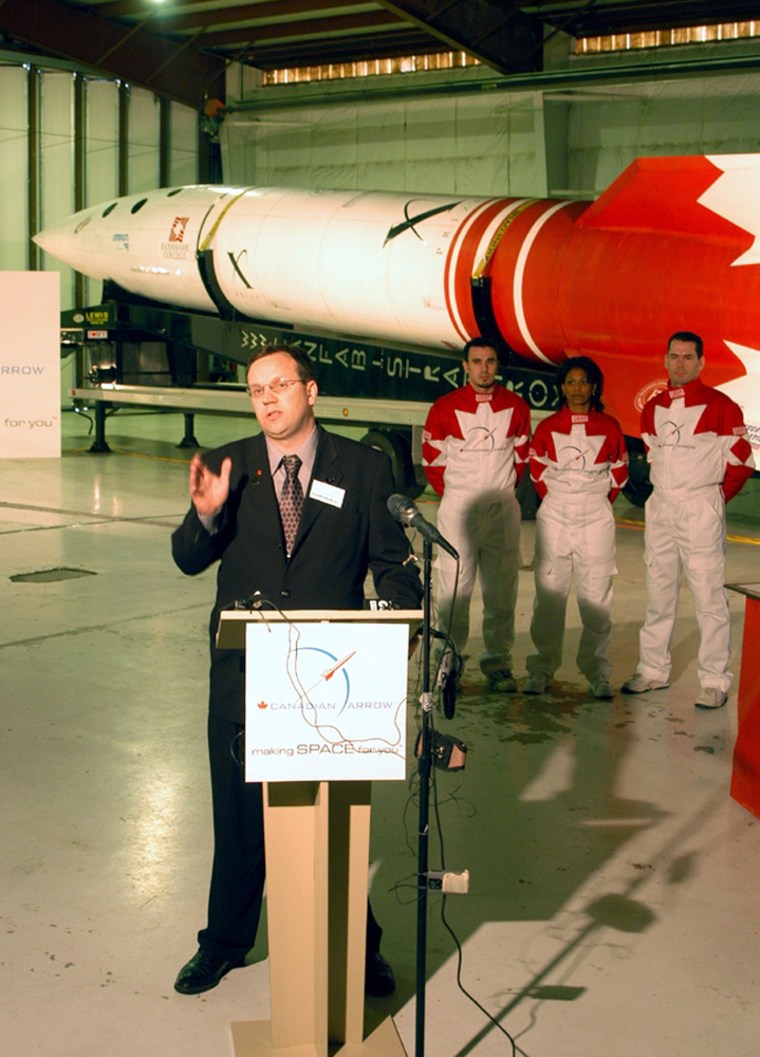 Fares for a suborbital spaceflight would start at $250,000, which would include 14 days of training, according to a PlanetSpace fact sheet.
In the beginning, each flight would carry two passengers and a pilot, Sheerin said. The V-2 rocket would be launched from a Canadian site, most likely in the Great Lakes region.  After liftoff, the rocket would reach a maximum velocity of four times the speed of sound, with passengers experiencing 4 to 5 G's — more acceleration than a shuttle astronaut would feel on a typical flight.
The flight profile calls for the rocket to coast to a maximum height of 70 miles (112 kilometers), giving the passengers a few minutes of weightlessness and a view of the curving earth with a black sky above.  On the way down, the crew capsule would separate from the rest of the rocket and parachute down to a water landing.  The complete flight is expected to last 15 minutes.
Sizing up the competition
PlanetSpace's business plan calls for flying almost 2,000 passengers in the first five years of operation, generating $200 million in revenue in the fifth year.
"It's going to be key to be first in the suborbital program," Kathuria said.
PlanetSpace is the third X Prize spin-off to announce plans for commercial suborbital flights: Even before the SpaceShipOne rocket plane took the $10 million prize last October, British tycoon Richard Branson struck a deal to license SpaceShipOne technology for Virgin Galactic, an effort aimed at flying paying passengers at $200,000 each starting in 2007.  Since then, the start-up date has slipped to 2008 or perhaps even later.
Just last week, Aera Corp. — the successor to the X Prize competition's American Astronautics team — said it would start taking reservations for suborbital spaceflights beginning in late 2006, with prices set at $250,000 a seat for the first flight and $150,000 for subsequent flights.
If Aera sticks to its announced schedule, it would be the first to market — but Kathuria pointed to Virgin Galactic's schedule slip and implied that Aera might face similar delays. "When you build a business, there are great concepts, but to get them actually up and working is key," he said.
Sheerin said he was counting on Canadian Arrow's tried-and-true V-2 technology to ease the path to that first liftoff.  "We know what works, and also ... we understand what doesn't work, and that is worth millions of dollars," he said.
"Now all we have to worry about is, do we get the vehicle integration right," Sheerin said.  "I'm very confident that we will."
Lessons from Mir
Kathuria said his experience with MirCorp, where he was a founding director, would help smooth the way as well.  His deep pockets — as well as those of telecom entrepreneur Walt Anderson, who was jailed on tax-evasion charges earlier this year — kept Mir alive for almost one extra year.  But the Russians ultimately deorbited Mir in 2001 due to the financial strain of keeping that aging outpost in operation as well as contributing to the international space station.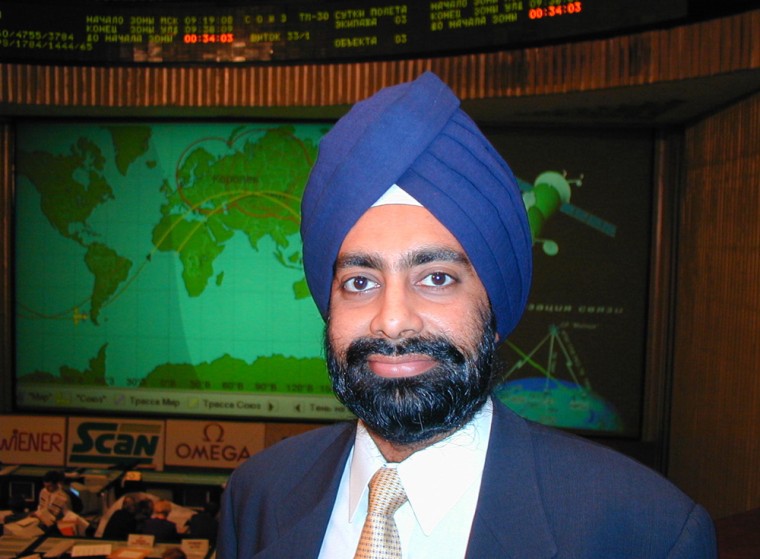 MirCorp helped make arrangements to fly California millionaire Dennis Tito to the Russian station as the first-ever paying space passenger, and to send pop star Lance Bass to the international space station as part of a reality-TV deal — but in both cases the arrangements fell through.  Tito ended up going to the international space station a month after Mir fell, through the auspices of a MirCorp competitor, Virginia-based Space Adventures.  A year later, Bass was bumped from his space mission due to a lack of financial backing.
Kathuria put a positive spin on MirCorp's legacy: "MirCorp achieved a lot of the firsts.  One, it sent the first privately funded manned mission to space.  It signed Dennis Tito as the first citizen explorer.  That opened up all this space commercialization.  It signed the largest deal in U.S. television history to do a reality show. ... We were pioneers in that industry, and that brings invaluable experience."
Aiming high
PlanetSpace was involved in talks with potential partners for a space-themed reality-TV show and an international lottery with spaceflight prizes, Kathuria and Sheerin said.  In addition, Kathuria said he expected another group to buy a 26 percent stake in PlanetSpace within six months.  He declined to name the potential investor but said "it's definitely a well-known group."
Eventually, PlanetSpace could aim for orbital as well as suborbital space tours, Kathuria said.
"We're in this to make a profit," Kathuria said.  "I'm excited about space commercialization and the desire of our species to explore.  That's my excitement.  But at the end of the day, the key thing is to make this very profitable for us."