/ Source: msnbc.com staff and news service reports
Nintendo unveiled its smallest Game Boy yet on Tuesday, but was short on details over its next-generation game console, codenamed "Revolution."
The Game Boy Micro is about the size of an iPod Mini. It measures 4" x 2" x 0.7" and weighs just 2.8 ounces. A removable face plate, similar to those on Nokia phones, will let users customize the device. The Micro will play the same games as the current Game Boy Advance SP, but has a brighter screen than its forebears. The Micro will be released this fall, Nintendo officials said, but did not announce a price.
As for the Revolution, Nintendo showed off an early prototype of the console, but it was clear that it was still a work in progress. No date was announced for its release beyond "2006" and officials said they were still pondering color choices for the console, which is smaller than the PlayStation 2. No controller was shown.
Also still unknown: What the console's final name will be. Acknowledging the lack of information, Nintendo president Satoru Iwata told the audience, "maybe we can look at this as a form of puzzle game."
In contrast, both Sony and Microsoft have offered many more details of their next-generation consoles, with Microsoft's Xbox 360 set for release around Thanksgiving of this year and Sony's PlayStation 3 set for a spring 2006 release. (MSNBC is a Microsoft - NBC joint venture.)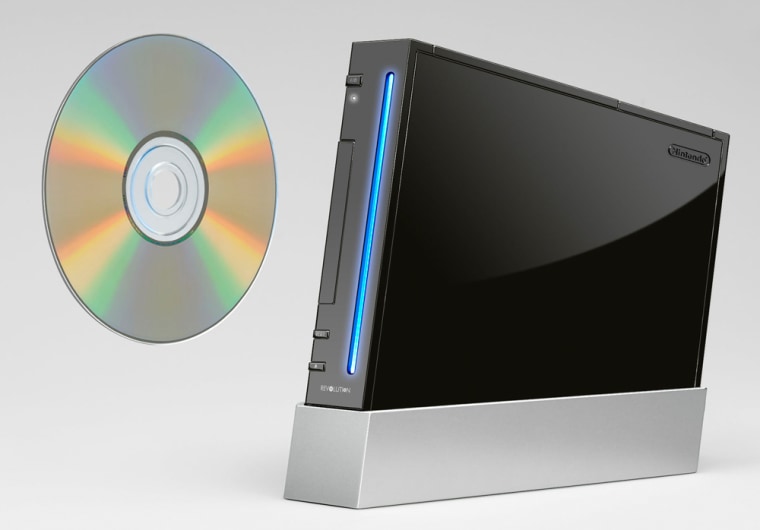 When the Revolution is released, players will be able to download more than 20 years worth of Nintendo games from all the previous platforms, such as the NES and Nintendo 64. The new console will support both a new disc format and discs from Nintendo's current console, the GameCube. Nintendo also said it would offer an add-on unit that would let the Revolution play standard DVDs. The console will feature wireless controllers, two USB ports and built-in wireless Internet access.
Nintendo stressed that it wants to develop games for everyone, not just core gamers. That's what the "Revolution" is, officials said -- attracting casual gamers and non-gamers.
The company also showed off the next version in its classic "Legend of Zelda" series, which will be available for the GameCube. "Legend of Zelda: Twilight Princess" looks to be a darker version of the game, with the young hero "Link" more grown up. No launch date was announced.
Pushing the envelope in a different way were demonstrations of two titles for the Nintendo DS handheld that don't necessarily qualify as games in the traditional sense.
"Nintendogs" is a virtual pet "game" where you raise and train puppies. Pets and cuddles are administered via the DS's touch screen. Using the DS's built in WiFi, you can search for other "Nintendog" owners and schedule an interactive play date for their pups.
In "Electroplankton" you use the DS touch screen to manipulate underwater creatures. As you move them, each makes a sound. Putting your moves together creates a melody to go along with the pictures on the screen.
A New York DJ demonstrated, putting together moves on two DS players to create tunes. So while you may have to wait for the Revolution, you can now "spin" plankton.