Senate Majority Leader Bill Frist has scheduled a vote for Tuesday to bring an end to debate on appeals court nominee Priscilla Owen.
The vote has far larger implications than the fate of one nominee — it will likely determine what could be the most consequential battle of George Bush's presidency. At stake: Bush's ability to steer the courts in a more conservative direction.
On that vote — called a cloture motion in Senate parlance — the key will be how many Democrats decide to join the 55 Republican senators in voting for the motion. Under the rules of the Senate, it takes 60 senators to vote to end debate.
If Frist wins Tuesday's cloture vote, there would be no more than an additional 30 hours of debate permitted on Owen's nomination.
After that additional debate, the Senate would vote on the nomination itself. If Owen got a majority (51 votes, if all senators vote), her nomination would be confirmed.
The Senate has already spent three days this week debating her nomination and will spend part of Friday doing so.
If Frist does not win the cloture vote, he would seek a ruling of the presiding officer that further debate was dilatory. If the Senate sustained such a ruling by majority vote, then the filibuster-ending threshold would be lowered from 60 to 51.
Democrats' likely response
Democrats have warned that if the filibuster rule is changed, they will respond by using parliamentary devices to delay bills and to "wrest control of the agenda" from Republicans. Democrats would be able to bring to a crawl work on high-priority legislation such as an energy bill and asbestos litigation reform.
On the Senate floor Wednesday, Democratic Leader Harry Reid threw the first parliamentary monkey wrench — invoking the rarely-used Senate rule that prevents committees from meeting for more than two hours once the Senate has begun its day's proceedings.
Bush first nominated Texas Supreme Court Justice Owen to the federal bench on May 9, 2001, but Democrats defeated four attempts by Frist to bring her nomination to a vote.
Democrats have used filibuster threats to block up-or-down confirmation votes on 10 of Bush's appeals court nominees, while 36 have been confirmed by the Senate.
A dozen Democratic and Republican senators continued Friday to discuss ways to avoid a showdown.
After negotiating for hours behind closed doors Thursday, the group, which includes Sen. John Warner, R- Va., Sen Robert Byrd, D-W.V., Sen Mike DeWine, R- Ohio and Sen. Ken Salazar, D- Colo., recessed their face-to-face talks. Senators leaving the evening session said that Monday afternoon would be the earliest they could reconvene and try to clinch a deal. That leaves the bargainers little time to spare.
A GOP senator sees hope
"There's still hope, we've made a lot of progress, but we're not done yet," said DeWine Thursday night as the bargaining ended. "You can see how a deal could be put together.... The ingredients are certainly there, but we're not there yet, and we may not ever get there. But we certainly want to get there."
With the likelihood that Bush will have an opportunity to fill one or more vacancies expected next month on the Supreme Court, the issue takes on even greater importance.
Chief Justice William Rehnquist, 80, is ailing with thyroid cancer. The oldest justice is John Paul Stevens, 85.
For most Republican senators the non-negotiable goal is a binding commitment by Senate Democrats to not use a filibuster to block a Supreme Court nominee.
DeWine said he wanted to reach an accord with Democrats so that both parties would stop using the filibuster. But that delaying tactic should remain on the shelf, he said, to be used only "in very extraordinary circumstances."
"If we are forced to go ahead and change the way the Senate operates, then that option of using the filibuster will be gone," he said. "I don't really think that is good.... We should have that option there in very extreme cases for the minority to be able to use a filibuster when the minority feels that it is needed."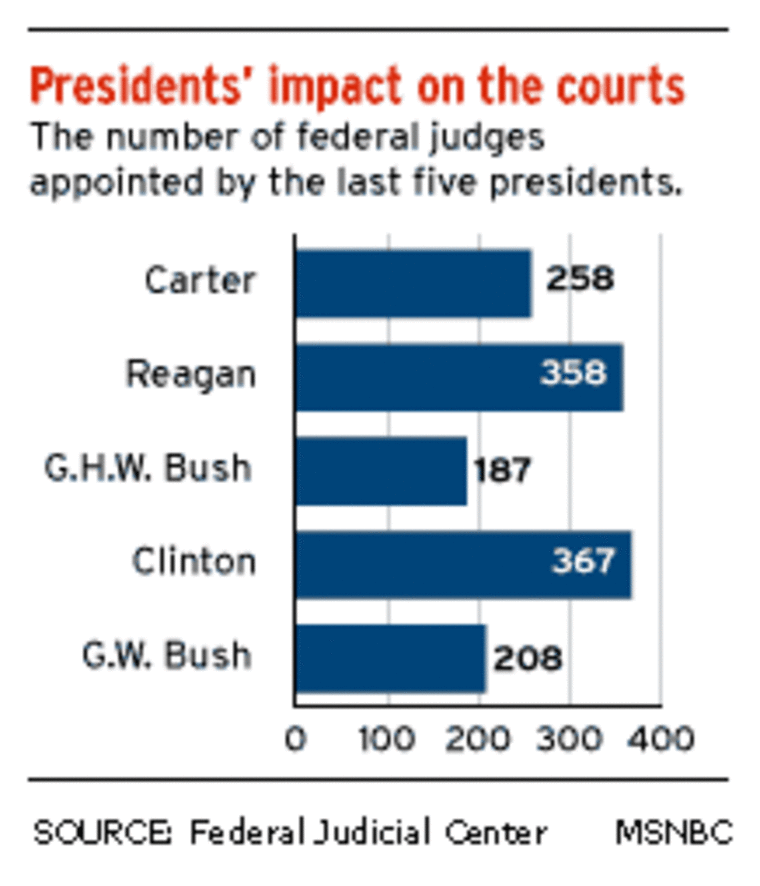 While the bipartisan group was meeting Thursday afternoon, a group of GOP freshman senators held a press conference to demand that they be allowed to vote on all judicial nominees and to not have any jettisoned as part of any bargain.
"Every nominee should receive an up-or-down vote, and there should be an agreement that Supreme Court nominees of the future are not threatened with a filibuster," said Sen. Richard Burr, R-N.C.
"We're the freshest faces just off an election; we've got the most recent promises to people across the country," Burr said. "That was our promise: that we would come here to make sure that every nominee got an up or down vote. We didn't promise to vote for them, but we promised to get them a vote."
"We all deserve to have a vote on those nominees under our role of advice and consent in the Constitution," argued Sen. David Vitter, R-La. "I don't think 41 senators should be able to take that right and that role away from us, so it goes without saying that I don't think 12 senators should be able to take it away from us."
Any deal that allows some Bush appeals court nominees to be "thrown overboard" would be unacceptable to Frist, but if six Republicans went along with the Democrats on this, then Frist would be powerless to stop it.
Frist, whom some in Washington think has presidential ambitions, has placed his credibility at stake by arguing so strongly in favor of giving every judicial nominee an up-or-down vote.