/ Source: msnbc.com news services
The Senate on Wednesday takes up one of President Bush's embattled judicial nominees as a small group of moderate senators tries to head off a showdown over whether the party out of power may prevent the White House from giving like-minded judges lifetime appointments to the nation's highest courts.
Time was running out on the moderates, however, with Republican leaders set to begin the debate on Texas Supreme Court Justice Priscilla Owen's nomination to the 5th U.S. Circuit Court of Appeals in New Orleans, the first step toward next week's expected confrontation over banning judicial filibusters.
Some Republicans say they've already waited too long to press the issue. "Look, for months I've been saying we ought to go for it," said Sen. George Allen, R-Va. "We ought not be timid and we ought to go for it."
Fear of wider war
But other senators — Republicans and Democrats — are trying to find a compromise that would avoid a vote in the Senate to block Democrats from filibustering the White House's judicial nominees. If majority Republicans opt to change the rules to disallow filibusters of judicial nominees — a move labeled the "nuclear option" — parliamentary warfare between Democrats and Republicans could escalate and stall Bush's legislative agenda.
"Members on both sides don't want the explosion to occur," said Sen. Joseph Lieberman, D-Conn., as Sen. Olympia Snowe, R-Maine, nodded at his side.
The senators looking for a compromise will continue to work as Senate Majority Leader Bill Frist, R-Tenn., and Senate Democratic leader Harry Reid of Nevada argue on the Senate floor about Owen's qualification to sit on the federal appellate court.
Senators expect to debate Owen's nomination all this week and take a test vote early next week. If that vote is not successful, then Frist plans to call a vote on banning judicial filibusters, aides said.
Frist insists that all judicial nominees deserve confirmation votes. "I've made it clear what the principle is, a fair up-or-down vote," he said.
Nominees make D.C. rounds
After meeting with Owen and California judge Janice Rogers Brown, who were blocked by Democrats during Bush's first term, Republicans announced that Owen's nomination for an appeals court seat would be the vehicle for the attempt to prohibit Democrats from filibustering judicial nominations.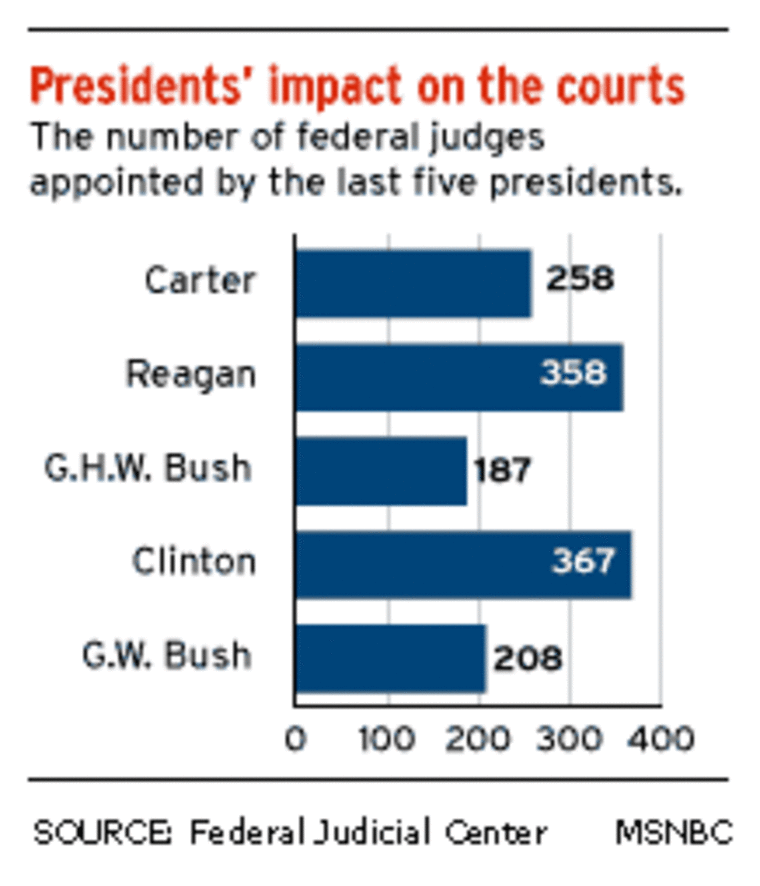 The two women, who are among Bush's most-wanted judicial nominees, met with the president at the White House on Tuesday and later with Senate GOP leaders at the Capitol.
Owen is praised as an ideal candidate by conservatives but criticized by liberals as being biased toward business interests and anti-abortion.
Reid refuses to give up Democrats' ability to block Supreme Court and lower court nominees they consider too extreme. Court watchers think a Supreme Court vacancy could happen sometime this year.
"The goal of the Republican leadership and their allies in the White House is to pave the way for a Supreme Court nominee who would only need 50 votes for confirmation rather than 60," the number of senators needed to maintain a filibuster, Reid said.
Blocking, filibuster tactics
Democrats have prevented final votes on 10 of Bush's first-term appeals court nominees, and have threatened to do the same this year to seven the president renominated, including Owen and California judge Janice Rogers Brown. Frist has threatened to try to keep Democrats from blocking judges by use of the filibuster, a parliamentary device that can be overcome only by a majority of 60 votes or higher.
Just 51 votes are needed to approve a nominee once a vote is called in the 100-member Senate, and only 50 if the vice president, who breaks ties, votes in favor of a nominee. Frist could prevail with 50 votes supporting his move to rule filibusters out of order when used to block a confirmation vote because Vice President Dick Cheney has said he will break a tie in favor of ending judicial filibusters.
Neither side appears certain it has enough votes to prevail if the issue is put to a test.
A number of Republicans have voiced concern that the move could come back to haunt them in a future Democratic-led Senate with a Democratic president.
"It's going to be close," said Sen. Susan Collins of Maine, who is among a handful of Republicans yet to say publicly whether they would vote to abolish filibusters. "I still hope that there will be a compromise."
A third way?
Sens. John McCain, an Arizona Republican, and Ben Nelson, a Nebraska Democrat, have sought to line up six members of each party as part of a potential bipartisan deal.
Under the deal, confirmation votes would be cleared for some of Bush's disputed nominees, but the right to block others would be preserved.
Republicans would also promise not to eliminate judicial filibusters through the end of 2006, and Democrats would vow not to use such tactics against any circuit court or Supreme Court nominee except in "extreme circumstances."
"I'm doing everything I can, and several like-minded people are doing the same thing," McCain said, "I don't know if we will reach an agreement or not."
"We've been going in earnest for the last couple of weeks," added Sen. Mark Pryor, D-Ark. "We don't have an agreement yet, and it's possible we'll never work this out, but I think we'll have some news in the next couple of days."