/ Source: The Associated Press
Wal-Mart Stores Inc. is facing a new reality: Its customers want more than just the lowest price.
The world's largest retailer, which only a few years ago could do no wrong, is now suffering from the kind of problems that have plagued weaker rivals like Kmart: cluttered stores, merchandise that turned off shoppers, and poor service. Meanwhile, Target Corp., while some six times smaller than Wal-Mart, is setting a new standard for discount retailing.
Wal-Mart's sales growth has sagged, in part because the Bentonville, Ark.-based retailer, while still a low-price leader, doesn't have products on the floor that attract today's shoppers — particularly in apparel, home furnishings and consumer electronics. It also has a problem with slow checkout service and its stores look uninspiring.
Target, however, keeps sharpening its appeal to a higher-income customer with affordable fashions and home merchandise from designers including Cynthia Rowley and Isaac Mizrahi. Its stores boast a colorful assortment of merchandise that focus on the must-haves of the season — this spring, consumers will find such items as turquoise moccasins, slim lace tunics and metallic sandals. Its service at the checkout? Speedy, analysts say.
Howard Davidowitz, chairman of Davidowitz & Associates, a retail consulting and investment banking firm, joined other analysts in saying that rising gasoline prices and job uncertainty have hurt Wal-Mart, prompting lower-income shoppers to spend less at stores. But, he said, "for the past six months they have dropped the ball. The fact is that Wal-Mart has failed to execute as well as they have always done."
Bob Buchanan, a retail analyst with St. Louis-based A.G. Edwards, said, "Wal-Mart is not as crisp in their execution as they have been. Target continues to do a lot better in merchandising."
Buchanan also believes "morale is not as high as it has been" at the company, which has had to defend its business practices from criticism by unions and community activist groups; they contend the retailer takes advantage of workers and hampers competition.
It has also defended itself in highly-publicized lawsuits. Wal-Mart recently said it would pay a fine to settle federal charges that underage workers operated dangerous machinery, and it also agreed to pay $11 million to settle charges that its cleaning contractors hired illegal immigrants. Meanwhile, it faces a class action lawsuit by female employees who claim Wal-Mart discriminated against them because of their gender.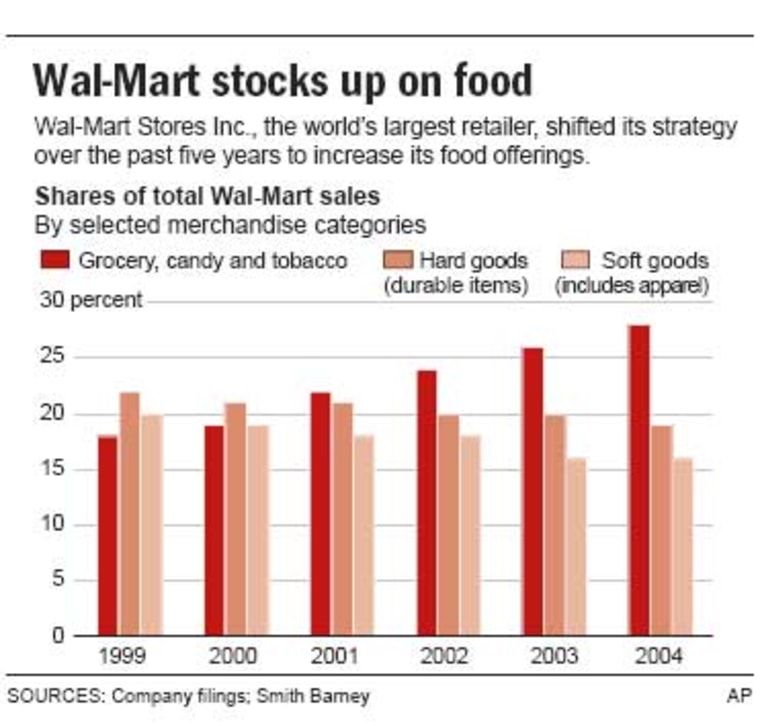 Within its stores, Wal-Mart is already taking steps to stock better quality and trendier merchandise and to make housekeeping changes. But Davidowitz said it will take until at least the fourth quarter to see improved business given its size.
The impact of the differing shopping experiences at Wal-Mart and Target was evident in financial results released last week.
Wal-Mart, which generated sales of $285 billion last year, said first-quarter profits, while up a robust 14 percent, fell short of Wall Street expectations and that it will miss analysts' forecasts for the current quarter. The company also said it will be difficult to meet its annual profit goal.
Target, with sales of $46.8 billion last year, had first-quarter results that exceeded expectations and offered an upbeat outlook.
"Our results were not up to Wal-Mart standards," said Lee Scott, president and CEO, who largely blamed rising gasoline prices and unseasonably cool weather, in a pre-recorded call to investors last week. "We are making the necessary adjustments and I anticipate better results in the second half of the year."
Clearly, the vagaries of the economy have hit Wal-Mart harder than Target. For the 2005 calendar year, sales at stores open at least a year averaged a 3 percent gain at Wal-Mart, compared with 7 percent at Target.
Higher interest rates and rising gasoline prices have weighed heavily on Wal-Mart shoppers, 20 percent of whom don't have bank accounts, according to Davidowitz.
Wal-Mart is hoping that its expansion into higher-priced, trendier merchandise, like fluffier towels and more stylish clothing will help make it less vulnerable to the economy's fluctuations. At the same time, Wal-Mart officials vow not to ignore their core customers, who shop for staples on a budget.
The new merchandising, which Scott said has gotten good reaction from customers so far, is to get more affluent Wal-Mart customers, who tend to shop just for groceries, to cross over to the other side of the store. While priced higher than other Wal-Mart merchandise, these goods are still cheaper than at Wal-Mart competitors, the company maintains.
Karen Burk, a Wal-Mart spokeswoman, said more changes are planned for fall, including better clothing on the racks and signs that will give the stores a brighter look.
"We are always looking for new ways to make our merchandising more appealing, so you are going to see some subtle changes from store to store," she said.
Still, analysts said Wal-Mart has a way to go to improve its business.
According to C. Britt Beemer, chairman of America's Research Group, based in Charleston, S.C., the question is, "How does Wal-Mart move up in price point so they get the average ticket up, but doesn't destroy the price image of Wal-Mart?"
Beemer said it's critical for the discounter to liven up its apparel, a category that has one of the highest profit margins.
Buchanan said Wal-Mart's women's fashions look better than men's, and its home merchandise needs a lot more work.
"The lower-end customer is much more aspirational, much more aware of fashion," Buchanan said.
The company has also been slow to catch on to some trends, Buchanan said, noting that Wal-Mart didn't have Apple Computer Inc.'s popular iPod digital music players last holiday shopping season. The retailer does have them in stores now.
Some of the pressure on Wal-Mart is coming from the fact that food, which has low profit margins, is accounting for a growing portion of total sales. That means sales of higher-margin goods such as clothes are more critical.
Selling more food means stores get more customer traffic, but that also leads to long lines at checkout counters.
But analysts are bullish about Wal-Mart's ability to turn itself around.
Overall, Wal-Mart's power to "sell the lowest price and still make a fortune is alive and well," Davidowitz said. "At the end of the day, when all the smoke clears, the greatness of Wal-Mart will remain. The company has proven to be resilient."
And he added, when Wal-Mart fixes its problems, companies like Best Buy Co. Inc. and Circuit City Stores Inc. better "watch out."