SEATTLE — Roadside litter comes in all shapes and sizes — from dirty diapers to syringes — but there's one category that out-grosses the rest: trucker bombs.
Most drivers whiz along the nation's highways largely oblivious to their roadside surroundings. But next time you are out there, take a closer look.
"As soon as you look for it you'll see it," says Megan Warfield, litter programs coordinator at Washington state's Department of Ecology. "You just see them glistening in the sun. It's just gross."
They are trucker bombs, plastic jugs full of urine tossed by truckers, and even non-truckers, who refuse to make a proper potty stop to relieve themselves.
The state hasn't counted how many such jugs are found each year, but a single, small county decided to do its own tally. "In one year," Warfield says, "one crew found 2,666 bottles of urine, 67 feces covered items, not including diapers, and 18 syringes."
It even happens at rest stops. "That's the mystery," Warfield says. "There's a bathroom right there, there's also a trash can."
Job stress, pressure cited
Truckers, for their part, point to a lack of convenient parking areas and an industry that's become more stressful since deregulation in the 1980s.
Urine jugs, says Todd Spencer, executive vice president of the Owner-Operator Independent Drivers Association, "are an indicator of how much stress and pressure drivers are under." Those factors range from having to get deliveries on time to making up for higher fuel prices by reducing costs elsewhere.
The legal work week for truckers is 60 hours, the former truck driver says, and "the real work week is usually 20 to 30 hours beyond that."
"What actually drives this more than anything else," he adds, "is that the vast majority of drivers are paid only for miles driven," so they cut corners where possible.
Spencer doesn't see much improvement for drivers either, saying companies would have to be forced to improve conditions.
Leigh Strope, a spokeswoman for the Teamsters union, concurs that a major factor is that "many drivers only get paid when the wheels are rolling." 
But she also insists that union drivers aren't the ones stooping to urine jugs. "You won't find Teamsters urinating in jugs and littering the nation's highways," she says. "Our drivers are guaranteed rest and dinner breaks because it's in their union contract."
Handling the goods
Disposing of trucker bombs, aka torpedoes or pee bottles, is a thankless task that in many cases falls to highway cleanup crews.
California has a hazardous waste contractor to deal with human waste. In Washington, a spill response crew is called in to dispose of large volumes of trucker bombs.
Safety experts emphasize that urine is 99 percent sterile and that jugs of it can be moved if crews avoid contact with the liquid, Warfield says. But cleanup crews remain reluctant, with some fearing the liquid could actually be something else also dumped along highways — dangerous chemicals used to make the illegal drug methamphetamine.
$1,025 fine
Hoping to break truckers of the dirty habit, Washington state lawmakers created a "dangerous litter" category in 2002 and increased fines to $1,025 from $95 for general litter.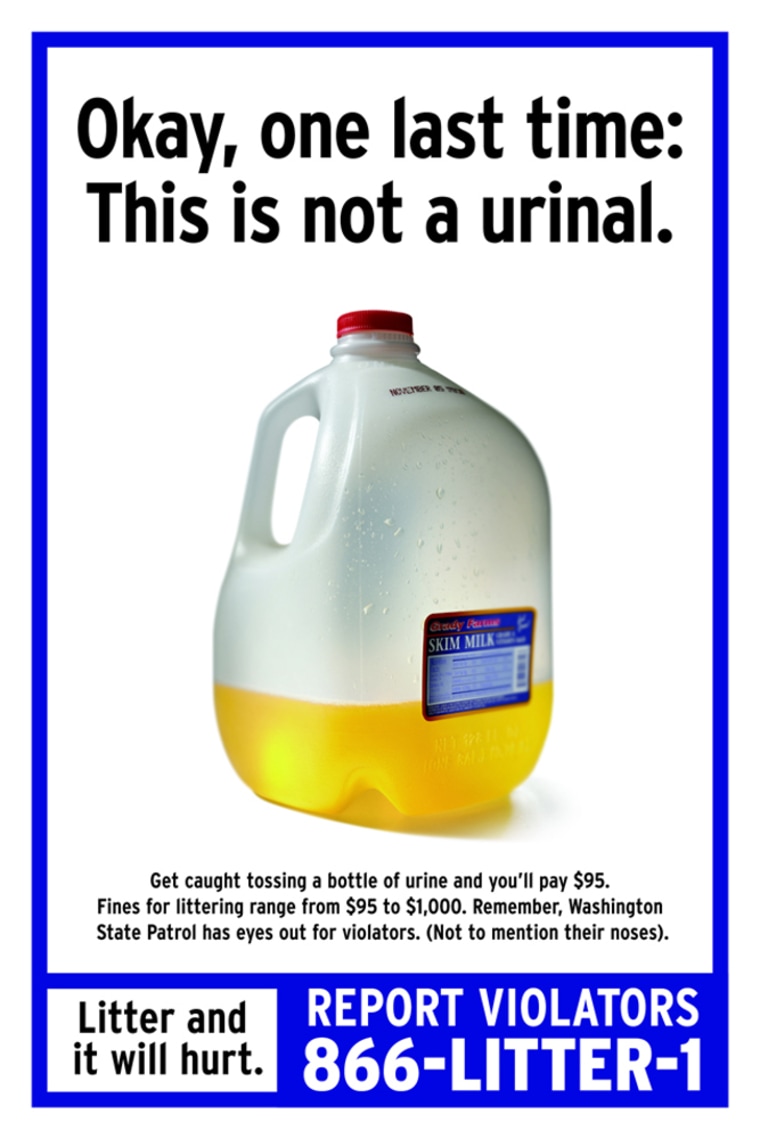 When it comes to human waste, the dangerous category covers  trucker bombs and dirty diapers. Together they accounted for 8,000 pounds of trash collected from state roads last year.
The state has also launched a "Litter and it will hurt" campaign — its first prevention campaign in a decade.
"We have made a little bit of progress," Warfield says, citing a new survey that found 2,000 tons less of roadside litter than in 1999.
The Washington State Patrol issued 3,995 tickets or warnings about litter in 2003, the most recent year for which data is available, nearly 800 fewer than in 2002.
Several other states have taken similar steps to stop truckers from dumping containers of urine. Wyoming this year increased the maximum penalty for littering bodily fluid to nine months in jail and a $1,000 fine. The maximum penalty for other litter is six months in jail and a $750 fine.
Mowers 'hit them, they explode'
In April, Colorado increased its "human waste" fine from $40 to $500. Transportation employees convinced lawmakers of the need for the drastic increase with their tales of finding urine jugs as they mowed roadway ditches. "We hit them, they explode. The operator ends up wearing this stuff," Randy Dobyns told state senators.
Dobyns estimated he picks up at least 50 containers a week, sometimes milk jugs, water bottles or even bags filled with urine. "The folks who dispose of this stuff are very creative in their use of containers," he said.
Some states have gone so far as to appeal to truckers themselves, but Warfield recalls how that backfired on a colleague in Arizona. "He did not get a warm reception," she says.
Poster strategy
Darcy Wilson had another approach after her husband complained of having to pick up trucker bombs left on the grounds of a 10-acre truck stop 30 miles east of Seattle on Interstate 90, a major truck route.
She did some research and found that the state Department of Ecology had made posters that read, "This is not a urinal." The agency was happy to send her the posters, to which she attached an updated sign about the higher state litter fine.
Wilson posted a dozen on light posts and trash cans and says her husband believes he's finding fewer jugs of urine lying around the truck stop.
"People are looking at the fine," she says.
But truckers continue dumping the heavy jugs in trash cans that still have to be emptied. "Truckers don't want to walk into a bathroom" with the jugs, Wilson says, so her husband is urging his boss to order portable bathrooms where truckers could dump the containers in private.
"We'll do anything to not have to pick up that stuff," she says.
Recycling solution?
Unfortunately, a recent breakthrough in diesel filter technology that uses urine won't be helpful.
European researchers are developing a filter that uses animal urine to cut down on harmful emissions. Truckers who use the filter will fill up with the purified urea solution each time they stop for diesel.
But Oliver Kröcher, one of the filter researchers at the Paul Scherrer Institute near Zurich, Switzerland, says using human urine "is not practical at all, since ... very pure urea has to be used" and that wouldn't be the case with urine straight from the source.
"Thus, there is no way to apply this crazy idea," he says.