/ Source: The Associated Press
Republicans and Democrats injected racial politics into the struggle over President Bush's judicial nominees and the Senate's filibuster rules on Thursday, underscoring partisan differences while centrists of both parties pursued an elusive compromise.
"The attempt to do away with the filibuster is nothing short of clearing the trees for the confirmation of an unacceptable nominee to the Supreme Court," said Democratic Leader Harry Reid. He accused the president of an attempt to "rewrite the Constitution and reinvent reality" with his demand for a yes-or-no vote on all nominees.
Democrats are guilty of "unprecedented obstruction," countered Republican Whip Mitch McConnell of Kentucky, arguing that Bush's Senate critics had overturned 214 years of tradition by blocking votes on several of the president's conservative candidates.
The day of choreographed debate on the floor unfolded as compromise-minded senators negotiated privately in the office of Sen. John McCain, R-Ariz., and leaders of both parties held dueling staged-for-television events designed to court black voters.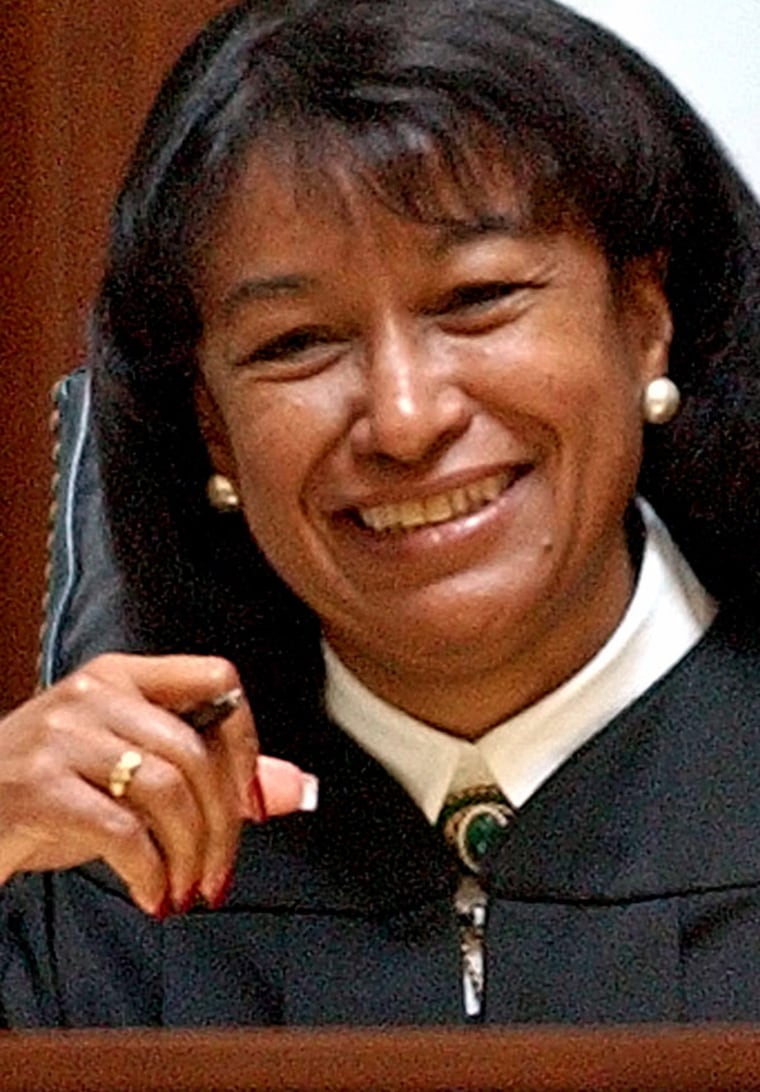 "Why are they afraid to put a black woman on the court?" asked Bishop Harry Jackson, chairman of a group of black pastors, standing next to Majority Leader Bill Frist at a news conference outside the Capitol. Referring to Janice Rogers Brown, a California Supreme Court judge whom Bush has named to the federal appeals court, he called her "not only a legal hero for black America, she is a legal hero for all America."
Frist, R-Tenn., did not mention Brown's race in his own remarks. He said Democratic treatment of her nomination was "unnecessary, uncivil. It is injustice. I pledge to you here today that I will do everything in my power to see that it stops."
Black Caucus speaks
He made his comments after members of the Congressional Black Caucus said he had declined to meet with them to discuss the issue. The Democratic lawmakers proceeded to a news conference where they released a letter to the Tennessee Republican arguing that his call for a partial ban on judicial filibusters "would be particularly offensive to people of color."
There was irony — as members of the caucus noted — since the historic civil rights legislation of a half-century ago was passed only after supporters overcame filibusters by conservative Southern Democrats and like-minded Republicans.
"The filibuster was systematically used when Senate minority rights meant the denial of the rights of African-Americans," caucus members wrote. "We cannot and will not stand down when Senate minority rights are proposed to be overruled against a Senate minority that seeks to protect the rights of African-Americans."
Frist has set the Senate on the path for a showdown next week on his bid to eliminate the Democrats' ability to filibuster present and future appeals court and Supreme Court nominees. While it takes 60 votes to overcome a filibuster, Republicans intend to supersede the rule by majority vote. With 55 seats, they could afford five defections and still prevail on the strength of Vice President Dick Cheney's ability to break ties.
Democrats' 'nuclear option' threats
Democrats have threatened to slow the Senate's business to a crawl if Republicans prevail, and they served up a preview during the day when they invoked a rule that prevented some committees from meeting. And with Frist's timetable calling for the critical votes to be cast next Tuesday and Wednesday, compromise-minded senators in both parties gathered in McCain's office twice during the day.
By agreeing among themselves, any six Republicans and six Democrats would hold the Senate's balance of power, making it impossible for Frist to engineer a change in procedures on one hand, and dooming future filibusters on the other.
"We're making progress but we're not quite there," said Sen. Mark Pryor, D-Ark., who has been involved in the discussions.
Officials in both parties said there were two stumbling blocks.
One involved which of Bush's nominees would be cleared for confirmation and which would continue to be held up. Under discussion when the day began was a plan to allow final votes on Brown as well as Priscilla Owen, named to the 5th Circuit Court of Appeals, and William H. Pryor, who received a temporary appointment to the 11th Circuit Court of Appeals after Democrats blocked a confirmation vote in Bush's first term. The less controversial 6th Circuit Court nominees, Susan Nielson, Richard Griffin and David McKeague, also would be cleared for votes under the proposal.
On the other hand, the nominations of William G. Myers and Henry Saad would remain stuck.
Trading promises in 'good faith'
The other, potentially more difficult area of discussion involved an exchange of "good faith" pledges by lawmakers. Democrats would agree not to filibuster future appeals court or Supreme Court nominees except in extraordinary cases. Republicans would agree not to support any changes in the filibuster procedures, although it was not yet clear what circumstances, if any, would permit them to change their minds.
While Frist and Reid are not party to the discussions, both have been monitoring them. Senate officials, speaking on condition of anonymity, said Reid had been forceful in private discussions with Democrats, trying to make sure that any compromise would maintain their right to filibuster future Supreme Court nominees while foreclosing Republicans from attempting to change the filibuster procedure.