/ Source: The Associated Press
Chilean soldiers on Saturday searched the Andes mountains for 24 comrades lost when a blizzard struck during a training march, but their commander admitted that they almost certainly will be found dead.
Twenty-one bodies have been found so far since Wednesday's storm, the army said Saturday night. The military took advantage of the first clear day since the blizzard started to deploy nearly 150 men in the largest ground and air search so far.
"Hope is the last thing we should lose," army chief Gen. Juan Emilio Cheyre said as he prepared to leave to the mountain leading the search patrols.
Meanwhile, 112 soldiers who survived the storm, including seven women, were flown by helicopter to Los Angeles, 400 miles south of the capital, Santiago, from the mountain shelter where they had sought refuge.
The soldiers, draftees between 18 and 19 years old, had been on a training march in the Andes Mountains on Wednesday when they were hit by the worst snowstorm in decades.
"We are all sad for those Chilean young men who died in the mountain," said President Ricardo Lagos, who flew to Los Angeles to follow the search operation.
No details were given on how the additional bodies were found. The army said there may be some changes in the figures, due to difficult communications in the mountains.
Harrowing stories
The survivors were in good condition.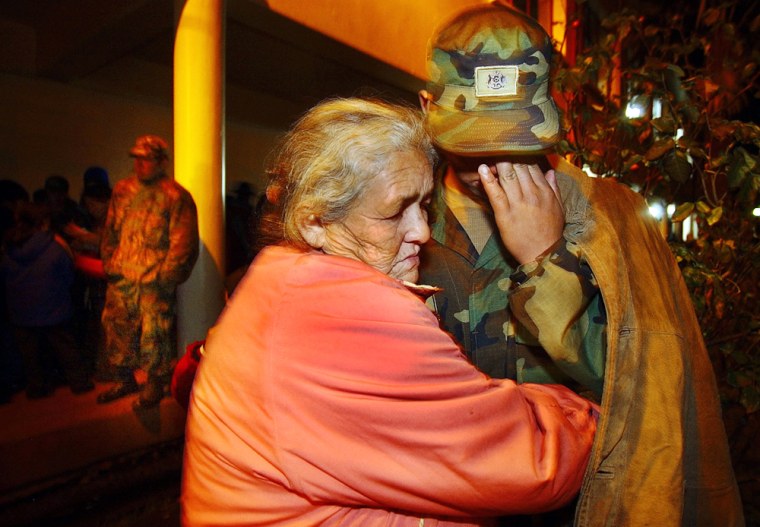 "They are all in fine condition, none has medical problems," Cheyre said. Still, as they arrived at the regiment headquarters in a city suburb they were taken for a medical check up before being allowed to meet relatives, many of whom had stayed overnight waiting for them, sleeping at the regiment's cemetery.
Cheyre removed the top three commanders of the soldiers' regiment from their posts and ordered an investigation into their actions, saying the march should never have been started.
Initially nearly 100 members of the 485-soldier regiment were missing, but dozens had been located over the previous two days.
Recovering at their regiment's headquarters in Los Angeles, 400 miles south of Santiago, they told harrowing tales of watching exhausted and disoriented comrades tumble into snow drifts.
The president attended a religious ceremony for the victims, and, clearly moved, greeted the relatives embracing them and offering words of support.
"I knew we had to try to keep calm during the storm," said 18-year-old David Figueroa. "I trusted in God and He saved me."
"Cold was terrible and some of our comrades felt they were close to death, but I never felt so," he added.
His comrade Gerson Aguirre, also 18, said that "the march should not have started that night, because weather was too bad."