Shouting "Jews don't deport Jews," hecklers disrupted a speech by Israeli Prime Minister Ariel Sharon to Jewish leaders on Sunday in which he promoted his Gaza pullout plan as vital to Israel's security.
What was supposed to be a showcase gathering of support for Sharon, under fire at home by opponents of his plan to evacuate Jewish settlers from Gaza and part of the West Bank this August, turned into an embarrassing display of disunity.
"Usually I handle these things by myself," Sharon said as security men hustled away a heckler who disrupted his speech by ripping open a jacket to display a T-shirt with an anti-Gaza withdrawal slogan.
"This plan will improve our security and offer a chance to start a political process with the Palestinians," Sharon told the crowd. "It will guarantee a Jewish majority in the state of Israel."
Private trip
Sharon arrived in New York earlier in the day to attend a "We stand with Israel" rally organized by major Jewish groups.
He speaks on Tuesday in Washington to the American Israel Public Affairs Committee, a lobbying group. But he is not due to meet U.S. government leaders during the visit, which is described as a private trip.
On the flight to New York, Sharon reaffirmed his bedrock demand that Palestinian President Mahmoud Abbas, due to meet President George W. Bush at the White House on Thursday, rein in militants before peacemaking can resume.
He also said the pullout in Gaza and part of the West Bank would go ahead in mid-August despite reports senior officers were urging a six-month delay over security concerns and the slow pace of preparations for taking care of evacuated settlers.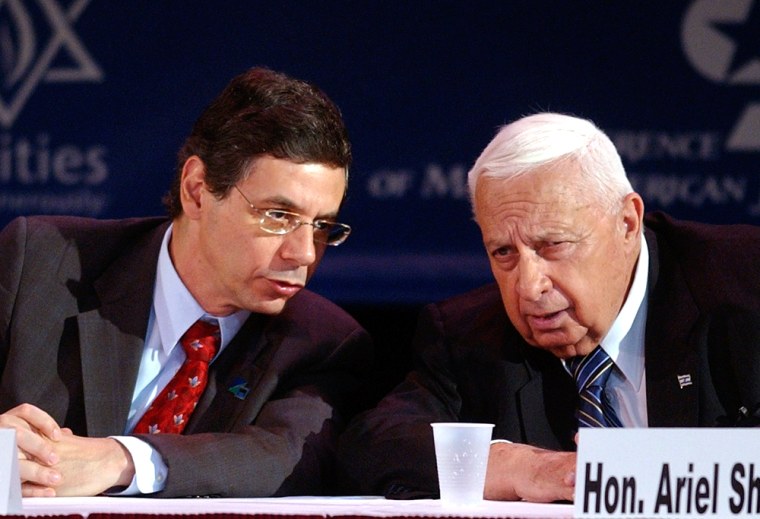 "This report has no basis. The disengagement is to be carried out on the exact date that has been set," Sharon said. "I think it will begin on the 16th or the 17th of August."
Sharon's speech at Baruch College in Manhattan was disrupted three times by hecklers. Most of the audience rose in a standing ovation to show support for the prime minister who called the plan to withdraw from Gaza "the most difficult decision" he has ever made.
'Painful compromises'
"I said in the past—and I say it also today: I am willing to make painful compromises for a genuine and durable peace," Sharon said. But he added he would make "no compromise on terror."
Sharon has said that talks on Palestinian statehood cannot resume until Abbas disarms militant groups, as a U.S.-backed peace "road map" stipulates.
"Without quiet, it will be impossible to move forward in the peace process," he said on the flight to New York. He was referring to anti-Israeli violence that has flared over the past few days in the Gaza Strip.
Abbas, who with Sharon declared a truce in February after more than four years of violence, said he intends to press Bush to spell out his expectations for peacemaking following the Gaza pullout.
Bush hosted Sharon at his Crawford, Texas, ranch last month in a further show of U.S. support for the prime minister's plan to evacuate all 21 Jewish settlements in the Gaza Strip and four of 120 in the West Bank.
Most Israelis favor the evacuation, while settlers and their supporters see the pullout as a reward for Palestinian militant groups that have killed hundreds of Israelis in suicide bombings since 2000.
Palestinians fear the Gaza pullout is a ruse to hold on to large West Bank settlement blocs in any future peace deal