/ Source: The Associated Press
In a dramatic reach across party lines, Senate centrists sealed a compromise Monday night to clear the way for confirmation of many of President Bush's stalled judicial nominees, leave others in limbo and preserve venerable filibuster rules.
"In a Senate that has become increasingly partisan and polarized, the bipartisan center held," said Sen. Joseph Lieberman, D-Conn., one of 14 senators — seven from each party — to pledge their "mutual trust and confidence" on the deal.
"The Senate is back in business," exulted Sen. Lindsey Graham, R-S.C., reflecting the view that a showdown would have had a long-term detrimental impact on Congress' ability to conduct the nation's business.
Under the terms, Democrats agreed to allow final confirmation votes for Priscilla Owen, Janice Rogers Brown and William Pryor, named to appeals court seats. There is "no commitment to vote for or against" the filibuster against two other conservatives named to appeals courts, Henry Saad and William Myers.
The agreement said future judicial nominees should "only be filibustered under extraordinary circumstances," with each senator — presumably the Democrats — holding the discretion to decide when those conditions had been met. Officials said the pact was intended to cover the Supreme Court as well as other levels of the judicary.
"In light of the spirit and continuing commitments made in this agreement," Republicans said they would oppose any attempt to make changes in the application of filibuster rules.
While the agreement was signed by only 14 senators, they held the balance of power in a sharply divided Senate.
Owen vote may come Tuesday
And Republicans said they would seek to confirm Owen as early as Tuesday, with other cleared nominees to follow quickly.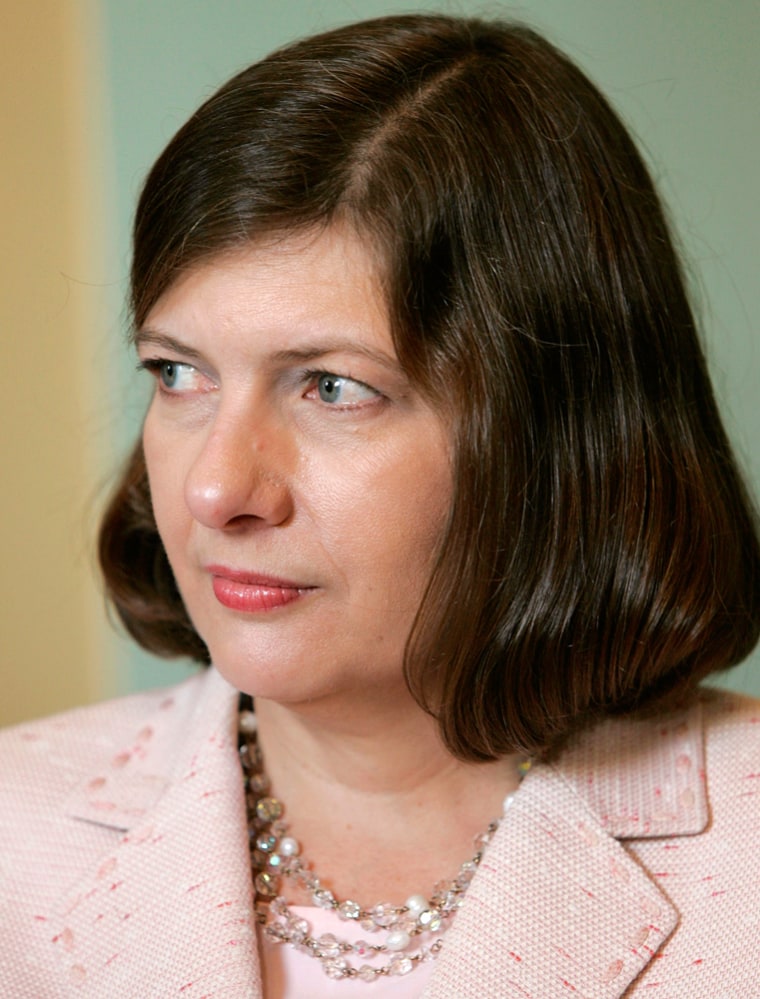 Even so, Majority Leader Bill Frist, R-Tenn., noted he had not been a party to the deal, which fell short of his stated goal of winning yes-or-no votes on each of Bush's nominees. "It has some good news, and it has some disappointing news and it will require careful monitoring," he said.
Democratic leader Harry Reid of Nevada seemed more receptive — although he hastened to say he remains opposed to some of the nominees who will now likely take seats on federal appeals courts.
"Checks and balances have been protected. The integrity of the Supreme Court has been protected from the undue influence of the vocal, radical right wing," Reid said.
White House upbeat
The White House said the agreement was a positive development.
"Many of these nominees have waited for quite some time to have an up-or-down vote and now they are going to get one. That's progress," presidential press secretary Scott McClellan said. "We will continue working to push for up or down votes for all the nominees."
The deal was sealed around the table in Sen. John McCain's office, across the street from the Capitol where senators had expected an all-night session of speech-making, prelude to Tuesday's anticipated showdown.
Nominally, the issue at hand was Bush's selection of Owen, a member of the Texas Supreme Court, to a seat on the 5th Circuit Court of Appeals in New Orleans.
Rehnquist's uncanny timing
In fact, as the rhetoric suggested, the stakes were far broader, with Republicans maneuvering to strip Democrats of their right to filibuster and thus block current and future nominees to the appeals courts and Supreme Court.
There currently is no vacancy on the high court, although one or more is widely expected in Bush's term. during the day was a reminder of that. At age 80 and battling thyroid cancer, he entered the building in a wheelchair on his way to a doctor's office.
Under a complicated situation in effect on the Senate floor, an agreement among six senators of each party was sufficient to avert the showdown. Six Democrats agreeing not to filibuster assured judicial nominees of a yes-or-no vote. Six Republicans signing the accord meant Frist and other GOP leaders would not have the votes to strip Democrats of their ability to filibuster.
The agreement came as Frist and Reid, D-Nev., steered the Senate toward a showdown on Bush's nominees and historic filibuster rules, under which a minority can prevent action unless the majority gains 60 votes.
For decades, Senate rules have permitted opponents to block votes on judicial nominees by mounting a filibuster, a parliamentary device that can be stopped only by a 60-vote majority.
But Republicans, frustrated by Democratic filibusters that thwarted 10 of Bush's first-term appeals court nominees and prepared to block seven of them again, threatened to supersede that rule by simple majority vote.