Michael Lucas says anyone who knew his father would understand why he chose to honor his life with a uniquely celestial memorial.
"I decided to put dad up into space," said Lucas, a 47-year-old photo technician and video producer from Sunland, Calif.
Michael's father, John Meredyth Lucas, was a true space buff, and his years in Hollywood as a writer and producer included several seasons working on the original "Star Trek" series with the show's creator, Gene Roddenberry. "(Dad) just adored the space program and anything to do with space," Michael said.
It's that close connection to the stars that prompted Michael Lucas to turn to Space Services Inc. to honor his father after his death in 2002. The Houston-based company specializes in commercial space ventures, including launching cremated remains into orbit. The inaugural "memorial flight" in 1997 carried aloft several grams of Roddenberry's ashes. The fifth flight, which will carry the cremated remains of John Lucas and 124 others, is scheduled for liftoff sometime in July.
"We like to say we're putting dad up into space for one last story with Gene," Michael said.
A fitting tribute
From funeral rockets to mountaintop memorials, Americans are moving toward more colorful, personalized ways to say goodbye to loved ones. Such services often include "comfort" music, favorite foods, photographs and other mementos that celebrate the individuality of the dead. Grieving families also are holding theme receptions and having cremated remains embedded in reefs or compressed into gemstones.
"A lot of this is being driven by baby boomers," said Fay Spano, a spokesperson with the National Funeral Directors Association. "They want things their own way, to create their own events."
A survey commissioned by NFDA found that 62 percent of those wanting a funeral service preferred some form of personalization.
Ashes to ashes
Bolstering the trend, and perhaps as a result of it, the number of people choosing cremation is increasing, according to the .
While cremation remains largely taboo in the Bible Belt — only about 5 percent of the dead in the region are cremated — in senior havens such as Florida and the Southwest, cremation rates are nearing 50 percent, according to the association's executive director, Jack Springer.
"People are dying older and farther away from their families," he said. "Cremation is now considered a normal way of disposing of a body. It's an individual choice and arranging a cremation, in the minds of a lot of people, is simpler."
Springer's association projects that nearly 43 percent of Americans will choose cremation over burial by 2025.
Celebrating in Margaritaville
Whether their clients are arranging an ash-scattering ceremony or a burial, funeral directors are increasingly encouraging families to give services a personal touch, said Kurt Soffe, a funeral home director in the Salt Lake City area.

"Through personalized tributes, families can feel a greater sense of closeness to their loved ones, rather than hold a cookie-cutter funeral," he said. "A personalized memorial gives them license to talk about the life of the person they've lost."
When Utah corrections officer Dan Pracht died in April 2004, Soffe's funeral home helped create a service designed to pay tribute to Pracht's two great passions. Two days of memorials were split between a motorcycle procession featuring nearly 200 Harleys and a Jimmy Buffet-themed reception.
Blasted from a cannon
"These are ideas that come from meeting with the family," Soffe said. "Just through discussion and listening together, we can say, 'Let's try this.'"
Gonzo journalist Hunter S. Thompson will get his wish when his family shoots his ashes from a 150-foot cannon in Aspen, Colo., during an Aug. 20 service that will mark six months since he killed himself. The service also will include speeches and live entertainment.

Where the heart is
When two teenage brothers were killed in an auto accident during the ski season, Soffe helped their family commemorate the boys' love of the outdoors by holding the funeral service at a local ski resort.
"The sounds of rushing water and the wilderness, that was their church, their religion," Soffe said.
For those more at home on the range than on the slopes, a Texas company will build a coffin befitting the frontier lifestyle. Cowboy's Last Ride Co. offers several models, including the "Mustang," featuring tooled leather corners and stirrup handles, to the "Santa Fe," which comes inlaid with turquoise stones.
Under the sea, close to the heart
Giving new meaning to the term "swimming with the fishes," a Florida company that began making artificial marine habitats in the early 1990s will mix cremated remains into a concrete "reef ball" that can provide a home for sea creatures. Eternal Reefs offers several memorial options, from space in a community reef ($995) to its $4,995 "Atlantis" model that weighs in at nearly 4,000 pounds.
"Rather than passing an urn down to future generations, or taking space in a cemetery, this memorial is a true living legacy," Eternal Reefs founders Don Brawley and George Frankel write on their Web site.
For those who wish to carry memories of a loved one close to the heart, Chicago-based LifeGem turns cremated remains into cultured diamonds that survivors can use in rings, necklaces, pendants and earrings. The gems, created by subjecting carbon extracted from ashes to intense heat and pressure, are available in a variety of sizes and colors, from a quarter-carat yellow diamond running $2,700 to a full-carat blue stone going for nearly $20,000.
It was a "fear of being forgotten" that inspired LifeGem co-founder and presidentRusty VandenBiesen to explore how gemstone technology could be applied to a memorial product. Four years and about 1,000 stones later, the company is refining its technique and exploring new, as-yet-undisclosed applications, according to Rusty's brother and LifeGem vice president of operations Dean VandenBiesen.
"This is so unique and so personal," he said. "It's not just a personal memento. It becomes a conversation piece."
Getting on board
Memorial spaceflights may seem a bit out of this world, but they aren't the sole domain of astronomers, astronauts and sci-fi fans. The remains of children, writers and musicians have been placed aboard memorial flights, said Space Services spokesperson Susan Schonfeld.
"It's everyday people from all over the world, and all walks of life. They can't get to space in life, but they can get there in death."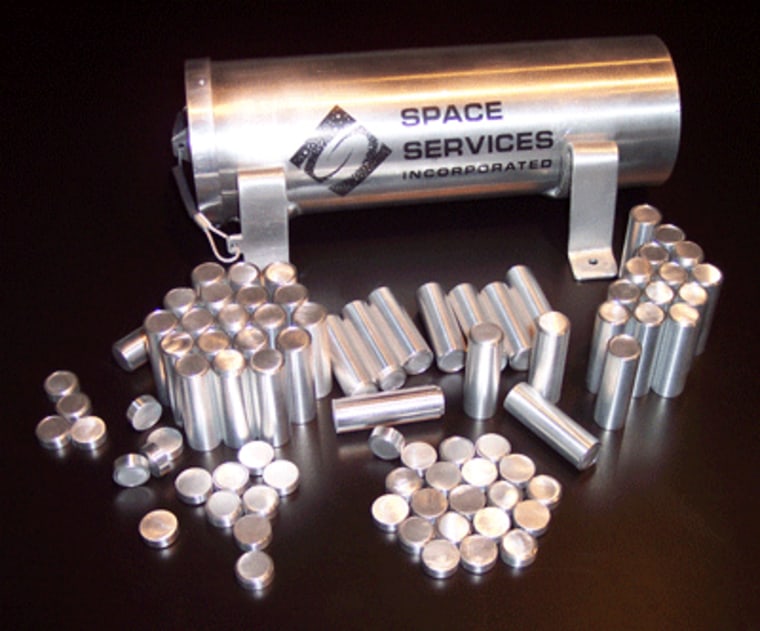 Space Services offers several packages, from a $995 dime-sized capsule holding a gram of ashes to a 7-gram, lipstick-sized capsule that can be placed aboard a rocket for $5,300.
For this summer's flight, a canister containing dozens of capsules will be loaded inside a Falcon rocket along with a Pentagon satellite and launched into orbit from California's Vandenberg Air Force Base. Depending on its trajectory, the payload could circle Earth for up to several hundred years before burning up in the atmosphere.
For those seeking a longer journey, Space Services will send a gram of ashes to the moon or into deep space for $12,500.
So what does the future hold for personalized memorials?
For Michael Lucas, it might include a journey to the final frontier to join his father.
"Figure I might as well join everybody else up there having fun."