/ Source: The Associated Press
Twenty-two years after mogul David Geffen promised to let the public onto the beach near his mansion, a walkway was opened and activists savored their victory under the watchful eye of security cameras and a guard.
On Thursday, a small group of beachgoers trouped onto a 9-foot-wide walkway leading to public portions of Carbon Beach, a mile-long stretch of sand that runs in front of Geffen's estate.
"I've lived here 12 years and have never been able to cross the street and go to the beach," said Jayna Mims, who visited with her 8-month-old son. "We could see it and smell it, but we couldn't touch it."
Geffen a no-show
The DreamWorks co-founder, who did not attend the ceremony, agreed in 1983 to build a pathway across his property in exchange for permission to remodel his seafront mansion.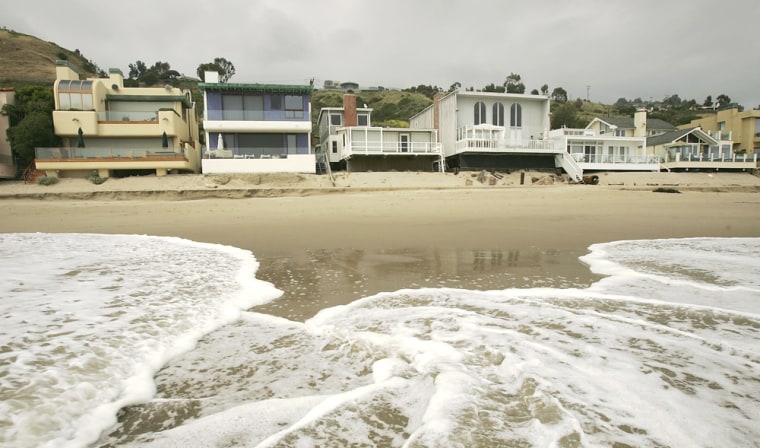 Geffen built the paved walk but then refused to unlock its gates, arguing that the beach lacked necessary parking, lifeguards or restrooms to accommodate the public. He and the city of Malibu sued the state Coastal Commission in 2002 over its alleged failure to conduct a proper environmental analysis.
In April, however, Geffen turned over the gate keys to the group Access for All. He also agreed to reimburse California and the nonprofit group $300,000 in legal fees.
Cameras, guard
The pathway was monitored by video cameras and a security guard to keep visitors off private property.
Access for All plans to provide liability insurance and pay for walkway monitors.
"In the end, Mr. Geffen has done the right thing. We're going to try to be the best neighbors we can," said Steve Hoye, the group's head.
State law provides that there should be public access to beaches, but questions such as how to define public and private areas and regulate public access in built-up sections of coast have been stumbling blocks.