/ Source: The Associated Press
Shaken by the defeat of the European Union constitution, President Jacques Chirac appointed Dominique de Villepin, a loyalist who was France's voice against the Iraq war, as prime minister on Tuesday.
Villepin, formerly the interior minister, replaces Jean-Pierre Raffarin, who was dumped after voters on Sunday roundly rejected the EU charter in a referendum.
Villepin, 51, arrived at the presidential Elysee Palace just minutes after Chirac bid farewell to Raffarin with a handshake on the palace steps. Chirac charged Villepin with the task of forming a new government.
Villepin was Chirac's foreign minister during the Iraq war. He is best known for his eloquent defense of the French stance against a U.S.-led invasion.
Nicolas Sarkozy, who heads Chirac's governing center-right party, will replace Villepin in the interior ministry, lawmaker Yves Jego, who is close to Sarkozy, told France-Info radio. Sarkozy was the interior ministry for two years until April 2004.
Villepin takes over at a difficult time: Unemployment is running at 10 percent and the French political establishment is reeling from Sunday's referendum that marked a stinging humiliation for Chirac.
Unelected PM
But Villepin has never held elected office -- which makes him an unpopular choice for some.
"It's a catastrophe, a real catastrophe," said Philippe Moreau Defarges, a researcher at the French Institute for International Relations.
"People will come out on the streets to show their anger. It's a man who has never been elected, who doesn't represent the people at all. This will turn out badly."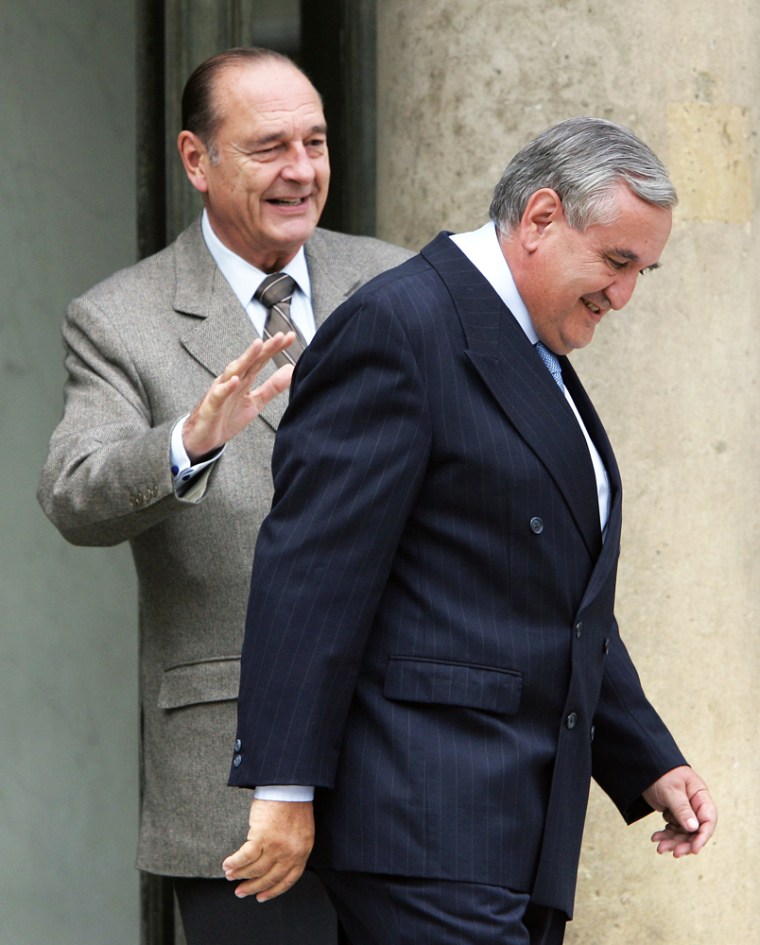 But for Chirac, Villepin was a known quantity: The senator's son was his closest adviser from 1995 to 2002.
Villepin is expected to work closely with Chirac, unlike Sarkozy, whose name had also been tossed around as a potential replacement for Raffarin.
Sarkozy makes no secret of his presidential ambitions and has at times waged an open rivalry with Chirac. Portly, folksy Raffarin, 57, was a senator from the provinces when he was plucked from relative obscurity to head the government after Chirac was elected for a second term in 2002.
As well as being the fall man for the defeat of the constitution, he had shouldered much of the blame for France's high unemployment. Many also resented his efforts to reform cherished social programs, including pensions.
"I have always been aware that what is good for the nation is not always popular with the public," Raffarin said after he resigned Tuesday, quoting Gen. Charles de Gaulle.
Uncertain Union
The vote on the constitution also threw the EU's future into disarray, giving momentum to the opposition in other countries that have yet to ratify the document. Plans to bind the 25 EU members more tightly together through a constitution threatened to be set back for years.
"The result raises profound questions for all of us about the future direction of Europe," British Foreign Secretary Jack Straw said.
But European Commission President Jose Manuel Barroso, while conceding the outcome was a "serious problem," insisted: "We cannot say that the treaty is dead."
Chirac chose to hold a referendum rather than take the EU constitution to parliament, where it would have passed with a wide majority.

France's repudiation of the EU constitution came ahead of Wednesday's referendum in the Netherlands, where polls show even more resistance to the constitution. The document must be ratified by all 25 EU members, in referendums or by parliament, to take effect in November 2006. France was the first to reject it.
Nine nations already have ratified the constitution: Austria, Hungary, Italy, Germany, Greece, Lithuania, Slovakia, Slovenia and Spain.
Polls, analysts and voters confirmed that some French casting ballots were looking to punish a government they feel has failed them.
About 55 percent of French voters opposed the constitution. A poll by the TNS-Sofres firm suggested that fear for jobs and a sense of being "fed up" were the main reasons to say no. France has a 10 percent unemployment rate and those in the "no" camp have claimed the constitution was too market oriented to protect citizens, growing vulnerable in an expanding EU.
The "no" victory symbolizes "a terrible feeling of fear and concern about the future" in France, said government spokesman Jean-Francois Cope.
Chirac: 'I take note'
With a nearly 70 percent turnout, the referendum results left Chirac little choice but change.
"It is your sovereign decision, and I take note," he told the nation Sunday night after results were announced.
Despite the government shakeup, many "no" supporters called for far more drastic action, some saying that Chirac himself should resign.

The Socialist Party, another victim of the voting, was effectively split with dissident members opposed to the document becoming major contributors to its rejection.
Even the 12-nation euro currency was feeling the effects of the referendum. The euro slid to its lowest level this year against the dollar on Monday, dropping below $1.25.