/ Source: msnbc.com staff and news service reports
The volunteer who found Boy Scout Brennan Hawkins after an intensive four-day search in the rugged Uinta Mountains said the 11-year-old "just happened to walk out on the road right when I was there."
Sheriff Dave Edmunds said Brennan was "a little dehydrated, a little weak, but other than that, he was in very good health." The boy was reunited with his parents and four siblings, and taken to a hospital in Salt Lake City for examination.
"He was a little delirious, you know; I just sat him down, got him dry, and I was giving him food," Nunley said. He said Brennan initially asked for water and was worried Nunley wouldn't have enough.
Kay Godfrey, a spokeswoman for the Boy Scouts' Great Salt Lake Council, pronounced the boy's rescue Tuesday a "modern-day miracle."
Brennan was found near Lily Lake, about five miles from the camp where he was last seen Friday.
Boy afraid of searchers on horseback
He carried no food or water when he disappeared, and his family had said he did not have a good sense of direction. But Edmunds said the nights had been warm, with temperatures falling only into the 50s. The area is about 100 miles northeast of Salt Lake City.
Just when searchers and the Hawkins family had nearly lost all hope, Forrest Nunley, a 43-year-old house painter from Salt Lake City, found Brennan "standing in the middle of the trail. He was all muddy and wet."
Nunley, who had been following search crews on horses, said "the kid said he saw the horses but was scared of the people, didn't want to come out because he didn't know if they were scary people."
Edmunds said that after eating some food and drinking some water, the boy asked to play a video game on the cell phone of a volunteer.
Fearing the worst
During the search, rescuers had feared the boy had fallen into a river that was swollen by heavy snow melt. The East Fork of the Bear River is within 100 yards of the road where the boy was believed to have been walking. Deep-water rescue teams searched the river, while others combed the rugged area around it.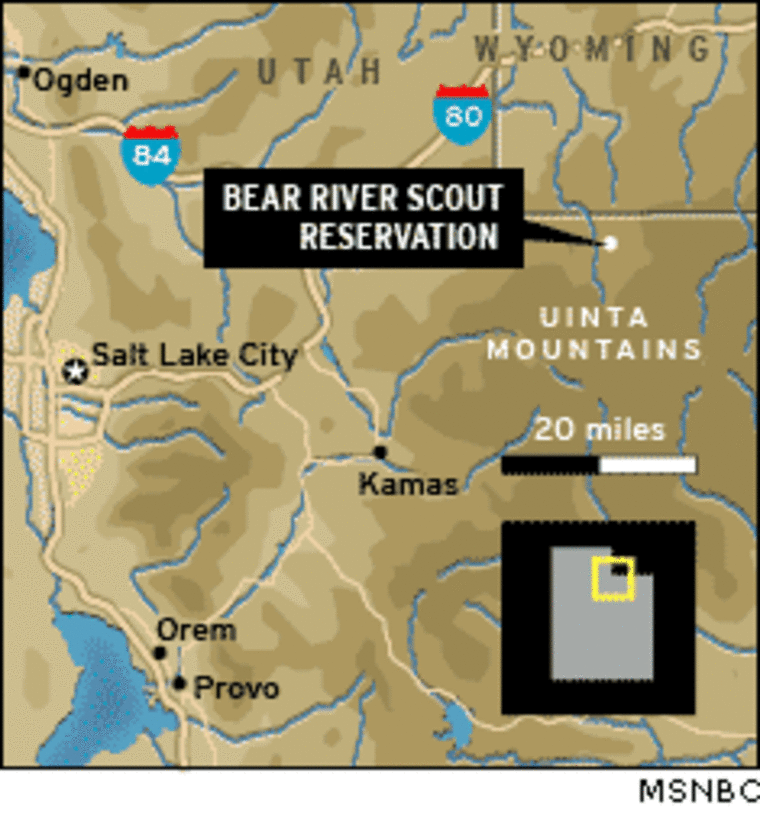 On Monday, rescuers found three socks and a sandal in the river, but none belonged to Brennan. The boys' parents also sifted fruitlessly through enough clothing collected from the mountains to fill the bed of a pickup.
Among the volunteer searchers was Kevin Bardsley, whose 12-year-old son, Garrett, vanished last August while camping at a nearby lake. He was never found despite a weeklong search.
"When we came off this mountain in the winter, my friends and I decided right then, if anyone came missing, we'd be there immediately," Bardsley said.