/ Source: The Associated Press
One biologist compares the persistent green weed to "The Blob," the title character in the 1950s sci-fi classic flick that grows and grows and consumes everything in its path.
Other scientists describe the plant as looking like little heads of lettuce or squished green grapes. Then they use terms like noxious, invasive and just plain scary.
Even the species name sounds sinister: salvinia molesta.
No one has anything good to say about what's more commonly known as giant salvinia, a Brazilian tropical floating fern that's found a home in slow-moving streams and freshwater ponds and lakes from the Carolinas to California, and even in Hawaii.
A federal survey shows infestations in several states with mild winters, including Georgia, Alabama, Mississippi, Louisiana and Florida, plus along the lower Colorado River on the California-Arizona state line.
Two years ago, Hawaii avoided an environmental disaster at Lake Wilson on Oahu, where 29 federal, state and city agencies worked for four months to kill and remove the fast-growing aquatic weed that had covered 95 percent of the lake's surface. Officials feared it would spread to other waterways.
Can double in 8 days
Pockets of the South, particularly Texas, struggle with an infestation of the velvet-leaf weed that feels like a Scrunchie — a cloth ponytail holder. The plant can double in size in eight to 10 days, and grow into feet-thick mats of floating vegetation, blotting out all light beneath it and effectively killing anything trying to live there. It also can clog irrigation and electric generation intakes.
Giant salvinia poses no known threat to humans, and wildlife officials aren't aware of significant fish kills stemming from the plant's growth, but they are concerned nonetheless.
"The stuff is growing completely out of control," said Howard Elder, an aquatic habitat biologist for the Texas Parks and Wildlife Department, which is trying to beat back the weed at the 185,000-acre Toledo Bend Reservoir along the Texas-Louisiana border.
"We realize it's a lost cause," Elder said. "We're not going to eradicate it, but what we want to do is at least manage and control it."
The reservoir, the largest man-made body of water in the South and the fifth-largest in the nation, had an estimated 124 acres of infestation in the fall of 2003, Elder said. A year later, it was more than 3,000 acres, or about the size of 2,500 football fields.
"What's happened now is the stuff has broken up, and the wind has pushed it into every little arm of the reservoir," Elder said.
Eyes on nearby lake
The big worry is that giant salvinia will spread from Toledo Bend to nearby Lake Sam Rayburn, the 60-mile-long reservoir that's the largest lake completely within Texas's borders.
What makes it so difficult to eradicate or just control, besides the plant's remarkable ability to adapt to its environment, is how easily it moves. Wind can cause it to drift. As long as the plant isn't too thick, boats can drive through it, causing it to break and spread.
A tiny piece from a boat trailer, boat propeller, fishing rod, even a shoe or boot, can find new life elsewhere in a freshwater source because the plant grows by vegetative segments and not seeds.
Many of the numerous coves that line the 1,200-mile shoreline of Toledo Bend are choked with a carpet-like mat of giant salvinia, giving an impression that the water is solid and in some cases restricting boat access.
Salvinia that makes it into the main sections of the lake ranges from tiny clumps to serpentine masses that bob in the waves. Each leaf is about the size of a quarter, and the plant trails a long brown root that looks like silk from an ear of corn.
First found in 1995
Giant salvinia already was known as a pest in other parts of the world, especially Australia and Southeast Asia, when it was first detected in the United States in 1995 in South Carolina. But to some, it was considered an attractive ornamental plant for backyard ponds. It was sold commercially, even though as early as 1981 it was on a federal list of noxious weeds.
By 1998, the weed had found its way to Toledo Bend, about 150 miles northeast of Houston.
Depending on the wind, mats of salvinia have blocked the boat ramp at the marina operated by Joe Whittlesley's family.
One of about three dozen signs planted by Texas authorities at boat ramps around the lake warns fishermen using Whittlesley's ramp, which has been in place since the reservoir first filled in the late 1960s, to clean their equipment, boat and trailer to minimize the spread of the weed.
"We're always going to have it," shrugs Whittlesley, 76. "There are so many places where you just can't control it."
Chemical, weevil weapons
Some herbicides have been successful in taming it, but the price is steep. One systemic chemical that's been effective is about $1,400 a gallon.
"If it's in a 2-acre pond, that's one thing," said Randy Westbrooks, the Whiteville, N.C.-based invasive plant coordinator for the U.S. Geological Survey. "But in a place like Toledo Bend, it's so large. I feel for people who have a lot of it."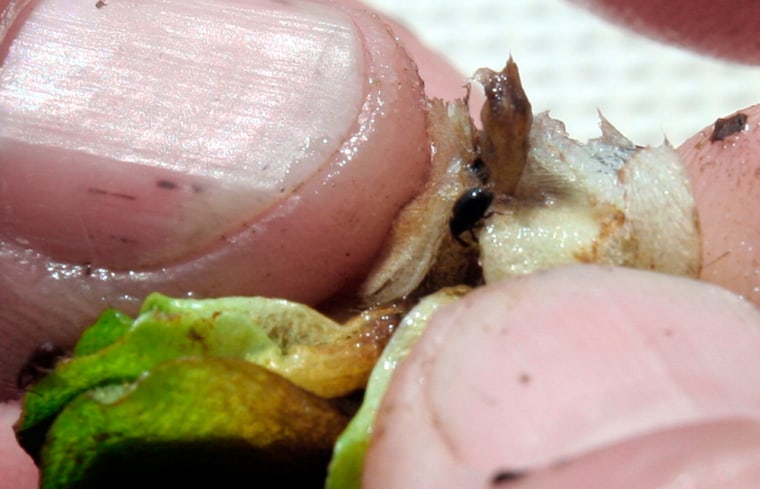 Other herbicides are cheaper — about $100 a gallon — but need to touch the plant. Submerged weeds survive and grow.
One promising predator is an insect that loves giant salvinia like kids love ice cream. Entomologists at the federal Agricultural Research Service have had some success with a tiny weevil known as Cyrtobagous salviniae that devours the plant.
Some 60,000 of the bugs were released in early May at Toledo Bend, a follow-up to about 140,000 weevils introduced last summer.
"If we can get enough of these weevils started and established in the backwaters, perhaps we can get enough numbers" to control the weed, Elder said. "It will take two to three years to establish. It may take longer."