• July 1, 2005 |
The box office numbers have just come in and I am not surprised in the least that War of the Worlds hauled in $21 million in its first day of release. The movie is good. I signed something saying I wouldn't say that in the media until the U.S. release. I saw it two weeks ago on the first day of the "Today World Cruise" when I was following Tomster from city to city as he premiered his latest flick.
Now that I'm off to vacation in eight hours and Cruise has seemingly pressed the power-off button on his publicity machine, I can finally let my keyboard do the talking about Cruise-a-palooza -- around half the world with Tom Cruise in eight days.
One humid Wednesday morning in June my biggest concern was how many liters of cola should I buy for my niece's high school graduation party. 48 hours later, I was taking off on a 14 hour plane ride to Tokyo to interview Tom Cruise & Steven Spielberg before the world premiere of War of the Worlds. It would then be on to Berlin for the German premiere, onto the Marseilles premiere, and then London and Madrid.
There were highs (seeing Japan for the first time) and lows (getting chewed out by a movie publicist), the odd -- a bear hug from Cruise -- and the odder -- living inside a celebrity bubble for a week.
Monday June 12th -- TOKYO
After spending a day scouting locations, sleeping in a hotel room literally nine feet by 12 feet and attempting to reset our body clocks, my trusted producer Brian and I headed over to screen the film "War of the Worlds." Now, I have been through secret service sweeps, interviewed the Queen of Jordan and stood on the stage at the Democratic Convention, but the security screening to get into this movie was extensive and a wee bit creepy. After showing our special color bar coded invitations, followed by showing our passports and having our passport numbers written down, surrendering all our belongings, given wrist bands with our seat numbers, walking through metal detectors, being wanded and frisked, we were directed to our seats. We signed confidentiality agreements that we wouldn't say anything publicly about the movie until it was released.  This was all by 10:00 a.m.
We attended a press conference. On stage were Cruise, Spielberg, Dakota Fanning and producer Kathleen Kennedy. They walked on with scary music and smoke machines. There were easily 75 camera crews. 100 print journalists. The questions were polite. Everyone addressed him as "Mr. Tom Cruise."  The sideshow was a group of giggly women dressed as geishas, who jumped, cajoled and begged to ask a question. They never got the mic. I guess they were some sort of Japanese kooky program, judging from the looks of mainstream press.
We had an impromptu interview with Cruise & Spielberg, shorter than the promised time, but the two were friendly. They more entertained themselves than answered questions, but I kept at it, under the watchful eye of movie company execs, his people, some other people, just lotsa people. They had their patter down ... but I was able to break the façade for about 10 seconds. When Tom sat down, I casually informed him that I sat across from his sister in Science class.
You see, Tom Cruise and I went to the same high school. Only he was Tom Maypother then. He was a soccer fiend and played Nathan Detroit in the senior production of "Guys and Dolls." When I told him this he kept saying ..."No way! No Way!  That's unbelievable. No way!!"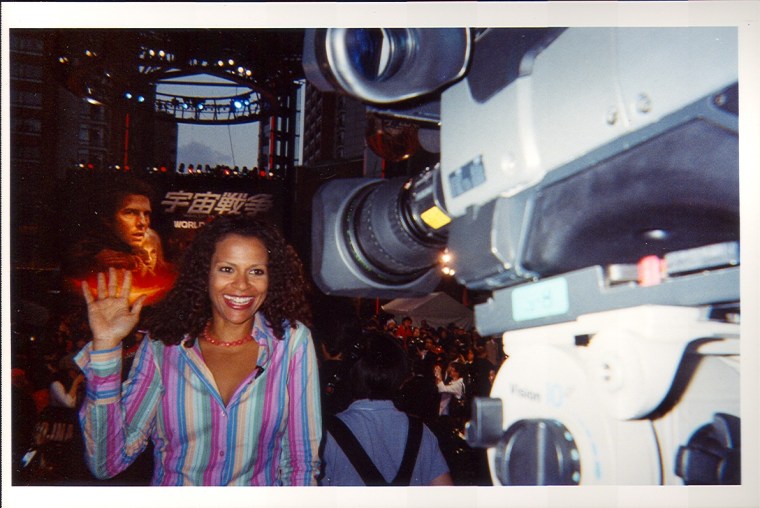 Anyhow, the interview happened. The Tokyo premier happened. Lots of pyro.  Fans swarming the place. Cruise spent two-hours plus signing autographs. It was hot, humid and slightly hysterical.
And so were we. The minute the live shot for The Today Show was done (we were 13 hours ahead) -- we were told to meet a car that would take us to the charter jet to Berlin.  As we swooped into a private hanger our tagged luggage was taken, we were shuttled down a hall to a small security area where Spielberg and his crew, with bags of presents, full of flowers and candles and such. He was headed back to the states. We were directed to another area where Tom and his sister/publicists, and movie publicists were waiting in line. When he saw us, the TV people, he put his glasses on and then remarked that I looked ready for the flight. At this point I had gotten out of my TV girl garb and slipped into velour hooded and drawstring pants and sneakers. Good thing too, because it was an 11 hour flight from Tokyo to Berlin.
Tuesday June 13th -- BERLIN
We landed in Tegel airport after 11 hours on a plane with Cruise's security and his wonderfully sweet makeup artist (who is now my email buddy). As I looked out of the window of the jet, I saw a sea of black Mercedes with numbers in the window. We were told to get into the cars. At that moment I realized no one knew where we were, what the number of the charter was, where we were going. In my sleep-deprived state, I thought we could just fall off the earth. Or be taken to a Scientology center.
Fortunately were taken to an unbelievable luxury hotel in Berlin. 9,000 thread count sheets. Each room with its own doorbell -- dimmed lights, bath salts, fluffy robes. I'd live there if I could.  And another distinction, it was the hotel where Michael Jackson dangled his baby. Ironic since the first thing I saw when I flipped on the TV was that he was acquitted. Even 8,000 miles away, it was breaking news.
Anyway that afternoon we made our way to the German press conference. I can't help but giggle as we get our passes for "Kreig der Welden." Our German NBC colleague tried repeatedly to coach me so that I can get the right growl on my "kreig". The German was press so direct. Hilariously direct. The questions ranged from "Tom Cruise, why did you give your movie a happy ending ... it was unrealistic I did not like it." "Tom Cruise, when I told someone I was going to meet you and they said I do not like him he is too happy."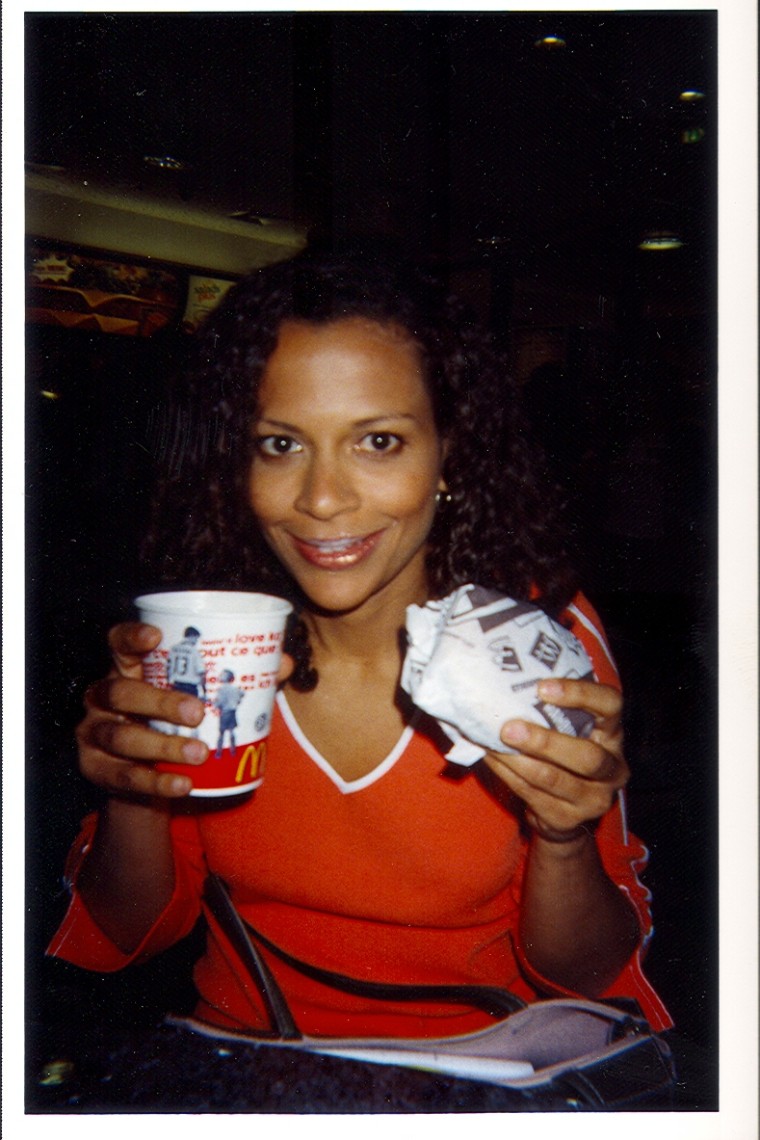 A woman who identified herself as a fellow Scientologist asked, twice, "What will you do, Tom Cruise, when the aliens come."  Cruise always stares directly at his questioner. Is polite but has no qualms about blowing off the question in favor of the answer he wants to give. And if you ask about Scientology, be prepared for a 20-minute answer. Just warning ya.
We head to the premiere, do a quick interview ... really just some light red carpet Q&A. I learn his first red carpet experience was TAPS and he took his mom. I also learned the McDonald's in Germany serve McBeer -- in a paper cup.  Hey, a girl has to eat.
Wednesday, June 14 -- BERLIN TO PARIS
We had a hit at the Bradenberg Arch, where I was having a bit of a wardrobe malfunction. Apparently my sweater was a little too big and was creating a pretty strange looking bust line. With the magic of a binder clip I was able to go on national TV without an FCC-able incident.
We fly from Berlin to Paris ... thankful to be on a commercial flight and away from the glare of the "the people". We arrive in Paris, and for me it's a bittersweet moment. I'd never been to Paris before and believe it or not, I'd planned a whole first trip around my birthday (I'm leaving tonight!) It was bittersweet for producer Brian because Air France lost his luggage.
Friday, June 16th -- PARIS AND MARSEILLE
We head to the Paris train station for what would be another Q&A with the press this time in an opulent restaurant. Le Tern Blue overlooking the Paris train station. Our passes say "GUERRE DE MONDE." Chicly dressed women checked off our names, steered us toward the café & croissant. First rule of being on the road ...eat when you can, hit the loo when you can.
As we are in the press conference -- we are taking note, and I whispered to Brian that Cruise, well looks pretty beat.  Really tired. We should have noticed something was up when Cruise mentioned Katie was in the house. About 20 minutes in a reporter asks if there is any truth to what Katie's father was saying that Cruise had proposed to his daughter. He smiled and said ... "You talked to Marvin?" And then he made THE ANNOUNCEMENT! I leaned over to Brian and said, "we better call New York."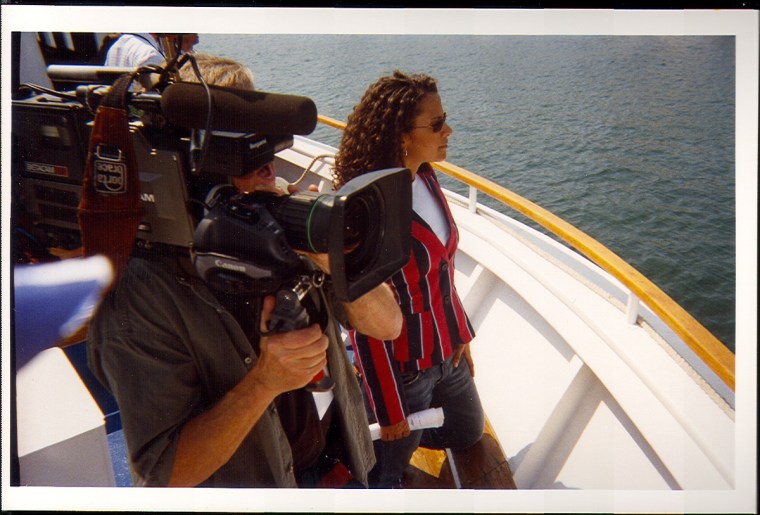 In an hour we were on a bullet train to the seaside town of Marseille -- doing live phoners into the Today Show. And if you could have seen me, leaning over a food cart, with cell phone in hand trying to make a connection. Literally called the control room 30 times and lost signal 30 times. But magically, we connected and I was able to describe version of the following.
While negotiating for when and where to film TC and KH, I notice KH sitting by herself and reading a book. Our eyes meet. I offer "Congratulations". She just smiles and says she is so happy. I tell her a funny story about the strange similarities between our beaus (Same birthday, same age difference and that we were both headed to Paris in a week). 
I sat back down and then Tom blew into the car, and they ... how can I put it delicately, started making out. We talked for a bit. He said he was happy, started telling KT how we went to the same school. I mentioned I saw his as Nathan Detroit in Guys and Dolls. She said she was jealous.  She told him the story about my fella. He jumped up and hugged me.  Just a lot of energy in a very little space.
The next time we would see him would be as they arrived by boat in Marseilles. He presenting her, his new bride to be.
The media horde had grown, as this became the watercooler story of the day. It was weird to watch it unfold in front of my eyes. And I see the pictures in the glossy mags, I can remember exactly where I was standing when each of the pictures was taken. I actually think you can see me in one of them.
Saturday, June 17 -- MARSEILLE, PARIS, LONDON AND HOME
We wrap up our interviews and get our video. In order to get to London for a live shot by 1 p.m. Saturday, we had to take a boat back to the mainland, catch an 11 p.m. train, which got into Paris at 4 a.m. Go to a hotel room, take a shower check out at 5:30 a.m. Fly from Paris to London. Head to the London bureau, write and cut a piece and then do a live shot for Weekend Today.
Two hours later I was on a plane home.
When I was checking in, at customs they asked me where I'd been. When I responded that "I'd been following Tom Cruise around the world for work," The beleaguered customs agent said, "Got him a new wife huh? Ya think that's real?" 
That was foreshadowing of the days ahead.  Only one person I spoke to for the next five days asked if the film was any good.  It went more like this, "Was it weird?" "What's he like?" "How tall is he?"
Alternatively, "How short is he?" "Is he really cute?" "What's the deal with Katie?" "Is it real -- are they really together?"
He's intense, he's about 5'6'' or 5'7", the deal is he makes out with her in public and calls her magnificent a lot and what you see is what you get. I guess it depends on what you see.