/ Source: msnbc.com news services
An abducted 8-year-old girl told authorities that a violent sexual predator tied up her family before she and her 9-year-old brother were taken away in a pickup truck, according to court papers released Tuesday.
The affidavit makes no mention of the savage beating deaths of the children's mother, older brother and mother's boyfriend, or whether the girl witnessed the killings.
Other court documents say the abducted 8-year-old girl has told authorities her captor repeatedly molested her and her 9-year-old brother.
Kootenai County Sheriff's Sgt. Brad Maskell wrote in a terse, handwritten document that both children "were repeatedly molested."
Joseph Edward Duncan III, a violent sexual predator arrested in the Shasta Groene abduction, was charged Tuesday with kidnapping two children with the intent of committing sexual acts or causing serious injury.
First District Magistrate Judge Scott Wayman ordered Duncan, 42, of Fargo, N.D., held without bail.
First court appearance
Wearing a yellow jumpsuit, Duncan was shackled and appeared unshaven as he looked intently at the judge during a brief appearance, his first in court. He said little, other than to acknowledge that he understood the charges against him and to ask if he could consult his public defender, Lynn Nelson.
Duncan was arrested Saturday with the girl after they were spotted by employees and customers at a Denny's restaurant in Coeur d'Alene.
The girl and her brother, Dylan, had been missing since May 16, when the bound and bludgeoned bodies of their mother, older brother and mother's boyfriend were found at their rural home near here. Authorities have said they believe Dylan is dead and that human remains found in western Montana earlier this week may be those of the boy.
Duncan has refused to cooperate with authorities, officials said. Authorities have relied on information from the 8-year-old girl, evidence from Duncan's stolen red Jeep Cherokee and some 100 new tips from the public in the search for the 9-year-old boy.
The two first-degree kidnapping charges do not say who the victims are but identify them as 8-year-old "S.G." and 9-year-old "D.G" because they are minors. The abductions occurred during the period of May 15 to July 2 and the children were held both in and out of the state of Idaho, charging papers say.
Record of sexual assault
The intent of the crimes, the documents say, was to rape, seriously injure or commit a lewd and lascivious act on a child under 16 years old. Convictions can carry the death penalty or life in prison.
Duncan, who was raised in Tacoma, Wash., had spent more than a decade in prison for sexually assaulting a 14-year-old boy at gunpoint and was a fugitive at the time of his arrest for allegedly molesting a 6-year-old boy in Minnesota. Wayman on Tuesday ordered him held on $2 million bail on the fugitive charge.
At a news conference in St. Regis, Mont., FBI Special Agent in Charge Tim Fuhrman of Salt Lake City confirmed Tuesday that the children were with Duncan in the Lolo National Forest of northwestern Montana sometime over the past seven weeks. But he said officials had not yet confirmed whether Duncan was with them the entire time.
Reviewing video
Authorities, meanwhile, were reviewing video of Shasta and Duncan at a gas and convenience store in nearby Kellogg hours before she was rescued.
Kootenai County Sheriff's Capt. Ben Wolfinger said it appeared Shasta was "wanting to be recognized by the patrons there in the store."
"In the small takes I saw out of that surveillance video, she's walking around, stopping, looking right at the faces of the different patrons there," Wolfinger said on ABC's "Good Morning America."
Public appearances
Ted Beamis, owner of the Cameron Conoco in Kellogg, told The Associated Press on Tuesday that Duncan "acted like he didn't have a care in the world.
"He was walking around. You could see him kind of watching her. One time in the store she's wandering up and down the aisles and he kind of loses track of her and you can see him looking around in a panic looking for her. But then he picks up the local newspaper and he's standing there, thumbing through the local newspaper."
In St. Regis, Mont., a western Montana logging community of about 300, gas station and convenience store clerk Jackie Allen, 26, told the AP she recognized Duncan after seeing his photo, telling law enforcement he had come into the store several weeks after the children's disappearance.
Allen said she told the FBI Duncan bought gas and a 12-pack of beer and asked her about area campgrounds. Neither Shasta or Dylan was with him, and she did not see his vehicle.
'Shocked and stunned' The encounter, though brief, left her "shocked and stunned." Other sightings of Duncan and his red Jeep Cherokee have also been reported in St. Regis.
"It's been crazy. I mean, if I would have known I probably could have saved those babies," said Allen, a mother of two.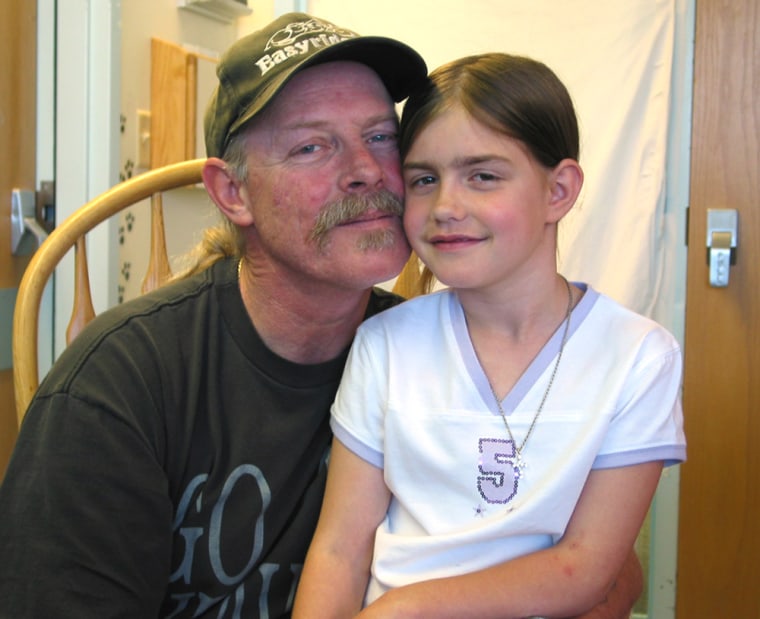 No evidence has been found that Duncan had any relationship with the Groene family, FBI agent Tim Fuhrman said.
The sheriff's office released a photograph showing a smiling Shasta with her father, Steve Groene, at Kootenai Medical Center. Another photo showed her holding a doll. The photos do not show any apparent injuries from her nearly six weeks of captivity.
"She's a much happier little girl right now," Wolfinger said, adding she was in good condition.
Bountiful gifts
Shasta has received so many presents from well-wishers that the room has been filled, he said, noting the hospital has asked that no more presents be sent.
Officers have interviewed the girl a couple of times. Investigators refused to answer whether Shasta had told them the last time she saw Dylan alive.
The children were missing when authorities arrived at their home May 16 and found the bodies of their mother, Brenda Groene, 40, brother Slade Groene, 13, and their mother's boyfriend, Mark McKenzie, 37.
Wolfinger would not say if there was any evidence anyone else accompanied Duncan.
On Saturday, Wolfinger said Duncan authored a Web site called fifthnail.com. The name was derived from a myth involving a fifth nail that was crafted for Jesus' crucifixion but was not used after gypsies hid it from Roman soldiers. "The Fifth Nail is the nail that was meant to pierce the Heart of Christ and end his suffering," the site said.