It's one of the more ironic aspects of the American experiment in participatory government: In the world's greatest democracy, a sizeable percentage of its citizens don't vote.
As the nation marks the 40th anniversary of the Voting Rights Act, and starts the one-year countdown to midterm elections, scholars and monitors of voting trends cite a range of reasons that Americans don't vote, including a perceived hassle to get registered, reluctance to share personal data and language barriers.
Voter advocacy and education groups are weighing responses to these reasons in an attempt to increase turnout for the midterms in November 2006, and the presidential vote two years after that.
Some of their ideas: making same-day registration available, making Election Day a holiday, more aggressive community organizing and church-based voter registration.
California: Golden microcosm
Voter turnout nationwide in the 2004 presidential election was 122.3 million, 64 percent of those registered and up 4 percent from 2000.
California, which leads the nation in a variety of ways, may reflect some of the country's future voting patterns.
A recent survey by the California Voter Foundation, a nonprofit group that monitors trends among the state's 22 million registered voters, found:
18 percent of the state's voters thought they were automatically registered to vote when they registered their cars.
23 percent didn't vote because they wanted to keep personal information private.
Almost half of the occasional voters surveyed said election information was hard to understand.
29 percent said that election information couldn't be trusted.
For those who aren't fluent in English, voting can be daunting. Culture also plays a role. According to the California survey, Latino and Pacific Islanders are among those "less likely to live in a pro-voting culture than other nonvoters."
California, the largest state by population, also reflects the rest of the nation in another way: "Though California's population grows increasingly younger and more diverse, California's voting population continues to be dominated by older, white voters," according to the survey.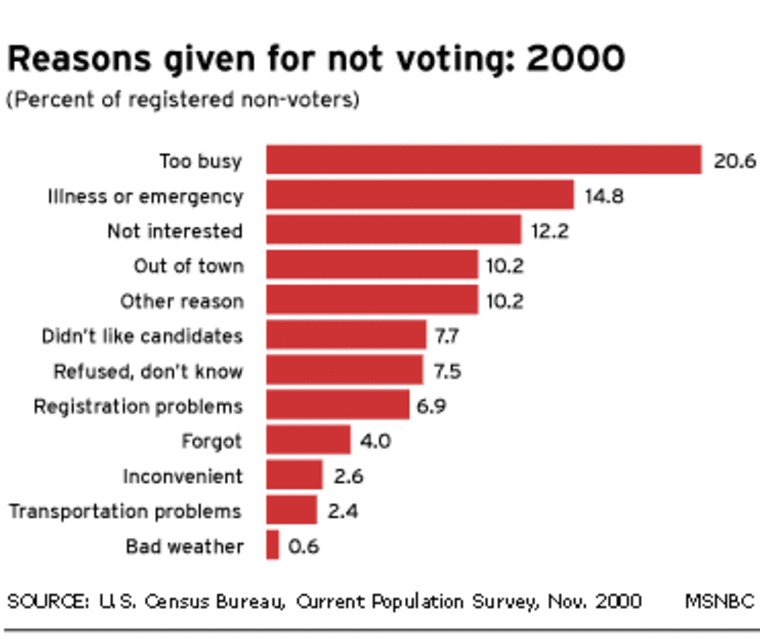 Privacy issues
Americans inclined not to vote sometimes fear having their privacy compromised. And with identity theft rapidly rising in America — — such concerns are growing.
A study by the Government Accountability Office seems to bear out those concerns. The GAO, Congress' investigating arm, reported in August that five federal agencies using electronic data mining to track terrorists, arrest criminals or stop fraud had not fully complied with rules for gathering information about ordinary citizens.
The GAO said the agencies couldn't ensure that privacy rights are appropriately protected and that their lapses "increased the risk that personal information could be improperly exposed or altered." 
"Politicians are reluctant to draw attention to the issue of voter data privacy because politicians are the biggest consumers of the data," said Kim Alexander, founder and president of the California Voter Foundation.
Tailoring strategy
Voter groups know there's no single way to reach all prospective voters, and some are tailoring their message to specific constituencies.
For example, in states like Massachusetts, Michigan and Tennessee, where the contentious issue of same-sex marriage is expected to be on the ballot in 2006, groups on both sides of the debate are aggressively pursuing voter registration drives and other efforts to get people to vote.
"People turn out to vote when they feel welcome," Alexander said. "The 2004 election was one of the most exciting we've seen in a long time — very hotly contested. If 2008 is a hotly contested race, we may see a continuation of the high turnout we saw in 2004."