The attacks that struck London on Thursday hit this sprawling city at its most vulnerable pressure point: the transportation system.
Much maligned and even mocked for frequent delays and sometimes decrepit trains, London's underground system is nevertheless one of the world's most extensive and a key tool for the vast majority of people living and working here.
As with any capital city, public transportation assumes an overwhelming significance in London. But the number of people in this city — officially, its population is slightly over 7 million — coupled with its sprawl — it covers around 650 square miles — make transport links the equivalent of lifelines in Europe's largest metropolis.
Extensive network
The 12 Tube lines serve an estimated 3 million people a day on hundreds of millions of journeys a year.
The London bus network is also one of the most extensive in the world. Around 8,000 buses carry some 6 million passengers on more than 700 different routes each weekday.
Any attack on London's transportation network would predictably paralyze the city, as any Londoner who has endured one of the frequent Tube strikes over the past several years could attest.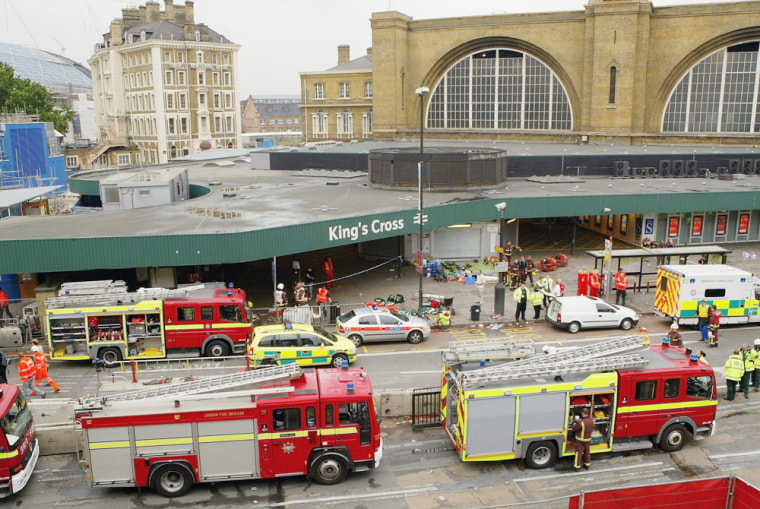 When subway staff have taken industrial action, the buses rapidly become overcrowded and it is not uncommon for workers to walk an hour or more to work.
Fears of terrorism in the London subway network, first ignited by Irish terrorists in the 1960s and 1970s, were rekindled in the wake of the Sept. 11, 2001, attacks.
Last year, British newspapers reported on alleged al-Qaida plans to bomb inside a Tube tunnel beneath the River Thames, the main waterway through the capital, with the aim of causing an underground flood. Plans for the alleged plot were reportedly uncovered in an al-Qaida training camp in Afghanistan.
According to British media reports, the government has staged a series of secret exercises, involving government officials, the intelligence agencies and senior emergency services personnel, in an effort to coordinate responses in the event of a terrorist attack on the Underground.
Storied history
The train system has some 274 stations, both above and below ground, and more than 250 miles of active tracks.
The Tube has a storied history. Opening in 1863, the subway system is the oldest such network in the world.
During World War II, many London subways stations were used as bomb shelters against Nazi Luftwaffe raids.
The prospect of an attack on London's subway is particularly horrifying because the tunnels that serve the underground are unusually deep even by the standards of other urban transport networks. The deepest station is 192 feet below ground level, the deepest track 221 feet below ground level.