What would Harry Potter do if Hogwarts forest were being destroyed? He'd act to save it, of course, and that's what his American fans are being urged to do by buying "Harry Potter and the Half-Blood Prince" — not in the United States but in Canada, where J.K. Rowling's latest book is printed entirely on recycled paper.
A coalition of conservation groups and Rowling herself have likened the mythical Hogwarts forest to old-growth trees used by paper suppliers around the world.
The author and the activists also have praised Raincoast Books, the publisher of Harry Potter books in Canada, for using paper that's recycled and certified as being free of pulp from ancient trees, generally defined as trees that are at least 150 years old.
Raincoast's printing of the book will save 28,000 trees — more than what would fill New York City's Central Park, activists say.
This is the second time around for Raincoast, which was the first publisher to use only recycled paper when the previous Harry Potter title came out in 2003. This time it's joined by a handful of other publishers around the world, but not the largest of them all: U.S.-based Scholastic.
Now the Natural Resources Defense Council, Greenpeace and six other American groups are urging Muggles, that's humans in Rowling-speak, to boycott Scholastic and buy from Raincoast via one of two Canadian online booksellers: www.amazon.ca or www.chapters.indigo.ca.
Book-ordering party
Two of the coalition members, the Boreal Songbird Initiative and the National Wildlife Federation, held an online ordering party at a Seattle cafe this week.
The coalition wants to end logging of old-growth trees in the world's boreal forests, a belt of coniferous trees that rings Earth just below the Arctic. Conservationists are particularly concerned about Canada's ancient forests. "Ninety percent of Canadian logging is still happening in old growth, and the U.S. is a major market," said Nicole Rycroft, a spokesperson for Markets Initiative, a conservation group that works with Raincoast and other Canadian publishers.
U.S. publisher's stand
Scholastic, for its part, says it's being treated unfairly. "Scholastic has a long-standing policy of only using paper free of fiber from ancient forests for all of our publications and products," said spokesman Kyle Good.
Plus, he said, "we use recycled paper in many of our products and publications," including the Harry Potter books.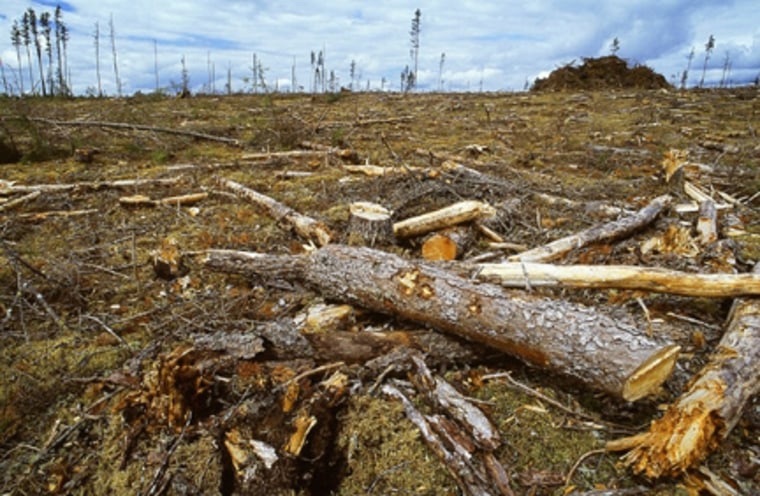 So how much is recycled and where does the paper come from? "Scholastic does not disclose specifics about our suppliers and printers for this or other books," Good said. "Nor do we report the percentage of recycled paper used in Harry Potter books."
It's that secrecy that bothers groups like Market Initiatives, which wants publishers to monitor and certify where their pulp and paper comes from.
Eighty-five Canadian publishers, 75 percent of the country's industry, are now doing that, Rycroft said. Green Press Initiative, an American partner with Markets Initiative, said about as many U.S. publishers are doing the same, but they're a much smaller share of the nation's market.
"Scholastic would really have an opportunity to drive change to a level that Canadian publishers can't," Rycroft said, noting that its 11 million-book run for "Harry Potter and the Half-Blood Prince" makes it the biggest publisher of the book.
Kudos for Canadian publisher
Raincoast hasn't disclosed its run, but the 2003 "Harry Potter and the Order of the Phoenix" was much more modest at 930,000 books.
Markets Initiative did an "eco-audit" on Raincoast's plans for the new book and estimates that the publisher will save 28,221 trees by using 100 percent recycled paper.
The group also estimates that Raincoast doesn't pay more than a 5 percent premium for the paper.
But the Association of American Publishers isn't so sure that would be the case in the United States. It has created a task force to study the costs, availability and quality of 100 percent recycled paper.
Kathryn Blough, an association staffer who's on the task force, said her informal conversations suggest that "for high-volume purchasers the price difference is significantly greater than 5 percent."
Recycled versus virgin
Mike McMahon, head of book paper sales at Midland Paper in New York City, said the premium can be "20 percent or more."
Virgin paper is cheaper, he said, because "the big mills have state-of-the-art virgin pulp mills; a good part of that efficiency is passed along to the big customers in the way of price."
On the other hand, recycled pulp, also called fiber, is seeing demand that "is larger than the available supply; thus it can be very expensive to buy," McMahon said. "Last year China, for example, bid up the price of this fiber because they are a fiber-starved country with a booming demand."
Moreover, he said, "the entire process of collecting and de-inking paper waste is labor intensive and expensive," and "printing and writing papers are a very poor choice to use as recycled fiber."
"Proper forest management is the real issue," McMahon said, "not diverting recycled fiber from efficient end uses to inefficient ones to promote supposed green causes."
Whomping Willow's stamp of approval
Rowling stands firmly with the conservationists.Raincoast Books' policy caught her attention when "Harry Potter and the Order of the Phoenix" went to press in 2003, and she rewarded the publisher with a special preface in the Canadian edition of the book.
"The forest at Hogwarts is home to magical creatures like unicorns and centaurs," Rowling wrote. "Because the Canadian editions are printed on Ancient Forest Friendly paper, the Harry Potter books are helping to save magnificent forests in the Muggle world, the home of magical animals such as orangutans, wolves and bears."
Rowling closed with a warning from her most famous rooted character: "It is a good idea to respect ancient trees, especially if they have a temper like the Whomping Willow."