/ Source: The Associated Press
The work is grueling, the pay meager, and home might be a crowded bunkhouse or the back of a van, but migrant families in southern New Jersey for the blueberry harvest receive a perk worthy of their labors.
Their children, whether toddlers or teens, automatically qualify for a free, state-of-the-art summer school, with multilingual teachers encouraging pupils they might never see again after the berry season ends. While the parents toil in the fields, their sons and daughters might be exploring the Internet or practicing with a precision drill team.
Many of the families swiftly move on, heading to late-summer jobs in Maine or Michigan, then returning to Mexico or Florida for the winter before starting a northward trek again in the spring — their children experiencing school in short, disrupted spurts. Summer school — part of an imperfect but ambitious federal initiative — is intended to fill the gaps and keep the children within academic striking distance of their more stable peers.
Short stints
The challenges are numerous. Many of the children speak little English, and come from a hodgepodge of cultures and disjointed educational backgrounds. Some have never seen an eye doctor or dentist. Older children may prefer to be earning money in the fields. And the staff knows it has only six weeks to work with.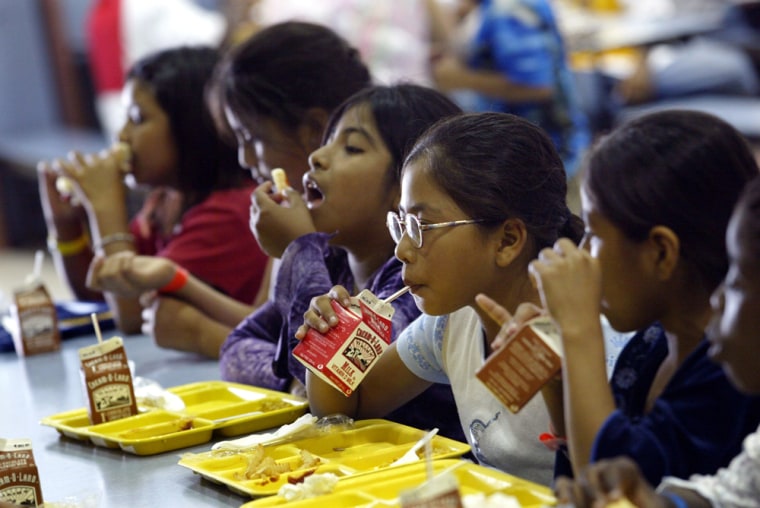 "One of the biggest challenges for the teachers is not having the satisfaction of seeing the long-term benefits of their work," said Kathy Freudenberg, director of a nine-county New Jersey summer program that serves about 1,000 migrant children.
There are an estimated 860,000 school-age children of migrant workers in the United States — mostly Hispanic — with about 550,000 of them receiving some form of federally subsidized education. A $380 million budget covers both school-year and summer programs, which are administered by the states and considered vital in helping the children improve their relatively low chances of finishing high school.
Alma Ramirez, 14, is among those intent on graduating. Along with her parents and three siblings, she came to New Jersey two years ago from a village in Mexico's Hidalgo state. She finished ninth grade in Clayton, N.J., this spring, and now — while her father works in a nursery — is at summer school.
While she's learned English quickly, the language barrier has left Alma feeling a little isolated at her regular school; the summer program is a pleasant break. "There are just one or two kids (at Clayton) who speak Spanish," she said. "But here I have a lot of friends who do."
Not outsiders
Other migrant children also appreciate the chance not to be outsiders for once — and to avoid the teasing they often suffer at mainstream schools. "Americans have a problem with migrants," Freudenberg said. "They want them to do the menial jobs, but don't want them living in the community."
Alma's summer program is based at a large elementary school in Sicklerville, halfway between Philadelphia and Atlantic City in the heart of New Jersey's blueberry country. Roughly 200 children are picked up from fieldside camps and rundown motels by a fleet of buses, brought to school in time for breakfast, then taken after classes to a summer camp for recreation and supper before heading back to their families.
Most of the families are from Mexico, others from Haiti; many of the children were born in far-flung American farming towns and thus are U.S. citizens. "The Haitian and Mexican kids are very distant — they don't know each other's culture," Freudenberg said. "We try to promote harmony."
To woo teens into class, the school offers some $6-an-hour part-time jobs, such as cleaning the cafeteria. Juan Carlos Castenada, a 14-year-old who has such a job, said the summer school is much bigger and better equipped than his three-classroom school in Toluca, Mexico.
"Here," he said, "you get a lot of help with the things that you need."
But daily life can be tough. Haitian-born Wesley Jarbath, 15, came to New Jersey from Florida only with his sister and grandmother, who works in a berry-packing house. He lives apart from them in a men-only bunkhouse, attending summer school while the men work. And there's another problem: "I'm allergic to blueberries," he said.
For all the debate over immigration policy, the nationwide migrant education program represents a notable, bipartisan commitment to assisting these nomadic, low-income families whose labor is vital to U.S. farming. Some of the migrants have immigration papers, many are here illegally, but — under federal policy — all are permitted and encouraged to send their kids to school.
"We're not in the business of asking for documents," said Francisco Garcia, head of the federal Office of Migrant Education.
Family support
Most of the children can expect little hands-on help at home, where books are scarce and parents are exhausted from long hours. Nonetheless, staff members say most parents support the summer program and flock to the annual Parents Night.
"Education is a key reason a lot of these families came to America — they want something better for their kids," Freudenberg said. "The kids really want to be in summer school. You can tell by the way they revere the teachers and staff, before they become Americanized."
The program's chief recruiter is Andrea Hutchinson, who was raised in a migrant-worker family in California. She sets out by car each afternoon, tracking down families at the end of dirt farm roads to register their children.
Most of the parents are delighted to sign up their younger children, but many of the children 12 and older — legally able to pick berries for pay — choose work over school. Evening English classes are offered for them.
Hutchinson said farm owners generally cooperate, in part because they can face federal fines if young children are spotted around the fields. However, she said other aspects of migrant life can be harsh.
"The rent is high — there's a lot of exploitation," Hutchinson said, citing such practices as requiring migrant families who live on farm property to buy meals onsite rather than cook for themselves.
At the Cosmo blueberry farm in the town of Atco, Hutchinson and two colleagues signed up several children of newly arrived migrants. Parents who spoke no English provided ages and health information as small children milled about a muddy parking area adjoining a cluster of trailers and bunkhouses.
One father, Fortino Ramirez, said his family — including four school-age kids — will move on to Michigan after the blueberry season ends, then to Florida for the winter and North Carolina next spring.
"I'd like things to be more stable," he said in Spanish. "But we need to come and work here. We live better here than in Mexico."
Headaches for educators
The Sicklerville program accommodates children as young as 3. A separate Migrant Head Start Program accepts kids as young as 6 months. "Our staff needs to be realistic — they may have just one shot at these kids," said Peg Cunningham, co-director of a New Jersey-based Head Start program.
Nationally, one of the biggest headaches for migrant education is the difficulty tracking students as they move state to state. One attempt at a nationwide data bank collapsed several years ago; Francisco Garcia's federal office is now making a new attempt to link up existing state information systems so a school in one state could swiftly access students' test scores, class credits and immunization records from another state.
Garcia, who has worked in migrant education since 1965, said he's witnessed tremendous change since an era when many school districts balked at serving migrants' children.
"We still run into some resistance," he said. "But for the most part they've been receptive. They want to do their best to put everyone on the same playing field."