British police on Sunday defended a policy of shooting to kill suspected suicide bombers after shooting dead a Brazilian electrician by mistake in the hunt for London's bombers.
Brazil has demanded an explanation from Britain after police searching for four men suspected of trying to bomb London's transport system last Thursday shot Brazilian Jean Charles de Menezes, 27, at an Underground train station in south London.
"I think we are quite comfortable that the policy is right, but of course these are fantastically difficult times," Metropolitan Police Commissioner Ian Blair told Sky Television.
Asked if the instructions were to shoot to kill if police believed a suspect was a suicide bomber, he said: "Correct. They have to be that."
"It's still happening out there, there are still officers having to make those calls as we speak. ... Somebody else could be shot," Blair added.
Last Thursday's failed bomb attacks, which killed no one but caused mass panic, came exactly two weeks after suicide bombers killed dozens of people on London's subway system and a bus.
Police had earned widespread praise for their handling of the investigation, but the killing of an innocent man has raised concern about the trade-off between human rights and security.
Muslim leaders fear members of their community will be targeted after police identified the four men who blew themselves up on July 7 as British Muslims.
"To give license to people to shoot to kill just like that, on the basis of suspicion, is very frightening," said Azzam Tamimi of the Muslim Association of Britain.
Former London police chief John Stevens wrote in the News of the World newspaper that he had sent teams to Israel and other countries hit by suicide bombings to train in combating them.
Victim's family left distraught
Blair said Menezes had emerged from an apartment block in south London that had been under surveillance in connection with Thursday's attacks, and refused police orders to halt. Menezes had also been wearing an unseasonably heavy coat, further raising police suspicions.
Blair apologized to the victim's relatives.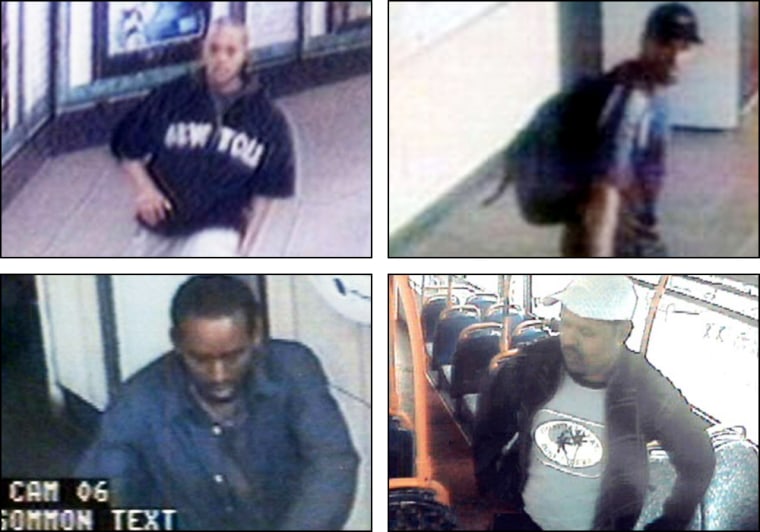 "They had to kill someone to show the whole population they are working and make the country safe," Alex Pereira, Menezes' cousin, told the British Broadcasting Corp.
"I ask the people to ask the Metropolitan Police and (Prime Minister) Tony Blair and everybody responsible for that: 'What kind of job are they doing?"'
The police chief Blair noted that the two sets of London bombings had followed a similar pattern, but said no definite link had been established.
British media, citing security sources, said two of the July 7 bombers had attended a white water rafting trip at the same center in Wales as some of the suspected July 21 bombers.
That was based on evidence discovered in backpacks left behind by the failed bombers. Detectives believe the trip could have been used as a bonding exercise, the sources said.
Ian Blair said a number of suspects arrested since Thursday would remain in custody but the search continued for four men.
"We are still anxious for any sighting of the four individuals or any knowledge of them or where they have been," Blair said, adding police had no reason to believe they had left the country.
The Abu Hafs al-Masri Brigade, a group that claims links to al-Qaida, has said it carried out Thursday's bombing attempts and the July 7 attacks. However, its claims of responsibility for previous attacks in Europe have been discredited by security experts.