/ Source: The Associated Press
The stainless steel counters and tidy shelves filled with bagged coffee beans at Panaderia Taza are standard coffeehouse decor, but the pastry case isn't filled with muffins and scones.
It's lined with conchas, Mexican sweet breads, and empanadas, triangle-shaped crust filled with fruit or custard. And the coffee is Mexican brand Cafe Combate.
Panaderia Taza is a coffeehouse targeted specifically at Hispanics, a market growing so rapidly here and elsewhere in the United States that the bakery's owners plan to franchise it soon.
"We just want to be ahead of the curve," said Peter Conforto, president and chief executive of Masa Men, the management company that opened Panaderia Taza in June.
Ethnic markets and mom-and-pop bakeries have long been tucked in urban shopping centers, but with Hispanics making up the fastest-growing segment of the U.S. population, entrepreneurs like Masa Men and others are looking to build slicker models that can be franchised.
Expandable, franchiseable
Conforto and the other two executives at Masa Men see an opportunity to create an expandable business model specifically catering to Hispanics.
Masa Men is run by Conforto, who was a Blimpie International franchiser and is currently opening a chain of tea shops called Tealuxe; Lee Cohn, who has opened a series of 1950s-themed Ed Debevic's diners; and Todd Belfer, who co-founded RA Sushi Bar Restaurants, an upscale group sold to Benihana Inc. in 2002.
Although the Masa Men executives started in non-Hispanic food markets, they see a big opportunity. A quarter of the Phoenix area's population is Hispanic and the demographic is growing quickly nationally. And Conforto said they have found that the Panaderia Taza products seem to appeal to a wide section of Hispanics, whether recent immigrants or third-generation Americans.
Masa Men started as the Arizona franchise holder of Pizza Patron, a Dallas-based chain that targets Hispanics with bilingual signs and staff and relatively inexpensive pies, with stores generally located in neighborhoods that are at least 40 percent Hispanic.
Started in 1986, Pizza Patron had just four stores two years ago but expects to have 80 by year's end and to expand nationally as the Hispanic population grows, said Andrew Gamm, the company's director of brand development.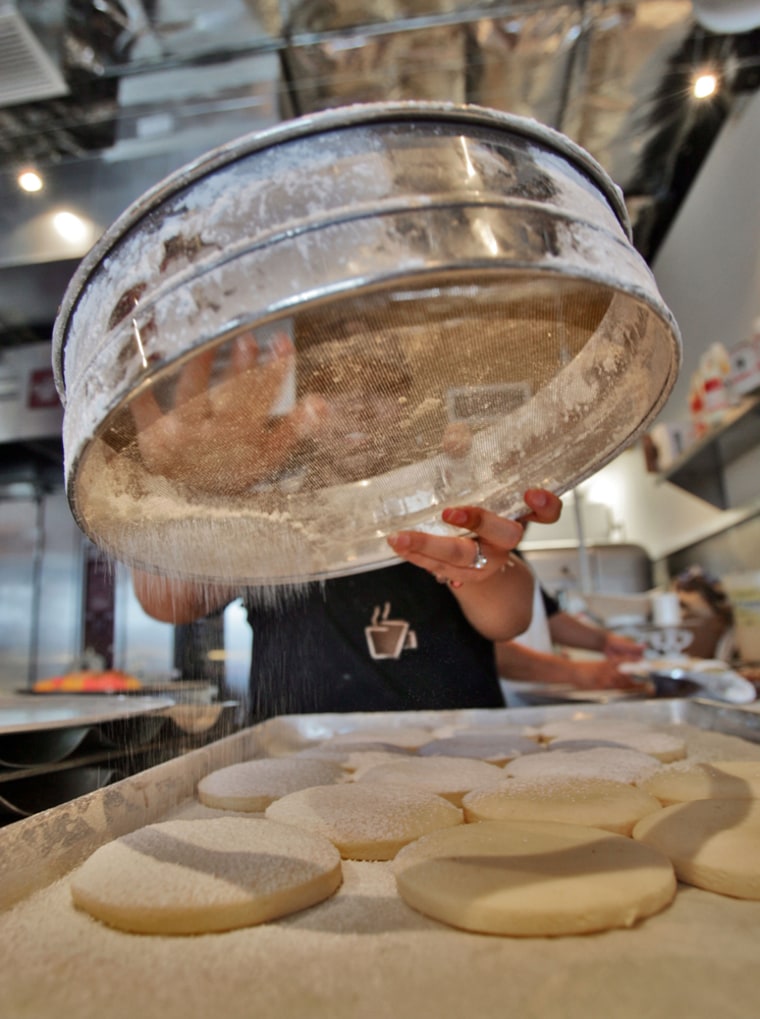 He began visiting bakeries in town. They were full of customers, but Cohn thought he and his partners could execute the concept with cleaner stores and better service.
"If we did this and we did it a little better than anyone else ... raised the quality level and the service level, we could possibly build a chain out of this," Cohn said.
What emerged was Panaderia Taza — "the cup bakery" in English. It includes a bakery that makes Mexican pastries, which tend to be more breadlike and less sweet than European-style pastries. And it serves Mexican coffee and drinks like cafe con leche, coffee with milk, and mezclado con azucar, sugar-sweetened coffee. The house music is a popular Spanish-language radio station.
Authentic menu, modern tweaks
The Masa Men management sought out a Mexican coffee brand and brought in a baker from Mexico to help refine recipes, Conforto said. Executives wanted to make sure the menu was authentic.
But Panaderia Taza includes some Starbucks-like qualities, including wireless Internet access and a modern interior.
The prices of the coffee and pastries are lower than in most area coffeehouses, with cookies that sell for 33 cents and a large cup of coffee going for $1.29 — allowing it to compete with other bakeries and the convenience store that sells coffee across the street.
The staff and pastry labels are bilingual.
"The whole goal is to make sure our customer, no matter who comes in, feels comfortable here," Conforto said.
Ray Ramirez, 54, used to get his coffee at a local convenience store but after Panaderia Taza opened, began stopping in a couple of times per week, carrying his plastic Taza-logo mug.
"I'd like to see them make a success of this," he said.
The bakery is better organized than many typical to the area, and he prefers the lighter roasted coffee.
Appeal to non-Hispanics
Conforto said one thing that has pleasantly surprised the owners is that Taza has good crossover appeal. It was designed to reach Hispanic consumers, including both recent immigrants and later generations, but as many as 30 percent to 40 percent of customers are non-Hispanic buyers who prefer the coffee or pastries.
Cassandra Mason-Motz, 58, is a native of New York, but she's developed a taste for Mexican coffee and pastries and often brings them to share with co-workers.
"The price is good, and it's in the neighborhood. It's a warm feeling," said Mason-Motz, who noted that children and parents can be seen sharing cookies or other treats at the store's stainless steel tables.
The executives at Masa Men are still refining Panaderia Taza, but they hope to have it ready for franchising by the end of the year, Conforto said.
The key to making a Mexican coffeehouse chain viable over a large number of markets will likely be that ability to appeal to all consumers, not just Hispanics, said Harry Balzer, a food industry analyst at market researcher NPD Group.
People are willing to try new things but will only make a habit out of foods that are fairly close to familiar ones, he said. "We are more alike than we are different" in our food taste, Balzer said.