• August 5, 2005 |
Hungry to the point of death in Niger (Mike Taibbi, Correspondent, NBC News)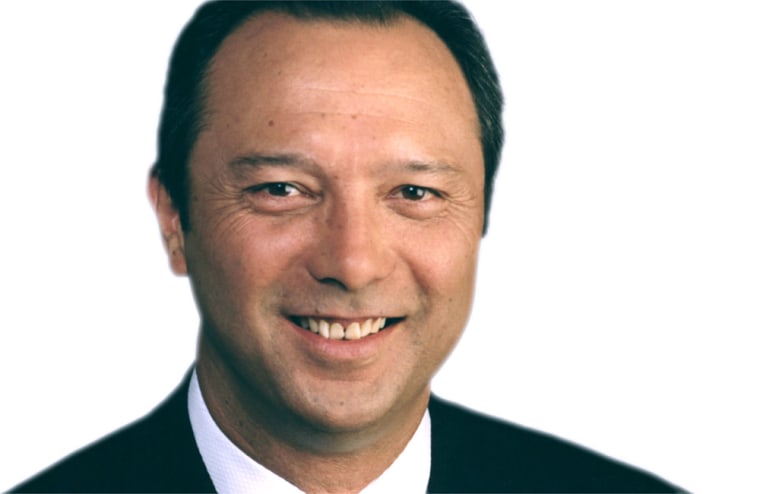 It was last weekend when it first seemed imperative to me that the news division at NBC focus some attention on the food crisis in Niger. More broadcast reports had hit the air, provided by British television—both the BBC and our broadcast partner, ITN, are often first in on these kinds of reporting efforts. And there'd been a provocative op-Ed column in the Sunday New York Times suggesting distinctions between the Niger disaster and others in Africa that periodically command world attention.
On Monday, I suggested a Niger story to a couple of colleagues at Nightly News and on Tuesday was told we'd effort a story for later in the week. I was paired with producer Bita Nikravesh, with whom I'd worked on a number of other stories, so I knew the research and reporting effort would be framed properly from the beginning. That night, Tuesday, we had to rush a lead report on the Air France plane crash and miraculous passenger escape in Toronto, and on Wednesday I had another report scheduled on the possible damaging effects on hearing from the new personal stereo system technology (including the ubiquitous Ipod). But Bita and I also kept our reporting going on Niger and scheduled an interview after the Tuesday broadcast with Mark Malloch Brown, Chief of Staff for UN Secretary General Kofi Annan and also head of the UN Development Programmes. Malloch Brown expanded on the themes in the Sunday Times column, saying the crisis threatening millions of lives in Niger right now was "largely foreseeable as early as (last) November." There'd been a locust infestation that had devastated grain crops, then the worst drought in 15 years, then mistaken decisions rescinded too late by the Niger government to keep food prices too high for too long in hopes of protecting the markets: a perfect storm of negatives that tipped Niger's usual "hungry season" over to conditions approaching a killing famine.
We saw it as our task, then, to explain how this "perfect storm" that had been amply predicted had nonetheless failed to register with the general public or, more importantly, with the international donor community that could have addressed the problem last November for one tenth of what it will now cost... even at the loss of thousands if not tens of thousands of lives. There were several factors, chief among them that the initial appeal for help for Niger was almost immediately followed by the Christmas tsunami in the Indian Ocean... and then by the violence-plagued famine in Darfur, Sudan—  both of which events kept Niger not only off the front page, but, for the most part, out of the newspaper completely.
Through contacts in the humanitarian world, we arranged a telephone interview with Dominic MacSorley of the relief organization Concern Worldwide, MacSorley just having landed in Niger. He told us Concern's nutritionist had just surveyed around 1,000 arriving children and found fully half to be at genuine risk of starvation. "Is it famine? Is it not famine," he said, rhetorically framing the technical and somewhat precious debate in the west about what was really happening in this impoverished African country. "What's actually happening is there are 2 1/2 million people in Niger who are severely hungry."
Hungry to the point of death. In a country where there's no war, and no problem of access. "It's one of the easier countries to help," MacSorely said. "It's one of the countries that we shouldn't have let slip."
But Niger did slip. Our story, supervised by Senior Producer M.L. Flynn, explained how that had happened, and followed a wrenching report from the scene from ITN to make for an "in depth" bloc of substance and significance on Thursday's Nightly News broadcast.
Click here for links on how to help.
Thought-provoking and disturbing  (Neal Shapiro, President, NBC News)
Laci Peterson, Natalee Holloway and Jennifer Wilbanks have become household names. But what about Tamika Huston? In an upcoming report, "What's Missing?" to be broadcast on "Dateline" Friday, August 5, Josh Mankiewicz travels to Spartanburg, S.C. to tell the story of a beautiful young woman who went missing under suspicious circumstances. Tamika's aunt, Rebkah Howard, is a public relations executive who worked tirelessly to get Tamika's disappearance on the national news broadcasts. After having a hard time getting past the front door, she and other critics began to question if the decisions to cover one missing person over another has anything to do with their race. For while Tamika is middle class and attractive, she is also black.
"What's Missing?" takes an unprecedented and critical look at television news coverage of high profile missing person cases, and why the subjects seem invariably to be attractive, female and white. The broadcast explores the media's decision-making process, the role race plays in story selection on network newscasts, and how and why some believe that certain stories make the news cycle over and over again, while thousands of other missing person stories never get a single mention.
The newsmagazine reached out to news executives at CBS, ABC, Fox, CNN and MSNBC/NBC to discuss the issue, and NBC News President Neal Shapiro was the only executive who talked with "Dateline."
Below is Neal Shapiro's blog entry about being interviewed by Josh Mankiewicz for this story:


I've been interviewed dozens times about the media. I'm always asked why we cover something and how we covered it. The "Dateline" interview in this Friday's piece was different.
First, because the interviewer just wasn't any reporter: Josh Mankiewicz is somebody I hired, somebody who is a good friend, and I think he was pretty nervous about the interview too. That said, he never told me what the questions were in advance. I went to the interview only having a general idea what the subject was going to be. I thought Josh's questions were tough, but they were fair.
And the second difference is that with most issues about the press, I pretty much know what to answer. I talk about the issues so much.
But I didn't know all the reporting that "Dateline" had done. I hope you'll see that in the story. Having heard things [the details and statistics from Josh], I felt disturbed enough about it that afterwards, I talked to the assignment desk, I talked to my executive producers and told them that we have to do better. I truly was disturbed by it.
I think "missing person" stories resonate with viewers because they combine a lot of factors that make an interesting story: There's a mystery to it and there's often some suspicion about who might have done it. In the Peterson case, there's someone who may have been responsible, and you wonder whether justice will catch up to this person. There's also something unexpected about the story — like the places it happened like Aruba, or this sweet innocent suburb. Sometimes that's what grips people.
By the time it becomes a network story it's often been in other places. It's been in the wires, in the local papers, carried by our affiliates, and on cable. Viewer interest is already built-in. At the network, we tend to add our resources into it, and it gets a lot more airtime. Suddenly, it becomes an even bigger story.
I hope that when you watch the piece, you'll find it as thought-provoking as I did, and I hope you'll keep watching us and all our competitors to see if we're doing a better job.
• |
Tonight on Nightly News (Steve Johnson, Daily Nightly editor)
It was a mission that brought the end of World War II, and ushered in the nuclear age. Now, 60 years after a U.S. B-29 dropped an atomic bomb on Hiroshima, Brian Williams sits down with a crew member of the Enola Gay for a first-hand account of the day that changed history. Tonight on the NBC Nightly News with Brian Williams.
• |
How insurgents target U.S. troops (Campbell Brown, NBC Nightly News)
With the death toll rising in Iraq, just one day after one of the deadliest attacks against Americans, we take a closer look at the tactics of the insurgents. We'll examine how they are adapting and using better technology and weapons against U.S. forces. Those roadside bombs or improvised explosive devices (I.E.D.s), for example, are now bigger and more lethal, designed to better penetrate armored vehicles. The explosion that killed the 14 Marines yesterday was so powerful it threw their vehicle some 40 feet. We will have the latest from the Pentagon on how American troops are trying to adapt themselves to an ever more dangerous threat.
Also... a reality check on how Americans feel about the war now and the danger the troops are facing. As President Bush today again defended the war in Iraq, we go back to Ohio, home to most of the Marines killed in yesterday's attack, and see how the views of people there on the war have changed over the last year.
And finally... a clean bill of health for the shuttle. NASA says all systems are go for the trip home.
See you tonight.
• |
Tonight on Nightly News (Steve Johnson, Daily Nightly editor)
Surveillance cameras on our nation's borders are a simple but effective weapon against terrorism and illegal immigration. So why have tens of millions of dollars been spent on faulty equipment? One congressman even calls it "a threat to our national security." Is it also a fleecing of America? Tonight on the NBC Nightly News with Brian Williams.
• |
Marine deaths hit Ohio hard (Campbell Brown, NBC Nightly News)
Hey everybody. Campbell Brown here. Sitting in Brian's chair while he enjoys a little summer downtime.
Tonight we will begin the broadcast with another deadly day in Iraq. Fourteen Marines were killed by a roadside bomb... all from the same battalion that lost six Marines just a couple of days ago. Most of these guys were from small towns in northern Ohio and as you can imagine, it is a painful time for these communities. Carl Quintinilla is in Ohio for us tonight where these families are grieving. The same battalion had already lost 25 of its Marines before the deaths this week.
We will also have a minute-by-minute account of how the passengers aboard that Air France flight that crash-landed in Toronto got out safely.
And in space today... it is mission accomplished. Astronaut Steve Robinson today made a very risky mission look easy... making those repairs on the belly of the shuttle Discovery. There is word today that the team may have to do another space walk on Friday to repair yet another glitch. One of our producers said this mission reminds her of her kitchen renovation. One repair leads to yet another! We wish them the best of luck... and look forward to their safe return next week.
See you tonight.
• August 3 |
Tonight on Nightly News (Steve Johnson, Daily Nightly editor)
Move over Baby Boomers. A new generation of hearing-impaired Americans is on the rise and they're a lot younger than you may think. With the growing popularity of digital music players, kids are at risk for hearing loss now more than ever. But are our teenagers getting that message or simply tuning out? Tonight on the NBC Nightly News with Brian Wiliams.
• |
Next Saudi succession may not be smooth (Richard Engel, NBC News correspondent)
King Fahd, the 84-year-old Saudi ruler, was laid to rest in a simple unmarked desert grave after prayers at a packed Riyadh mosque on Tuesday.
The death of Fahd marks the first change of succession in Saudi Arabia in 23 years. NBC News Correspondent Richard Engel discusses how the change of succession is expected to affect stability in the desert kingdom, in the Middle East region, and in U.S.- Saudi relations.
King Fahd's half brother, the former Crown Prince Abdullah, who has been the nation's de facto ruler for the last 10 years, is now the king. How was such a smooth succession possible?
The succession issue was largely settled a long time ago, and the fact that he has been the de facto ruler made for this very smooth transition. Everybody knew that Crown Prince Abdullah would become king. Everyone expected that. So there were no surprises, there were no power struggles.
Fahd has been very ill for a very long time. This issue had been particularly acute over the last two months since he was sick with pneumonia. He was even incubated, so that should give an idea of how problematic the pneumonia was.

At one stage, he appeared to be getting better. Only a week ago he had gotten out of bed and people thought that was a sign that he was on the road to recovery. But, then he died early Monday morning.
So, in the end, it was something of a surprise, but it didn't create any succession issues.
Now, of course, there are succession issues because they recognize that with Fahd gone, the next people in line are all very old.
We have King Abdullah now who is himself 81, I believe that is the most accepted figure. Then there is the now Crown Prince Sultan who himself is, I've seen anywhere between 77 and 80 years old.  He was once treated for colon cancer, so he's been ill himself.
So, the Saudis recognize that there is a succession issue that they are going to have to address.
We know who number one is — King Abdullah, we know who number two is — Crown Prince Sultan, but before we also knew who was the number three. Now, we don't know who that is. That position has been left vacant, perhaps purposefully.
I am hearing from royal sources that it has been left blank because they haven't worked out what they are going to do with it yet. There may be a generation shift — they may jump to someone who is much younger than the current kings have been.
Traditionally, all the kings of Saudi Arabia have been sons of the founder of Saudi Arabia and they've gone from one son to the next. Now, there could be a shift after we go through these two leaders of going to the next generation — the grandsons or even cousins or another male relative in the royal family.
So, right now, we are at something of a crossroads because they recognize that they are entering a phase when there could be rapid turnover of rulers. So, this one was smooth, but there is no guarantee that the next one will be.
• |
Tonight on Nightly News (Steve Johnson, Daily Nightly editor)
To profile or not to profile? In a post-911 world, what's a free society to do? Many feel random searches are a waste of time, while others see targeting specific groups as unconstitutional. How do we uphold our civil liberties while protecting ourselves? We'll take a look tonight.
• |
What Bolton faces at the UN (Andrea Mitchell, NBC correspondent)
On a day that began with a call at 3:30 a.m. to tell me that King Fahd had died, and ended with John Bolton arriving at his new U.N. office in New York and being booed, there were a lot of foreign policy issues to contemplate today.
What effect, if any, would the king's death have as his equally elderly half brother, Crown Prince Abdullah, swiftly assumes power?  Would this mean that Abdullah could make decisions more quickly, rather than waiting for two days to give his ailing brother's retainers the proper courtesy of being informed (as has been the case for the last decade)?
While we all focus on the importance of any kind of shift of power in the world's largest oil producer, a more profound disruption was taking place in Sudan. John Garang, long-time rebel leader from the south, peacemaker after 21 years of civil war, had died in a helicopter crash. Bad weather, said local officials. No sign of foul play. Garang had become First Vice President in the new coalition government after a landmark peace agreement last January, and been visited by Condeleeza Rice in Khartoum only a week and a half ago. Before that, he had visited her at the State department to discuss his plans to transform Sudan into a peaceful, productive society.
Leaving Khartoum 10 days ago, after her tumultous meeting with the country's dictatorial president and her heartbreaking experiences in a refugee camp in Darfur, I had asked Rice what was the most important thing she'd seen. Her answer surprised me at the time: She said it was seeing John Garang in the capital, after all of those years he'd spent in the bush fighting a guerilla war. Now he was gone, his followers or opportunists were rioting in the streets of Khartoum, and the frail peace was at risk of beng shattered.
These are only two of the issues — along with Iran's new threat to break out of its agreement not to resume reprocessing nuclear fuel — that John Bolton now faces at the U.N. He will need all of the skill of his many years as a diplomat, and more.
• |
Tonight on Nightly News (Steve Johnson, Daily Nightly editor)
Monday evening on NBC Nightly News: It's as American as apple pie. And to a young boy in wartime Saigon, it was the future. Now, the future of an American icon is in the hands of a Vietnamese immigrant. How the Ford Mustang fueled one man's American dream.
• |
Why Bush wants Bolton (David Gregory, NBC correspondent)
President Bush sidestepped the Senate and installed embattled nominee John Bolton as ambassador to the United Nations on Monday, ending a five-month stand-off with Democrats who accused Bolton of abusing subordinates and twisting intelligence to fit his conservative ideology.
NBC News Chief White House correspondent David Gregory discusses the political repercussions of Bolton's appointment and says that what his critics have called his "undiplomatic" manner may be exactly what the Bush administration wants as it seeks to ruffle feathers at the world body.
What will the political repercussions be of Bush's recess appointment of Bolton?
Well, he is certainly going to alienate Democrats who don't feel that Bolton has any credibility and who think he is an undiplomatic choice for a diplomatic post at the United Nations.
But, it also is clear that the White House factored some of this into their thinking. The president wants a strong figure at the U.N. He's frankly not much of a fan of the United Nations, nor is Vice President Cheney. And Bolton, by the way, is very close to the vice president.
So, this is a little George W. Bush diplomacy — which is to send somebody who is going to break some china up at the United Nations. The president talked about the need for reform. Again this administration, this White House, wants to tackle the issues at the United Nation that it thinks need tackling and that's why they like John Bolton.
The president has not shied away from saying that Bolton is a tough guy. The rap on him from critics is that he is abrasive, even abusive. He's been accused of trying to twist intelligence on the Iraq war. But, the president stands behind him and said that he has his complete confidence. 
How will this unusual appointment affect Bolton once he gets to the U.N.? Will Bolton be crippled in his role as the U.S. ambassador to the U.N. after the controversy surrounding his appointment?
I think Democrats will make that argument — that he goes in there weakened. Certainly the White House has to be concerned about that in terms of how he is perceived at the United Nations. 
But, the flip side of that is that Bolton unquestionably speaks for this president and the vice president. Nobody will mistake the fact that he has a pretty clear mandate.
On that point, however, Bolton also wanted to make clear that it's Secretary of State Rice and the president who actually set the policy. They will be responsible for that, while he is responsible for carrying it out. Bolton seemed to make that point as an answer to his critics who say that he flies off the handle and works too independently.
His message seems to be that he won't be acting alone up there. He won't be a lone ranger, but he will be carrying out the president's policy. 
Editor's note: Use the mailbag below to communicate with the show or click here to send an e-mail.