/ Source: The Associated Press
Al-Qaida in Iraq issued an Internet statement Wednesday saying it has killed two kidnapped Algerian diplomats. The Algerian president's office confirmed the killings.
"The head of the Algerian mission Ali Belaroussi and the diplomat Azzedine Belkadi, whose government is ruling in violation of God's will, were killed," Al-Qaida in Iraq said in a written statement.
Al-Qaida had said Tuesday it had condemned to death the Algerians who were abducted in Baghdad, and a video made public Tuesday showed the men blindfolded and in captivity.
In the video, Ali Belaroussi and Azzedine Belkadi gave their names and home addresses. It was the first time they had been seen since being hauled away at gunpoint last week.
"The court of al-Qaida in Iraq has decided to carry out God's verdict against the two diplomats from the apostate Algerian government ... and ordered to kill them," said the statement, which was signed by Abu Maysara al-Iraqi, the al-Qaida spokesman.
Hopes for negotiation
A top aide in Algeria to President Abdelaziz Bouteflika had said prior to the announcement about the diplomats' death that he still hoped to negotiate the release of its envoys.
Abdelaziz Belkhadem, the aide, told Algerian state radio the government was "exploring all possibilities to shed light on this affair and to free our two diplomats." He said officials were using more than "classic diplomatic channels to make contact," but did not elaborate.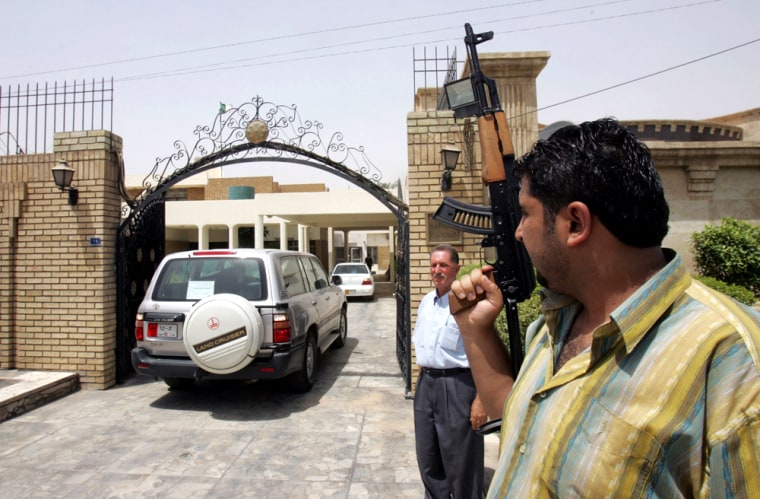 Belaroussi, 62, and Belkadi, 47, were abducted Thursday along with their driver in west Baghdad's upscale Mansour district, police and Algerian officials said.
Iraq's Interior Ministry reported Monday it had arrested two people for questioning about the kidnapping.
Previous attacks
Al-Qaida in Iraq, the group led by Jordanian militant Abu Musab al-Zarqawi, has also claimed responsibility for attacking three other diplomats from Muslim nations.
Egyptian envoy Ihab al-Sherif, 51, was seized July 2 in Iraq as part of an apparent campaign to undermine Arab nations' support for the Iraqi government. Al-Qaida in Iraq later claimed al-Sherif had been killed, but provided no evidence and his body has not been found.
After al-Sherif's kidnapping, gunmen in Iraq fired on envoys from Pakistan and Bahrain in what police said were kidnap attempts. The Pakistani escaped unharmed and the Bahraini envoy was slightly wounded.
The attacks appeared aimed at isolating Iraq's Shiite-dominated government from its neighbors as the leadership tries to make progress on the political front. A new constitution must be approved by parliament by Aug. 15 and submitted to the voters two months later.