The 3-year-old No Child Left Behind Act has opened the door for hundreds of companies to grab part of a rapidly growing market in private tutoring services for low-income students, paid for by federal tax dollars.
Poorly performing schools are expected to funnel more than $900 million to private tutoring services in the coming school year under the landmark federal law, up from about $700 million in the year just ended.
The money, an average of $1,200 per student served, is going both to for-profit and non-profit service providers, including big publicly held companies like Educate Inc. and The Princeton Review, non-profits like the Boys & Girls Club of America, local mom 'n' pop  companies and faith-based organizations.
The tutoring program, one of several ways the 2001 law has created opportunities for private enterprise to profit from public education, has drawn scrutiny in recent months in part because of rules that require local authorities to give plenty of leeway to the private tutoring outfits.
"The Department of Education has been pretty clear in the guidance they have issued that they want to have as few restrictions as possible so they will have more providers  available to offer services," said Diane Rentner, deputy director of the Center for Education Policy, an advocacy group.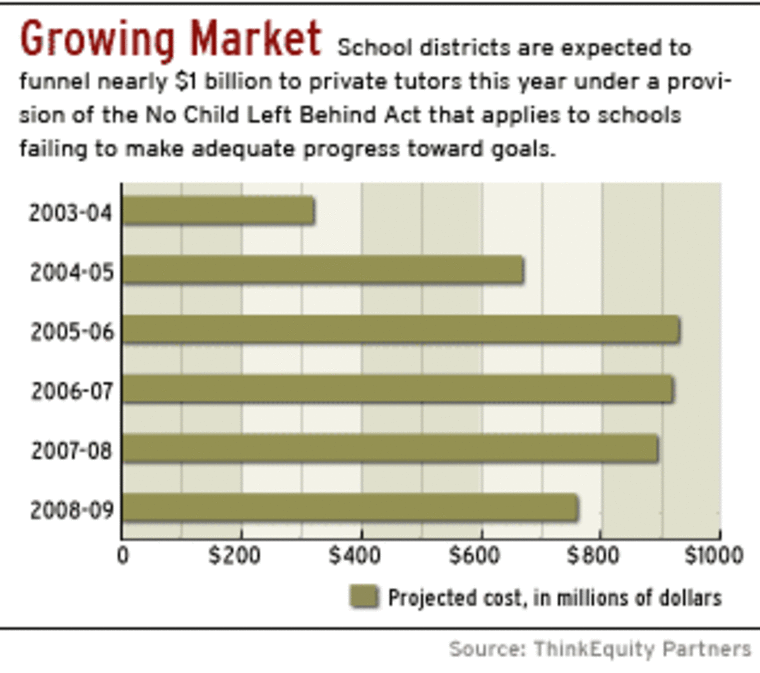 As a result, more than 2,600 providers have been approved to offer tutoring services in one or more states under the program, up from about 1,600 last year, according to federal officials.
With so many companies offering services in a program that is not yet well-understood, there have been a few bumps in the road as the tutoring program has ramped up rapidly over the past two years.
In Chicago, the local school district took the unusual step of ejecting one of the nation's largest providers of tutoring services from seven schools after the company was unable to provide sufficient materials and tutors. The incident gained some notoriety because on the day a local reporter visited, students in the program were being treated to a showing of "Garfield: The Movie," said Beth Swanson, director of after-school programs for Chicago Public Schools.
In some rural districts, administrators have complained about a lack of available tutors. Elsewhere parents have complained about overly aggressive marketing of private tutoring services.
But in most districts, more aggressive marketing probably would be welcomed by the low-income families who are the intended beneficiaries of the program, known as Supplemental Educational Services.
Last year, only about 226,000 students received the private tutoring services out of 2 million eligible students, although the number is expected to rise sharply this year as the program gets rolled out in more school districts.
Under the program, schools that fail to make "adequate yearly progress" toward achieving state math and reading standards for three straight years are required to set aside 20 percent of their federal Title I money for after-school tutoring. Title I, reserved for schools with a significant population of poor children, is the biggest federal education program for grades K-12.
The program has been a boon for students like 11-year-old Jalen Henderson, who has struggled to get an education in Detroit's financially crippled public schools. In his six years of schooling he has missed 1,800 hours – the equivalent of nearly two years. In 2001 his mother, Shirley, was diagnosed with breast cancer. His absentee father owes "a lot" of child support, according to his mother.
But last year Jalen turned things around, going from failing grades to the school honor roll with all As and Bs, according to his mother. Part of the reason, she said, was his attendance three days a week at a private tutoring facility operated by Catapult Learning, paid for by federal tax dollars.
"Now he can break down whole numbers — he couldn't do that," said Shirley Henderson. "He can read word problems, and he knows what to do."
Jalen said he enjoyed attending in part because he got tokens that were redeemable for prizes like a lava lamp and a novelty hat for his mother. "It was fun," he said, adding that he learned his "times tables" and division.
After some initial resistance, more districts are embracing the SES tutoring program, said Jeffrey Cohen, president of Educate Inc.'s Catapult Learning division, which is considered the leading provider. Educate, which also owns Sylvan Learning Centers, generated $34 million in revenues in the latest school year from the No Child Left Behind Act, up 37 percent from the previous year.
"I think there is a special value that the private sector can provide," Cohen said. "We're working on a very targeted, very specific problem. We're not supplanting what the school district is doing, and we're not suggesting that we should."
Cohen said the federally funded tutoring is the fastest-growing part of his company's business, pointing out that two of the biggest states, Texas and Florida, are in "the earliest stages of implementation." In Florida, for example, the program will expand from 50 to 500 schools this year, he said.
With so many companies competing for inner-city mind share, many analysts and industry executives believe a shakeout  is inevitable.
"I think in the beginning it was very unclear whether this was going to be a real market and whether people were going to be able to make a profit," said Kirsten Edwards, an analyst at ThinkEquity Partners, an investment bank. "It looks it's much more attractive now. I think you'll see even more companies popping up trying to get a piece of the market."
Mark Jackson, who covers the K-12 market for Eduventures, a research firm, figures that about 50 firms already have about 80 percent of the business, and he says bigger companies have enormous advantages of scale because they have sales forces with  ongoing relationships with school districts in many states.
Executives of some of the more established companies appear to be treading carefully, avoiding any hints of hucksterism and trying to maintain or improve existing relations with school officials, who may have mixed feelings about the tutoring programs.
Any Title I money not used up for tutoring  reverts to the school, so there is some incentive to soft-pedal the tutoring option.
Plato Learning, one of the bigger players in supplemental education, is moving slowly into the new market, said Bernice Stafford, vice president of school strategies and evaluation.
"We want to make sure we are hiring really good teachers," she said. "We want to make sure we are understanding the implementation challenges. And there are challenges -- urban schools didn't just get that way. They got that way because of lack of attention."
So far supplemental education is only a "side business" for the company, which also offers curriculum materials and early-reading programs in the primary and secondary schools.
"We work with school districts as partners," she said. Like many executives in education companies, she says Plato's mission is "exactly the same" as that of public-sector educators. "Educators are coming to understand that they can't do it alone," she said.
The tutoring services provided under the law came out of a tough political battle and represent a compromise between moderates and hard-line conservatives who would have preferred more active privatization schemes like vouchers or charter schools.
Nina Rees, who oversees the program as assistant deputy secretary of education, said the tutoring program is not really a free-market solution to the problems of struggling schools. Parents, she notes, don't get money that they are free to spend on any provider but must work through the bureaucracy of the school system.
"The idea behind it is not so much encouraging private and for-profit companies but to engage all kinds of stakeholders to help us close the achievement gap," she said.
She said the program merely offers lower-income families the same kind of supplemental services that many upper-income families take for granted.
"I think once you whet the appetite of low-income families and expose them to these services they are going to want more," she said. "Most upper-income families nowadays are hiring tutors even when they don't need them so much, because they realize in today's global marketplace students need to be farther ahead than they have ever been if they want to compete. Once the heightened awareness is there, I don't think low-income parents are any different."
Outside observers say the program that has flaws but offers some promise for underprivileged children who are failing to learn basic skills.
"It's a qualitatively different form of choice, and I think that's very exciting," said Duncan Chaplin, a senior researcher with the Urban Institute. "It could in theory be a huge improvement in choice and the effectiveness of choice in improving the educational environment. In practice that remains to be seen."
One sore spot is that some of the most troubled public school schools systems like Chicago's have been forced to shut down their own after-school tutoring services because of federal rules that apply to failing districts.
Beth Swanson of Chicago Public Schools figures that means only 25,000 students will get services in the coming year, down from 80,000.
"Because our program was much less expensive we were able to serve a lot more students," she said. "We have a good track record. We had an 85 percent attendance rate and kids loved it . The whole thing is premised on the free market, and if we are truly not a good option we would fall out of the market. So let us compete."
Rees said the rule is based on the premise "that districts need to be focused on raising student achievement during the regular school day."
"I think the market can be very useful in the public sector," said Swanson. "Competition can be helpful. I just think it has limitations in this field and those need to be recognized. The ideal for a policy when it comes out of Washington can look very very different when it hits the ground."