/ Source: The Associated Press
Bald cypress, Louisiana's state tree, has never been sacred. If anything, using the great wood has always been the Louisiana way.
But that could change if Gov. Kathleen Blanco decides that Louisiana's sinking and disappearing coastline just can't take another culling of its majestic delta forests. The governor faces a difficult decision on whether some sections should be off-limits to logging.
A century after the first harvest of Louisiana's virgin cypress and water tupelo forests, Louisiana's swamps are again rich in second-growth stands. But a lot's changed since timber companies clear-cut Louisiana's swamps. The state has lost 1,900 square miles of coast — an area the size of Delaware.
The reasons are many, and logging is among them.
After the Civil War, the state's coastal forests extended out to the Gulf of Mexico. Early loggers cut those down and many areas never re-grew. Instead, low-lying parts of the coast were taken over by shrubs and grasses. Logging and other factors, ranging from oil and natural gas drilling to construction of levees, led to the degradation of soil and hydrology in many areas that were formerly an Amazon-like rain forest.
Nonetheless, there's still a lot of cypress swamp left. Louisiana now has 1,462 million cubic feet of cypress, second only to Florida.
The abundance is both a blessing and a curse. This poor state needs the tax dollars that logging would bring but it also needs to save its coast, which would most likely lose even more land if logging is not restricted.
Meetings, advisory panel
Blanco has not made her position clear. The Democratic governor has been waiting for a series of public meetings to conclude and for an advisory panel to issue a list of recommendations.
Sidney Coffee, an environmental adviser to the governor, said both the forestry industry and environment need to be considered.
"This is a working wetland. We're not trying to preserve it as a national park, that has never been our objective," Coffee said. "Is it important for us to show that we're green? I think it's important for us to show that we're taking a balanced approach to this."
The controversy boils down to where the line of protection should be drawn, if at all. Environmentalists want forests far inland to be off-limits while landowners worry that the government will seize private swampland.
Whatever action Blanco takes it will surely cause a stir in a state that loves its cypress.
From the outset of European settlement, cypress was used for caskets, water tanks, fortresses and ships. Cypress shingles were almost as good as slate and tile. Timber operations cleared the way for towns, sugar cane fields and New Orleans' suburbs. Loggers were heroes who hacked at the omnipresent swamp, a place filled with alligators, disease-carrying mosquitoes and deadly snakes.
"It's beautiful wood. It's resistant to decay. Rich in color. It's uniform," said Frank Vallot, a cypress dealer who just opened a cypress saw mill — one of the first in decades — in Roseland. "It smells like vinegar and sugar mixed together."
Environmentalists' perspective
But this time around, environmentalists say, if the cypress gets cut wholesale Louisiana can kiss goodbye any thoughts of cypress harvest No. 3 in the year 2105.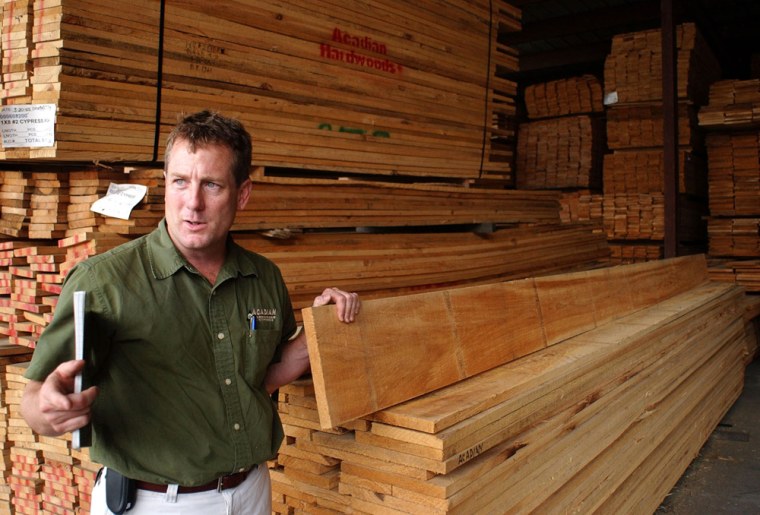 "There's a lot of emotion" surrounding a possible cypress harvest, biologist and anti-logging advocate Michael Greene observed as he guided a boat through swamps and marshes northwest of New Orleans.
"You see 50 meters back there, how it loosens up and there's no overstory," he said, pointing to an area clear-cut a decade ago. "Something might grow back. In some cases you get trees, in some cases it's shrubs and in some cases you get marsh and it sinks."
Oliver Houck, an environmental lawyer at Tulane University, said: "Talking about regenerating cypress in these ecosystems is like talking about regenerating oak forests in Manhattan. We're beyond that point."
Yet many of the people who run Louisiana don't see it like that.
"If you harvest it, it will regenerate," said Bob Odom, head of the Louisiana Department of Agriculture and Forestry.
Foresters agree.
"I don't think they'll change much," said Whit Pierce, a 55-year-old mill operator brought in to assemble Vallot's cypress operation in Roseland. "They've been cutting on them for a while — 200 years."
Cypress mulch popular
Other forces are fueling the interest in logging the coast. Stocks are running low in Florida and other cypress-abundant states and gardeners are lapping up cypress mulch.
"It's being sold at all the main retail stores, Home Depot, Wal-Mart and Lowes — that we know of," said Barry Kohl with the Louisiana Audubon Society. Environmentalists are now passing out brochures against cypress mulch at garden club meetings, he added.
"Why should you take a 100-year-old cypress tree and put it on a plant," grumbled Rocky Rakocy, a 50-year-old crabber and catfisherman in Manchac. "They're dying and there aren't many left. Leave 'em alone."
With action by the governor at least months away, environmentalists have staked their hopes on another entity: the U.S. Army Corps of Engineers.
In recent years, the Corps has stopped several logging operations in their tracks by claiming that they needed a permit, even in private swamps. The agency argued that the operations affected navigable waters and therefore fell under the agency's jurisdiction.
Landowners, a U.S. senator from Louisiana and state lawmakers have attacked the Corps' interpretation of the law and charged that the Corps is turning a landowner's right on its head.
Refuge offers look back
The fear is that if landowners are left unchecked they will repeat history.
Take the Manchac swamps. In the years after the Civil War, the chocolate-brown waters and cypress swamps around Manchac — places few settlers ventured into except for a few German communities — were bought up on the cheap by Midwestern lumber companies.
"They had pretty much thinned out the lumber reserves of the Great Lakes region and we had vast amounts of lumber here and it was cheap," local historian Roman Heleniak said.
The loggers did a thorough job. Today there are only snippets of what the virgin forests might have looked like.
Some beautiful trees dating back 1,000 years are now part of a national refuge called Cat Island, a lazy bend in the Mississippi River north of Baton Rouge. People make the trek to the preserve's National Champion Bald Cypress Tree, the largest bald cypress east of the Sierra Nevada with a diameter of 16.5 feet and a girth of 49 feet.
And out in the swamp basins, a few old groves still stand. Either too remote or too gnarled to cull, they were left by loggers.
"I guess people looked at it as a swamp and a quick buck," Heleniak said. "Nobody thinks 50 years ahead, and it's the same today."