/ Source: msnbc.com staff and news service reports
A couple of short strips of material dangling from Discovery's belly may require an unprecedented repair by spacewalking astronauts, if engineers determine there's even a possibility that the problem could endanger the shuttle during descent, NASA said Sunday.
Teams of experts at NASA's Johnson Space Center in Texas scrambled to understand just how serious the problem was, even as astronauts transferred tons of supplies from the shuttle to the international space station and prepared for the 13-day mission's second spacewalk.
The latest concern has nothing to do with foam or other launch debris, but rather the accidental slippage of ceramic-fiber fabric used to fill the thin gaps between thermal tiles. It will be Monday before the analysis is complete and mission managers decide whether to have the crew's two spacewalkers cut or pull the hanging material.
Such a spacewalking feat would be a first: In 24 years of shuttle flight, astronauts have never ventured beneath their spacecraft in orbit and have made few repairs to their ship — certainly none of this magnitude.
Although he did not refer specifically to the concern over the filler material, NASA Administrator Mike Griffin predicted on NBC's "Meet the Press" that Discovery would be given the all-clear for next week's scheduled return to Earth.
"We're working a couple of issues on Discovery right now," he said. "But we think
we have work-arounds. We think Discovery is safe to bring home."
However, Griffin cautioned that no one could be absolutely confident about Discovery's safety until the shuttle is "stopped on the runway and is ready to be towed off."
In Houston, flight director Paul Hill said two engineering teams were working "aggressively" on the concerns over the gap fillers, with heated discussions raging over what to do, if anything. Discovery and its crew of seven may be perfectly safe to fly back with the two drooping pieces, Hill stressed, as space shuttles have done many times before, although not necessarily with dangling pieces as large.
One piece is sticking out an 1.1 inches (2.8 centimeters) between thermal tiles. The other protrudes at an angle from six-tenths to nine-tenths of an inch (1.5 to 2.3 centimeters). For those areas, far forward near the nose, the general wisdom and flight history indicate that the limit should be a quarter-inch (6 millimeters), Hill said.
Hill noted, however, that the quarter-inch measurement was taken following previous re-entries, and the intense heat could have burned some of the material off. Discovery's flaws were spotted in orbit — a first — because of all the photography and laser imaging being aimed at normally hard-to-see spots.
On a flight by Columbia in 1995, the shuttle returned with a gap filler that protruded 0.6 inches (1.5 centimeters), but it was rolled up and located farther back on the belly, in an area less likely to overheat, said Steve Poulos, manager of the orbiter project office. When unrolled, the strip of material stretched 1.4 inches (3.6 centimeters) long. The only overheating effect was to nearby damaged tiles.
The extremely thin gap fillers are held in place with glue and by the tight fit of the thermal tiles; thousands cover the shuttle. Poulos speculated that the glue may have come loose.
Pros and cons for spacewalk
Any repair, if deemed necessary, would most likely be performed during the third and final spacewalk of the mission on Wednesday, although a fourth unplanned spacewalk might be required, he said. The second spacewalk, for space station repairs, is set for Monday.
The astronaut would have to stand on either the shuttle or station's 50-foot (15-meter) robotic arm in order to reach the two hanging strips of filler. There are drawbacks to using either arm — namely, clearance and time constraints.
There's also the possibility, however remote, that the spacewalker or the arm might damage something.
"There are pretty strong arguments for and against most of the options," Hill said.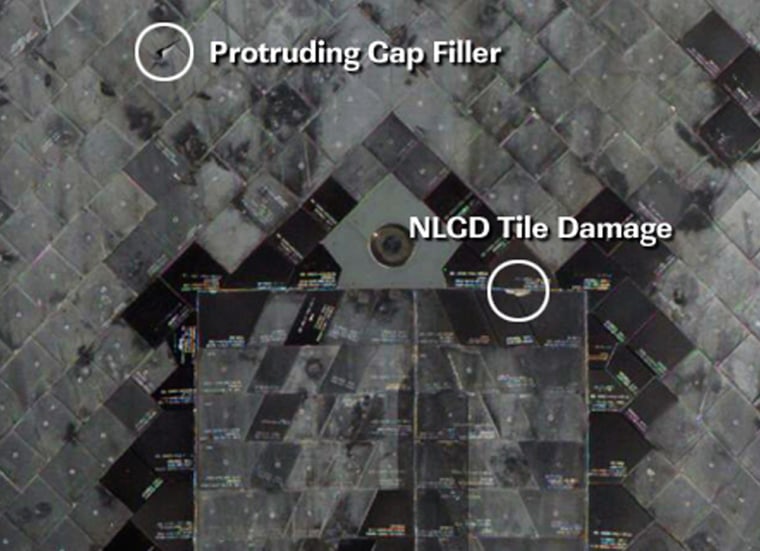 One extreme option would be to put an astronaut on the end of the brand new 100-foot (30-meter) inspection crane assembly, but it would likely be a bouncy ride — and that makes spacewalk and robotic specialists nervous. Poulos said Sunday evening that that option was considered but ruled out.
Anything dangling from the normally smooth bottom of the shuttle will overheat the area and downstream locations during re-entry; as it is, temperatures there typically hit 2,300 degrees Fahrenheit (1,260 degrees Celsius).
A hole in Columbia's left wing, carved out by a large chunk of flyaway fuel-tank foam, led to the spacecraft's destruction during re-entry on Feb. 1, 2003. All seven astronauts were killed.
After days of inspections, NASA has cleared Discovery's thermal protection tiles for landing on Aug. 8. Although engineers are still studying data about the reinforced carbon-carbon panels that line the shuttle's wings and nose cap, the question about the gap fillers is the only significant issue that needs to be addressed, Poulos said.
Spacewalk may be safest course
Deputy shuttle program manager Wayne Hale, who heads Discovery's mission management team, said his first instinct was to clear the shuttle for landing without trying to repair the gap fillers. But as he heard more about the situation, he came to see more value in making the repair — particularly if the engineers could not guarantee that the shuttle would make a safe landing as is, and the spacewalk experts came up with a simple fix.
"You begin to say, 'Why should I lose some sleep over these gap fillers if I can take care of it that easily?'" he said during an afternoon news conference. "But we'll wait and get the technical answer from the technical folks."
He said the engineers were working overtime to compress "a decade's worth of study into two days."
Busy schedule for astronauts
Discovery's seven astronauts worked alongside the international space station's two crew members on Sunday to transfer tons of cargo to the station.
The job was particularly important because it's been more than two and a half years since space shuttles have resupplied the station. When NASA's shuttles were grounded in 2003, the agency began relying on Russian vehicles to deliver supplies — but some items are too bulky to fit on the Russian-built cargo spaceships.
For example, one of the items that was shipped aboard Discovery is a 600-pound (273-kilogram) replacement guidance gyroscope. The station uses four such gyroscopes to keep the station in its proper position, but only two of them have been working in recent months.
One of the failed gyroscopes has now been reconfigured with the aid of Discovery's crew. The other one will be replaced during a spacewalk, then brought back to Earth along with the rest of the unused equipment and trash being taken out of the space station.
NASA had planned yet another station resupply mission in September, but that flight was put on hold after a large chunk of foam insulation was seen tearing away from Discovery's external fuel tank during its ascent. That means it may be longer than expected before the station gets another shuttle visit. As a result, mission managers extended Discovery's mission by a day so that more goods, ranging from water to laptop computers and a printer, could be left on the station.
Bill Gerstenmaier, the station's program manager, said the extra supplies — plus a Russian cargo shipment scheduled in September — should leave the orbital outpost "in very good shape through the end of the year."
In addition to the transfer activities, three spacewalks are on the agenda. During the first, conducted on Saturday, astronauts tested experimental techniques to repair cracks in the shuttle's tiles or reinforced wing panels. The spacewalk to replace the broken gyroscope is to take place Monday, and the third outing is devoted to installing a cargo platform on the station's exterior. That agenda would have to change if NASA sends the spacewalkers to work on the protruding gap fillers.
Surprised by foam problem
During a series of TV interviews on Sunday, Discovery's astronauts said once again they were surprised to learn that the fuel tank had lost so much foam insulation.
"The biggest emotion was one of disappointment, that all of that work that had been done to make sure that foam would not come off had failed to address one critical area where foam was liberated, and it was a great surprise," astronaut Andrew Thomas said on "Meet the Press."
"We didn't feel it was a threat to us from a point of view of our return home and our entry.  It didn't strike us, but nonetheless we're very, very troubled and very disappointed that such a thing could happen," he said.
NASA's Griffin told NBC that he was surprised as well. "Certainly we were lucky" that the pillow-sized piece of foam from an area called the protuberance air load ramp, or PAL ramp, did not strike the shuttle orbiter, he said.
Before Discovery's flight, engineers had conducted aerodynamic and non-invasive tests focusing on that area of the fuel tank, but decided the best course was to leave the PAL ramp as is. "We goofed on that one," Griffin said.
The space agency will hold off on future shuttle flights until the problem is fully understood and addressed, Griffin said. "We have convened what I've called a tiger team of exceptional engineers within the agency to begin looking at ... what did we miss?  Why did we miss it?" he said.
Thomas questioned whether the decision to leave the PAL ramp alone was motivated by cost pressures or schedule pressures rather than strictly technical factors, but Griffin said he was sure it looked like a "reasonable engineering decision" at the time.
"That decision in retrospect was clearly wrong," Griffin said. "But I am certain it was not made out of schedule or cost pressure justification."
This report includes information from The Associated Press and MSNBC.