/ Source: msnbc.com news services
Grief-stricken supporters of a former Sudanese rebel leader tore through the capital in riots that left 36 people dead Monday, smashing cars and shops and angrily blaming the government for their hero's death in a helicopter crash.
Despite doubts among the rioters, the southern rebel movement dismissed talk of a plot against Vice President John Garang and sought to keep alive the fragile north-south peace deal he championed for Sudan.
As the country reacted to Garang's death, southern Sudanese leaders moved swiftly to fill the vacuum left by his passing, choosing a close ally to succeed him, and announcing five days of mourning starting Tuesday.
Sudanese leaders appealed for calm and said the nation's peace process would remain on track. But some southern Sudanese said they were suspicious about the circumstances of the death of Garang, who was a key figure in a fledgling peace deal between the predominantly Arab Muslim government and the Christian south.
Anti-riot police were deployed to several areas of Sudan's capital, Khartoum, where crowds were pelting passers-by with stones and smashing car windows. At least 10 private and government-owned cars were set on fire. About 300 were injured in the riots. No information was available on how many of those killed were security forces and protesters.
Deputy named to vacant post
Garang's Sudan People's Liberation Movement (SPLM) stressed that the crash was an accident, not foul play, and quickly named Garang's longtime deputy, Salva Kiir Mayardit, as new leader of the movement, and said it expected him to be sworn in, in two weeks, as Sudan's first vice president.
"We definitely wanted to make the situation clear, we wanted no vacuum," senior SPLM official Pagan Amun said in the organization's southern administrative base New Site, a sprawling compound with some unfinished buildings.
"We had to act swiftly and provide leadership," he said.
Bush, Rice react
"The United States is determined to maintain our commitment to the peace process in Sudan," President Bush said, hailing Garang as a "visionary leader and peacemaker."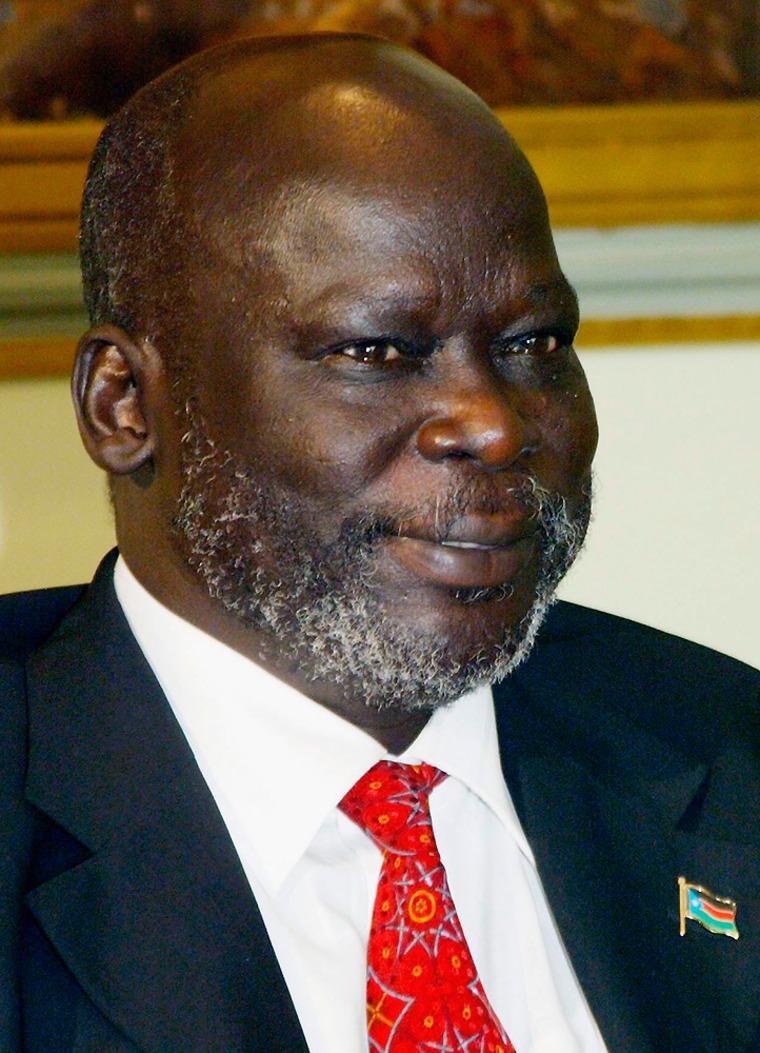 Two senior State Department officials were heading for Sudan on Monday to tell leaders in Khartoum and southern Sudan that the death of Garang should not be allowed to slow the momentum toward a comprehensive peace.
"We certainly are looking for and hope to see an orderly and peaceful succession to the new first vice president," said department press officer Tom Casey.
Secretary of State Condoleezza Rice, who met with Garang in Sudan just 10 days ago, called the former rebel leader "a man of great intellect and energy, and he applied those qualities to achieving a just peace for the people of Sudan."
She credited him with helping to end the 22-year Sudanese war and offering the hope of democracy and a unified country.
Casey said he expects a high-level delegation will represent the United States at the funeral.
Violence in the south
The U.S. Embassy in Khartoum said there were reports of violence in south Sudan and issued a reminder of its warnings to Americans to avoid non-essential travel to the country. There were no details on the southern violence.
The violence and widespread grief surrounding Garang's death forced most in the capital to lock themselves inside their homes. Shop owners shuttered their stores.
"Murderers! Murderers!" yelled some southern Sudanese protesters who alleged the Sudanese government, which had battled Garang's rebel force for two decades before this year's peace deals, may have been behind the crash.
Garang aides react, huddle
"We lost Garang at a time when we needed him the most, but we think that we have made great strides toward peace and we believe that that peace process should continue," said Garang aide Nihal Deng during an emergency Cabinet meeting.
Kiir said he called for the Sudan People's Liberation Movement's top decision-making body to assemble for an emergency meeting. The SPLM became part of the national unity government on July 9, when Garang became vice president.
He was working with Sudanese President Omar el-Bashir and the second vice president to form a Cabinet by Aug. 9.
"Losing the brother, the doctor, is a huge loss. He is a true peace partner and he has played a big role," el-Bashir said.
"We are confident that the peace agreement will proceed as it was planned and drawn up and that the future of Sudan will remain a trust in our hearts and the hearts of the brothers in the movement (SPLM)," he said in a televised statement.
Garang died when the helicopter he was flying in crashed into a mountain in southern Sudan in bad weather, killing him and the other 13 people on board, Sudan's government said Monday.
Ugandan officials said Garang and the others were flying in one of Ugandan President Yoweri Museveni's personal helicopters.
In neighboring Kenya, groups of southern Sudanese men huddled to discuss Garang's death. Nairobi has been the base for Garang's movement, and is home to thousands of southern Sudanese.
One Sudanese man in Nairobi, Atem Maper, 30, said that younger southern Sudanese were suspicious of how Garang died. "People are worried that the war will continue," Maper said. "They didn't understand the way he died. We are going to see."
Crash over his own area
But the chief mediator during Sudan's peace negotiations, Kenyan retired general Lazaro Sumbeiywo, said he was sure there was no foul play in Garang's death because he flew over an area he controlled.
"I totally disregard that (foul play theory) completely because the area he was flying into was an area he controlled," Sumbeiywo said.
Garang's movement and the government vowed to move ahead with the peace process. But the charismatic leader's death strikes a blow to the January peace deal that ended a 21-year civil war between the mostly Muslim north and the Christian and animist south, in which some 2 million people died.
Asked if there were doubts over the cause of the crash, Garang spokesman Yasser Arman told The Associated Press that the group was awaiting an "intensive investigation to determine the cause."
Gave southern Sudanese weight with Khartoum
Garang, who earned a doctorate from Iowa State University, was seen as the sole figure with the weight to give southern Sudanese a role in the Khartoum government, which they deeply mistrust. He also was a strong voice against outright secession by the south, calling instead for autonomy and power-sharing.
Sudanese have celebrated the power-sharing agreement — and a new constitution signed afterward — as opening a new chapter of peace and as a chance to resolve other bloody conflicts in Sudan, including the humanitarian crisis in the western region of Darfur. Garang was also seen as a great hope for peace in Darfur.
"The (Sudanese) president has appealed to the people to be calm, expressing that although the loss is great but the peace process will continue because peace has now become the property of the Sudanese people and peace-loving people around the world," the Sudanese statement said.
Key to power-sharing deal
Garang, 60, was sworn in as vice president on July 9 — second only to el-Bashir, his longtime enemy. He and el-Bashir were to work on setting up a power-sharing government and on elevating Garang's rebel troops to an equal status with the Sudanese military.
There is no other leader of Garang's stature in the former rebel movement, the Sudan People's Liberation Army, which he founded and dominated for 21 years. His arrival in Khartoum on July 8 to take the vice president's post brought millions of southerners and northerners to the streets in celebration.
The flight's disappearance brought up the specter of the 1994 downing of the airplane of Rwandan President Juvenal Habyarimana, who had been trying to implement a power-sharing deal between his fellow Hutus and the rival Tutsis. His death opened the doors to the Rwandan genocide in which more than 500,000 people were killed.
That genocide took place after months of preparation by Hutu militants — something that has not taken place in Sudan amid the good feelings over the peace deal.
Opposed Muslim government
For more than two decades, Garang dominated the scene in the south, using what critics and admirers alike called his ability "to juggle a stone and an egg." He held together his often fractious Sudan People's Liberation Army through force of personality, and wheeling and dealing among the south's multiple tribes. His critics accused him of wielding dictatorial control over the rebel movement.
His rebels' "human rights record is poor because of the lack of accountability," Jemera Rone of Human Rights Watch once said. "That has led to a lot of abuses that have never been punished, including summary executions, disappearances, prolonged arbitrary detentions, corrupt transactions and the taking of food from civilians."
Garang, in a 2003 interview with The AP, dismissed such allegations.
"A movement that has lasted 20 years will have its critics," he said. "Which leader never gets criticized? ... Our (human rights) record is available for scrutiny by history."
Garang insisted throughout that his goal was not to break the south away from Sudan but to create a secular state where southerners' rights were respected. Successive Khartoum governments sought to impose Islamic law in Sudan.
"Did you ever see a government pray?" Garang would often ask his troops, sparking rounds of laughter. "A government never goes to church and it never goes to mosque."