/ Source: Caribbean Travel and Life
Balmy nostalgia, with a lightning flash of dread. That's my emotional weather report from aboard the taxi boat as we slowly motor into the pier at Soufrière, the old-fashioned fishing village on St. Lucia's lower west side.
The nostalgia comes from my fondness for this neighborhood, a lasting souvenir of a brief visit nearly a decade ago. I've been privileged to visit many of the world's garden spots, but nowhere have I encountered such a ripe concatenation of spectacular ingredients for nature travel. This is a place where you can really feel the pulse of the planet as a living, breathing, astonishingly diverse organism: an opulent reef meets a florid rain forest meets a simmering volcano meets a pair of Pitons — those famous, freakish sharktooth mountain spires that shoot 2,500 feet above sea level (and another thousand below). 
I'm also nostalgic for a mostly imagined old Caribbean, before the days when people like us could easily get here in a day from Philadelphia or Atlanta or London. Soufrière represents that era, as the most significant of a string of coastal bay towns whose French Creole provenance endures despite Napoleon's surrender of the island to Britain and the depredations of time and weather on fragile Victorian-era wooden architecture. (The reef and the Pitons are well-protected, but these villages ache for preservation.) Cocoa and palm plantations in various stages of working order, and the evocative stone ruins of mills and battlements found on them, sketch a portrait of life as lived in that bygone age.
I recall, too, Soufrière's gracious hospitality scene, anchored by a few boutique hotels that know how to broker your relationship to all this — mainly by settling you in consummate comfort and waking you with birdsong and the jaw-dropping spectacle of the Pitons being gradually revealed as morning sunlight unfurls around them.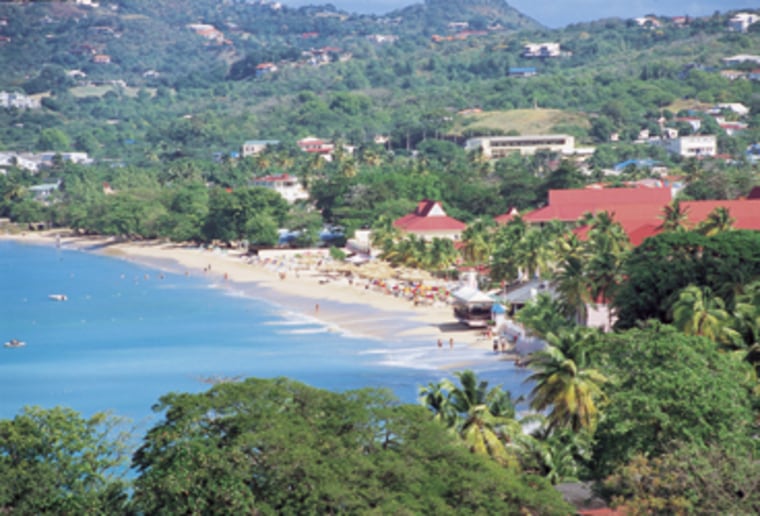 The flash of dread I suffer on the way in comes from a concern that since I'd last visited, this delicate balance of nature, history, culture and hospitality might have been spoiled, perhaps by an act of God or the introduction of something like an all-intrusive hotel-casino or an oversized pier with duty-free shopping malls. Stuff happens, even to our favorite places. But before the boat docks, it's plain to see that though the bay's profile has been altered some by both God and man, the scene, quickly scanned as a panoramic whole, retains its essential proportions.
So I experience a flush of relief, tinged with eagerness: Now I get to spend a few days exploring this remarkable precinct once again, and give my nostalgia-fogged recollections an up-to-date reality check.
From chic to rustic, expensive to affordable, tourists looking for some sun and sand can find what they're looking for in the Caribbean.
Begin with lunch at Bang, a seaside restaurant named for its location smack between the lava domes Gros Piton and Petit Piton. It's roughly at the heart of the Pitons Management Area, which last year was added to UNESCO's World Heritage List on account of its rare volcanic topography. Our host is the legendary Colin Tennant, aka Lord Glenconner, aka The Man Who Bought Mustique, an island he personally developed from the ground up into a getaway for the ultrafabulous. Along the way, Mr. Tennant (as he is known locally) has cultivated a reputation as an eccentric nonpareil. He appears dressed the part of the pancolonialist, with a three-quarters length muslin tunic that harks back to the Raj topped by a planter's straw hat that shades fragile-looking 79-year-old skin and soft blue eyes.
Tennant relocated here in the late '80s, after things went sour for him on Mustique.
Holding court at a table heavy with jerk chicken and fish and fresh vegetables, he explains that he had retained just enough of the family fortune to purchase this former cocoa and coconut plantation ("the noblest and finest estate in the West Indies," he says), which he is trying to develop into another enclave for the super-rich — the exact same kind of high-maintenance people he claims he was trying to get away from on Mustique.
During the luncheon, Tennant expounds on a host of subjects pertaining to the Caribbean, past and present, and to his own career as a flamboyant player on that stage. After serving a gorgeous Bajan coconut cream pie piled high with meringue, he conducts a tour of one of the four villas he's built so far. It's a six-bedroom palace with a moat of a split-level pool; it rents out for $12,000 a week. But apparently Mr. Tennant is having trouble finding takers for the other 16 homes he plans to build, and he expresses frustration that the "right sort of people" remain unaware that this part of St. Lucia is a pristine, world-class destination.
Bang represents a beachhead for Tennant's Beau Estate development and a venue for his dual passions of collecting and entertaining. The bar-restaurant-dancehall mini-compound is composed of fine traditional Creole gingerbread ("it's fleur in patois," he interjects) buildings he's found and brought here to be rescued from obsolescence; he bemoans the tendency of St. Lucians not to maintain the old wooden structures that are their legacy and laments that new ones are built with less expensive materials. Soufrière, he says, is collapsing, and he's one voice among many expressing horror at the construction in the town center of multi-story mixed-use buildings that are utterly out of scale and destructive of the town's traditional Creole Victorian character.
At the farewell, Tennant apologizes for "rattling on" and wishes me well on my reconnaissance of the area. "There's lots to do. It's undefined," he says. "There's an exoticness."
Compared to more posh, more famous resort hotels like Ladera and Anse Chastanet, which hit you with lots of wow-factor in terms of design and décor, Stonefield Estate Villa Resort is homey. That is, if your home is a cocoa plantation in a tropical paradise and your father a very clever engineer who liked to build airy guest cottages around his 27 acres of flower- and fruit-covered property.  Such was the case for Aly Brown, 33, who took  charge of the family business in recent years, increased the number of cottages to 16 and plans to add eight more this year before calling a halt to expansion.
Nothing against wow-factor, but I like homey. I appreciate the personal touch you get at the nicer owner-operated places. I love it when a host can talk about a childhood spent in the kind of place we all dreamt about in our own. That whole family/roots thing is priceless as far as I'm concerned, so I'm rapt when Brown takes me for a walk on the grounds. His adorable daughter toddles along with us, accompanied by their pets, a lizard-chasing Jack Russell terrier and a verbose macaw.
The foliage alone is worthy of a botanical garden. Food hangs heavy: wild breadfruit, soursops, bananas, mangos, and oranges. We suck on slippery sweet 'n' sour cocoa pods while admiring all the familiar tropical flowering trees: jasmine, jacaranda, oleander, flamboyant and  a new specimen for me, something that Brown calls a thumbersia, a beauty that has lavender leaves with yellow centers.
Brown leads me down a jungly path to some mossy boulders and the rock carvings he discovered in boyhood. "I was walking up from the beach, following this streambed with my sister, brother, aunt and uncle," he says. "I saw the carvings and didn't think anything of them. But later, an anthropologist came out and, sure enough, they are petroglyphs from A.D. 350." Brown says they're the finest specimens on the whole island.
Pointing at the three figures, Brown explains they represent a family unit that not only faces the Pitons, but mirrors them: The father figure is Gros Piton, the mother is Petit Piton, and the child is Petit-Petit Piton, a spur that juts from the flank of mama mountain. The interpretation is that the Arawaks who carved them did so as an act of Piton worship.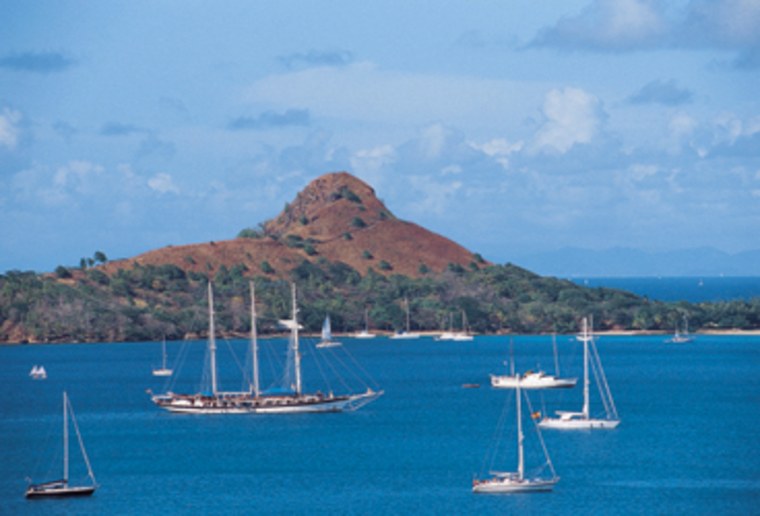 Piton worship is still in style; it is impossible not to pay the mountains a reverent kind of awe-struck attention when you wake up in the morning in a place like Stonefield and step out onto the porch of your cottage: There they loom, massive and impassive. If you happen to be a yoga person, you will reflexively take deep, conscious breaths, root your feet and square your shoulders in Mountain Pose and commence your Sun Salutes. Afterward, you can go jump in the pool by the restaurant, wrap a towel around yourself and order the pan-fried flying fish for breakfast.
A less neo-pagan brand of worship is under way down the hill in Soufrière this morning, which happens to be Sunday. Ladies in pastel dresses and fine hats linger by the doorway to Our Lady of the Assumption Catholic Church at the head of the town square, while the heated exhortations of evangelical preachers blast from more modest structures along the side streets. Down by the waterfront, though, among the men clutching plastic cups of amber liquid, there's a strong sense that Saturday night has spilled effortlessly into Sunday morning.
The road north of Soufrière is all switchbacks and hairpins and, at a certain altitude, is nearly overgrown with humongous ferns creeping down from the rain forest above. On such a road, you never know what lies around the next turn. I pull over at a roadside shed where a Rastafarian family is cooking and selling cassava bread made with cherries, raisins, cinnamon, nuts, coconut and sugar. The cake is savory, sweet and fresh-hot, almost too much to eat, and far superior to any $2 snack one could find on the entire length of the American interstate highway system.
Driving along the coast, you keep being stunned, finding yourself stopped in your tracks again and again as each turn in the twisty road brings you around to face one of the Pitons. It is impossible not to pull over and take another picture.
A few more miles up the road, I roll into Anse la Raye, a village whose current claim to fame is the Friday night fish fest — part food frenzy, part jump-up. Today, it's the scene of the finals of the Creole Cook-Off between six teams of women from various villages who're competing for EC$5,000 (US$2,000) — a dear sum, judging by the intensity of spectator interest. They're being judged not only on their pelau, but also on who offers it with the most authentic costuming and presentation. Their booths are crammed with kitchenware and household bric-a-brac from some indeterminate, pre-modern past. "You can tell how old this mirror is — it's seen many faces," says one of the ladies, investing this simple, everyday object with a world of pride.
The next morning, I make a halfhearted attempt to drive from Soufrière up into the rain forest, but even with a sporty little four-wheeler the road presents tough going. Instead I go for a hike partway up the Spyke Waterfalls and Baths, where I take the waters in a natural pool with plunging falls massaging my shoulders, neck and head. No spa treatment could beat that. My nimble 66-year-old guide sells a deliciously floral local honey with the promise, "honey and rum make you strong," which would seem preposterous were he not such a fit and fine advertisement for the proposition, flexing as he delivers it.
From there, I head south for 20 or 30 minutes along a stretch of new highway toward the next town, Choiseul. I very quickly find myself beyond the reach of the tourist trade and in another environment altogether — a rural area where cattle, with their attendant egrets, graze on grassy slopes that terminate at black sand beaches. Palms clatter overhead as schoolchildren in blue-and-white uniforms goof around by the side of the road at lunch time.
Rambling along and drawing closer and closer to Gros Piton, I finally put two and two together: The book I happen to be reading says that massive bodies (like mountains) actually exert a gravitational pull on smaller bodies (such as ours). It occurs to me that since my fly-in to the island, which passed right by the peaks then circled back around to approach them again in an impossibly scenic holding maneuver, this force has been hard at work. For days now I've been orbiting the Pitons like a moon around a planet, inexorably.
Driving past working plantations with closed gates arouses my curiosity about contemporary plantation life. A partial answer (and lunch) is to be found back out along the main road at Fond Doux Estates, a historic property with hiking trails that lead to relics from the French-British wars and a significant slave revolt; it's now an attraction where nutmeg and cocoa are produced using traditional methods. It's also got one of the loveliest, lushest gardens I've seen anywhere (or at least since the day before, at Stonefield). 
Fond Doux is home to Leighton and Eroline Lamontagne, proprietors of a bustling grocery store in Soufrière. The restoration of Fond Doux over the last 25 years is proof of the Lamontagne family's preservationist mindset, so it is no surprise that once you get Leighton started on the topic of Soufrière's condition — from quality of life issues to architecture and construction, to bayfront management and planning in general — you hear his sadness and outrage.
"Soufrière is the tourism capitol of St. Lucia, and we're destroying it a piece at a time. The next few years will be very interesting," he says portentiously. "We'll see what happens."
The nostalgia trip inevitably brings me back around to the resort hotel where I stayed during my first visit in the mid-1990s, Anse Chastanet. I ease back into the luxuriously large rooms with three walls and the famous views of the Pitons across the bay, enjoying the uncommonly high standard of hospitality — and make a promise to myself to return before another nine years pass so I can check out the over-the-top new wing that's under construction and set to open this year. But even more than the killer setting, architecture and accommodations, what I remember most vividly about the place is the fascinating scuba diving.
There used to be a divemaster here named Victor Antoine, who at the time was a candidate for the Guinness Book of World Records for total number of hours spent underwater, accrued over 27 years of commercial diving and a couple in recreational diving. He took me out to see an unclassified creature called The Thing (or "Da Ting" in Victor's patois-flavored parlance), which lives on the reef in the marine park along the shoreline. It's some sort of eight-foot-long purplish-brown segmented worm with centipede feet and whiskers. Fugly, in a word, but damn interesting to see.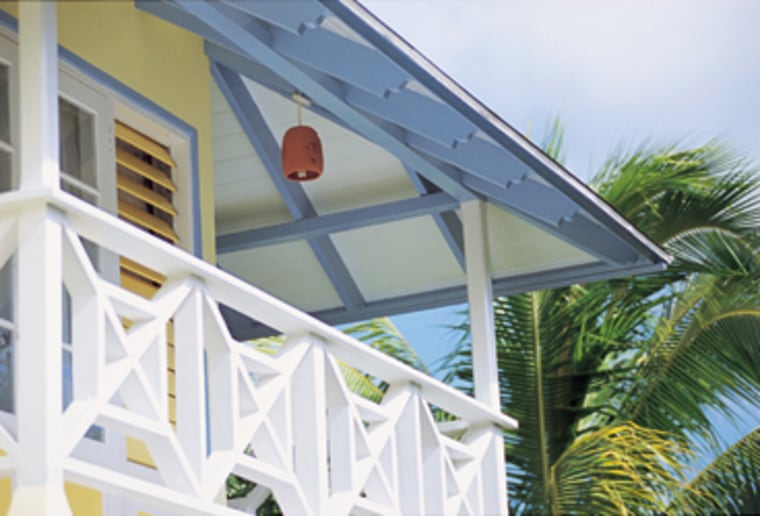 I figure Victor must've retired by now — how much more bottom time can one man stand? — but it's worth a shot.
"Does a man named Victor Antoine still work here?" I inquire at the dive shop.
"Yes he does," comes the reply. "He'll be here tomorrow morning."
Now, a guy like me is always going to remember a guy like him — but vice versa? When he meets dozens of new divers every week, month after month, year after year? Not bloody likely.
Well, not only does Victor recognize me, he recalls details of our dives that have long escaped me: "Do you remember I caught that fish with my hands?"
"Well, now that you mention it ..."
I'm flattered and impressed — that's nine-tenths of the hospitality game right there, making your guests feel special.
We perform some cocktail-napkin calculations and reckon that Victor has racked up somewhere in the ballpark of 26,300 dives in his lifetime, with 6,864 (and counting, at two or three daily) recreational ones. He figures he's spent eight or nine years underwater.
As for Da Ting, still there, still unclassified. "I don't really show it to people very much because they'll trouble it and it will go away," he says.
Victor guides me on a gentle drift dive along the wall that's a submerged part of Petit Piton. With all you hear about bleaching, I'm delighted to report that the reef remains healthy and bursting with as much brilliantly colored life as the gardens and jungles topside — probably lots more. When we come across a couple of golden spotted moray eels, Victor reaches playfully for one, but it snakes away. Maybe he's slowing down now that he's been diving for 38 of his 59 years. Victor plans to hang up his regulator either when he's 60 or when he's notched 40 years of diving — which means that the next time I come to St. Lucia, should the trade winds blow that way, Victor will probably be retired; I'll definitely miss the man and his brilliant smile.
I realize my next dose of nostalgia for southern St. Lucia is starting to set in already, before the old one has even worn off — before I've even left the island.
is the magazine for anyone in search of the perfect tropical getaway. Each issue presents expert insider's advice on where to find the Caribbean's best beaches and attractions, its finest resorts and spas, liveliest beach bars and activities, and its friendliest people.