/ Source: msnbc.com staff and news service reports
A spacewalking astronaut gently pulled two potentially dangerous strips of protruding filler from Discovery's tile belly with his gloved hand Wednesday, successfully completing an unprecedented emergency repair.
Even as they celebrated spacewalker Stephen Robinson's feat, NASA managers weighed whether to attempt yet another repair job, this time involving a ripped and puffed-up thermal blanket just beneath commander Eileen Collins' cockpit window.
Mission managers could add another spacewalk to Discovery's schedule as early as Friday to have the loose section cut away — or they could decide that the blanket poses no hazard for Discovery's return to Earth. To resolve the issue, NASA flew samples of the blanket material from Kennedy Space Center in Florida to Ames Research Center in California for wind-tunnel tests overnight, deputy shuttle program manager Wayne Hale told reporters.
The blanket — a quilted fabric covering pillowlike stuffing — was most likely ripped open by launch debris and puffed up with air. Hale said engineers determined that if the ripped section came apart during re-entry, the biggest piece of debris would weigh less than an ounce. However, even tiny bits would pack "a lot of energy" if they were to hit the shuttle at supersonic speed, he said.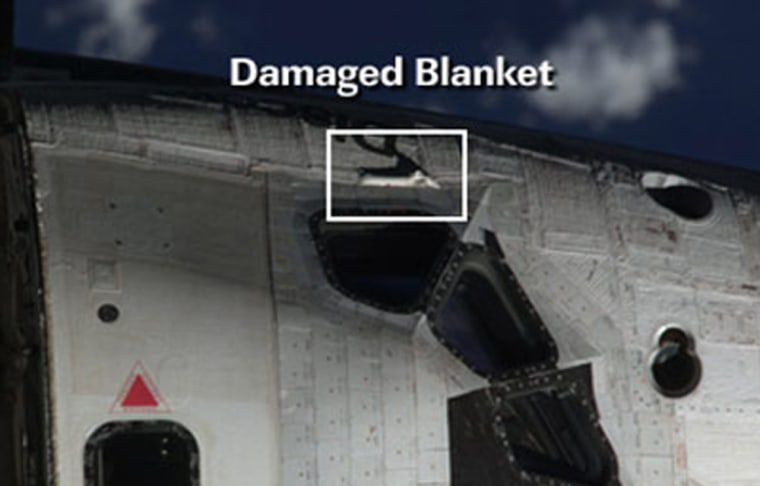 "Worst-case, we could do some structural damage, and that's obviously not something that we want to incur," Hale said. He said a final decision on whether or not to do a spacewalk would come on Thursday.
"That's really the last thing on my to-do list for this flight," said Hale, who heads Discovery's mission management team.
Repeatedly during the course of Discovery's mission, NASA managers have had to countenance safety questions about matters ranging from the shedding of fuel-tank foam insulation to the ripped thermal blanket and the protruding gap fillers. Hale said the increased attention was a result of NASA's improved capability to spot flaws on the shuttle — which was part of the agency's plan to recover from the Columbia disaster in February 2003.
Hale said the heightened safety awareness would be a part of every shuttle flight from now on. "It's not a distraction — it's more like, that's what our job is," Hale told reporters.
Intricately choreographed repair
In the case of the gap fillers, NASA officials said there was a chance that the exposed ceramic-fiber fillers could lead to overheating on the shuttle's tiles or reinforced panels — and a possible repeat of Columbia's disastrous re-entry. They said it was also possible that the protruding gap fillers posed no threat at all, but they decided not to take the risk. So NASA chose to go ahead with an intricately choreographed repair operation.
Discovery's crew flawlessly executed a plan that was drawn up in just four days: Robinson attached a special foot restraint to the space station's 58-foot (18-meter) robotic arm, and fellow astronauts aboard the station maneuvered the arm so that Robinson could reach the shuttle's belly. They were careful to make sure Robinson's helmet and feet did not contact the fragile ship.
It was the first time an astronaut ventured beneath a shuttle.
Robinson took only the essential tools for the repair, leaving a tile repair kit just outside the airlock. He also secured his safety tethers between his legs and behind him to keep from accidentally striking the vehicle.
Once under Discovery's belly, Robinson expected to spend about an hour removing or trimming the fillers from two locations near the shuttle's nose — using a forceps and a makeshift handsaw if necessary. But it took mere seconds for him to pull each strip.
"That came out very easily, probably even less force," Robinson said of the second piece. "I don't see any more gap filler. ... I'm doing my own inspection here. It is a very nice orbital belly."
His spacewalking partner, Soichi Noguchi, watched from 75 feet (23 meters) away, from a perch on the space station.
"Steve, we trained for four years; you're going to spend the next four years signing autographs," Noguchi told Robinson once the repairs were complete.
Stunning images
Those who watched from space and on the ground were fascinated by the never-before seen views.
"Steve, could you move your hand out of the field of view," astronaut Andrew Thomas radioed Robinson, who had a camera attached to his helmet. "We were enjoying the view as much as you were."
NASA thought the first gap filler was the trickier of the two. They believed it remained glued to a shim that was bonded to a thermal tile.
There are 24,300 glass-coated tiles on the shuttle, a majority of them on its belly. The tiles protect the shuttle from the extreme temperatures in orbit and, more importantly, insulate the ship during launch and re-entry.
The filler material protects the tiles from bumping against one another during launch, but isn't needed for landing because of the difference in the airflow.
One last picture
Once the work was complete, Thomas asked the spacewalkers to return to the shuttle and cut short the expected 7-hour orbital outing. He said it had been a long day.
Robinson, however, urged Mission Control to let him take a picture from beneath the shuttle before the station's arm brought him back up.
"You guys are going to be happy I had a camera," Robinson said. "It is so beautiful to see the orbiter against the Earth at these angles."
An astronaut in Mission Control told Robinson the photo sounded nice.
"I think the team down here would like an autographed copy when you get back," Michael Massimino radioed from the Houston control center. "You guys did a great job. Congratulations."
Robinson chipped in with his own compliments: "That was the ride of the century," he told astronaut James Kelly, who operated the station's arm during the filler repair. "Very nice job."
Stowage platform installed
Before Robinson began the filler repair Wednesday, he and Noguchi spent about two hours installing an external tool and parts platform on the international space station, where Discovery has been docked since last Thursday.
The platform's installation had been considered the key task of the mission's third spacewalk until NASA officials determined the exposed fillers could threaten Discovery's re-entry.
The main aims of Discovery's 13-day mission are to resupply the space station, bring back tons of old equipment and trash from orbit, and test the safety procedures developed since the Columbia tragedy.
Columbia broke apart over Texas in 2003 as its crew returned to Earth from a 16-day mission. The disaster was blamed on a chunk of foam that fell from the external tank during liftoff and tore a hole in one of spacecraft's wings. All seven astronauts died. Discovery, set to land Monday, was the first shuttle to return to orbit since the tragedy.
During Discovery's ascent, cameras recorded yet another significant loss of foam from an area of the fuel tank that was not redesigned after the Columbia disaster. As a result, NASA put a hold on future shuttle flights until it fixes the problems encountered with the foam and the gap fillers.
This report includes information from The Associated Press and MSNBC.com.