/ Source: The Associated Press
The front-line fighter jet of the Navy and Marines has suffered a series of recent accidents blamed on brake failure, exposing a problem that has spurred urgent warnings from commanders, military documents obtained by The Associated Press show.
Brake problems affecting the F/A-18 Hornet pose "a severe hazard to Naval aviation" that could kill pilots and ruin valuable aircraft, a Navy air wing commander wrote last year after one of his jets roared off a runway and splashed into San Diego Bay, destroying the $30 million plane.
Many of the brake failures have been traced to a $535 electrical cable — about as thin as a drinking straw — that controls the jet's antiskid brakes, the equivalent of antilock brakes on a passenger car. Investigators say the cable can chafe or break, since it runs close to where heavy tie-down chains secure the jets to a carrier deck.
In the San Diego crash, Navy investigators cited "a trend of similar, if not identical, emergencies" that date to 1990 but went unnoticed until a series of failures last year, according to records the AP obtained under the Freedom of Information Act.
Close calls
One Navy pilot aborted a landing last fall when his brakes failed after a combat mission over Iraq. He took off again, circled the runway in Kuwait for a second landing attempt, then lowered his tailhook and caught the emergency arresting cable on the ground. He was not hurt, and there was no damage to the jet.
A month earlier, a Marine commander was seriously injured when he ejected after he lost his brakes landing on a short runway at Marine Corps headquarters in Quantico, Va. Other failures have occurred as recently as February.
Making matters worse, some pilots did not know the proper procedures for brake emergencies and took actions that contributed to crashes, the records show.
The Navy ordered fleetwide inspections last fall and is continuing to investigate whether it needs to redesign the Hornet's brakes, as some commanders have urged. "This matter is by no means closed," said Navy spokesman James Darcy.
The maker of the jet, Boeing Co., deferred comment to the Navy.
Mainstay of Navy, Marine aviation
The U.S. military owns 561 Hornets, including those flown by the elite Blue Angels aerobatics team. Collectively, they represent a mainstay of Navy and Marine aviation, operating from both aircraft carriers and runways. They drop bombs and dogfight, and flew more than 50,000 sorties during the height of fighting in Iraq and Afghanistan.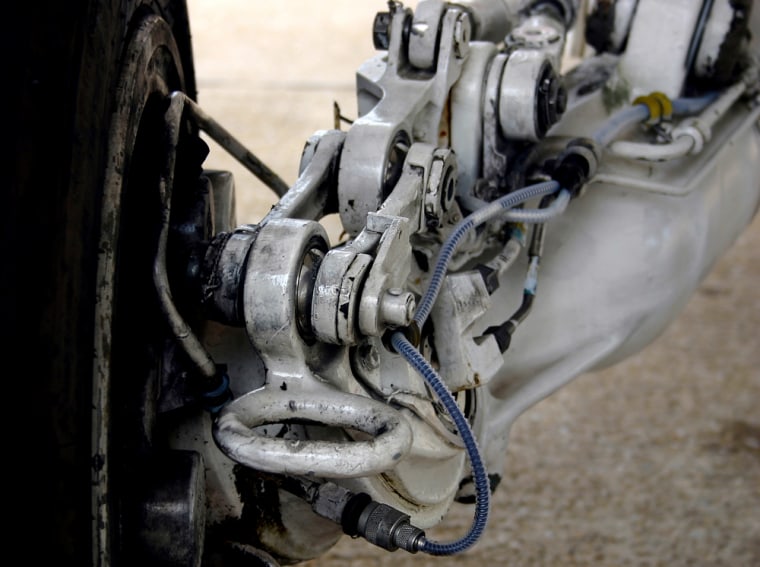 Investigators have concluded that cockpit procedures were confusing for Hornet pilots landing with brake failures.
Lt. Jason Walker, low on fuel, was landing in San Diego at night after two unsuccessful landing attempts aboard the USS Abraham Lincoln. The jet's brakes failed one second after touchdown, and, among other problems, Walker couldn't find the cockpit controls to engage emergency backup brakes. He ejected as the jet sped off the runway and into the bay at 60 mph. The Navy determined Walker shouldn't be disciplined.
"He stood on the brakes as much as possible, but the aircraft was still not slowing," investigators wrote, concluding his brake cable severed.
The Navy last fall ordered fleetwide inspections of brake components, instructed mechanics to immediately replace any cables they previously had repaired and reminded pilots about procedures to help land safely even when antiskid brakes fail.
Continued failures
But fresh problems have surfaced.
At AP's request, the Naval Safety Center in Norfolk, Va., located about two dozen formal reports describing failures of the Hornet's antiskid brakes since 1990.
The incidents caused the loss of one jet, damage of at least $1 million to another, damage of up to $200,000 on three additional jets, one serious injury and one other overnight hospital stay.
Officials acknowledge that their tally of formal reports probably understates the number of brake failures. One report filed in January referred to 14 Hornet brake failures and tire blowouts in a single squadron during 2004 alone.
"This trend of brake failures and blown tires cannot be ignored," Marine Col. Earl S. Wederbrook wrote to senior Navy and Marine officials after one of his jets spun backward on a runway from a blown tire in California. "Short of an aircraft system fix ... the pilot is the only control measure that can mitigate this hazard."
The Navy told the AP the antiskid brakes are safe and reliable and that pilots should be able to land safely despite problems if they follow proper emergency procedures. It also said the sporadic brake failures must be viewed in light of the jets' roughly 6 million landings since the 1980s.
"There has never been a landing mishap to date where procedures were followed correctly," Capt. Jeffrey Penfield, a Navy pilot for 17 years who is deputy program manager for F/A-18 system development in Patuxent River, Md.
Is redesign needed?
The Navy also told the AP that based on its investigation so far, redesigning the brake system is unwarranted and would require lengthy and costly new safety reviews.
"It's been highly reliable," said Capt. Tom Huff, the executive officer at the Navy's Test Pilot School. "We don't want to venture too far from what we know works. We just know that wire is vulnerable in that location, and we've done some engineering changes to preclude damage to that wire."
Some commanders urged the Navy to do more.
"Ultimately, the wiring harness needs to be protected or redesigned," Cmdr. John R. "J.D." Dixon wrote to senior Navy officials after brakes failed in February on a Hornet speeding 115 mph down a runway at Lemoore Naval Air Station in California's San Joaquin Valley.
The jet blew two tires when the pilot activated emergency backup brakes. The incident happened months after the Navy's new mandatory inspections and training, and mechanics traced the problem to the same brake cable. The same problem was discovered later on another jet in the same squadron.
Confusing procedures
After last year's accident in San Diego, Naval air-wing commander M.C. Geron also wrote to the chief of naval operations to urge the service to improve the brake system. Failure to fix the problem "could lead to loss of use of the antiskid system, loss of normal brakes and potential loss of aircraft and life," Geron warned.
Pilots landing on shore are instructed to turn on the antiskid brakes, but pilots leave them switched off for carrier landings.
Investigators in the San Diego and Quantico accidents determined pilots didn't follow procedures when the brake system failed. Investigators and documents also said the Navy's instructions and computerized simulators do not train pilots adequately for brake hazards.
"The brake problem and loss-of-directional-control-on-ground emergency procedures are confusing," wrote investigators in the San Diego accident.
Days after the crash in San Diego harbor, the Navy used a heavy crane to hoist the destroyed jet out of the sea. The call sign "Lucky" was stenciled outside Walker's waterlogged cockpit.