/ Source: The Associated Press
Discovery astronauts gave their spacecraft a final inspection on Sunday and said they were confident of a safe return to Earth on the first shuttle flight since the 2003 Columbia disaster.
They checked out flight control systems and used a laptop computer to practice landings before Monday's touchdown in Florida.
"Discovery is in absolutely great shape," shuttle commander Eileen Collins said in a media interview from space. "I'm pretty confident about the entry (into the atmosphere) and I'm thinking about the landing.
"I have had a lot of thoughts about Columbia and I will have thoughts after the landing, but we're all going to be very focused tomorrow on the job at hand," she said.
After 13 days in orbit, Discovery was scheduled to land at Kennedy Space Center on Florida's east coast at 4:47 a.m. on Monday.
Weather forecasts indicated favorable conditions for landing, NASA flight commentator James Hartsfield said. If problems arose, Discovery could be waved off to an alternate landing site in California or New Mexico on Tuesday.
Long trip home
Discovery and its crew of seven set off for home Saturday after leaving the international space station.
The two space station residents wished the Discovery crew a safe landing.
"It has really been a pleasure and, no, we are not glad to see you go. We would love to have you stay a little longer," said station astronaut John Phillips. "Have a good flight."
Shuttle commander Eileen Collins stressed it was not "a final farewell," because she planned on seeing the two station men back on Earth once their expedition ends in two more months.
Once undocked, Discovery looped around the space station for the first full photographic survey of the orbiting outpost since the last shuttle visit in late 2002, and then sped away into the blackness.
The departing astronauts reported they may have seen a piece of debris fly off the space station, but Mission Control assured them it was just a camera reflection.
Flight controllers, at least those who briefly ducked outdoors, got a triple treat. The Hubble Space Telescope soared over Houston before sunrise, followed by Discovery and then the space station, all three appearing as bright stars.
"We are going to be pretty darn happy to get to wheels stop and see this good crew step off Discovery," flight director Paul Hill said following the undocking.
Discovery spent nine days at the station, one more than planned because of the uncertainty over the timing of the next shuttle visit, so the astronauts could leave behind surplus food, laptop computers and other supplies.
NASA has suspended all future shuttle flights until engineers figure out why a 1-pound chunk of foam insulation ripped off Discovery's external fuel tank shortly after liftoff on July 26 — and fix the problem. The foam, which could have caused Columbia-type damage, missed the shuttle.
It was by far the biggest piece of foam that fell off, but at least three other pieces came loose that exceeded NASA's safety limits. The space agency wants to understand the circumstances behind each of the four lost pieces before launching another shuttle.
Mission managers also want answers for the two pieces of thermal-tile filler that came loose on Discovery's belly and had to be removed by a spacewalking astronaut, and the torn thermal blanket under a cockpit window. The chance of the blanket coming loose during re-entry and striking the shuttle is remote, engineers concluded, so it was left alone.
Deputy shuttle program manager Wayne Hale said the so-called anomaly list for the 13-day flight had 47 items "that people have thought about, worried about."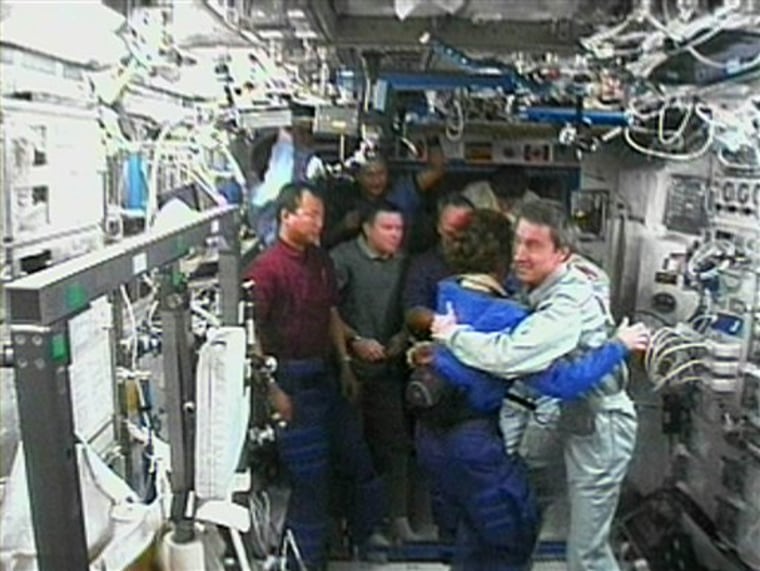 At Saturday's mission management team meeting, "We went through the entire list ... and agreed that none of the issues pose a landing concern that we have not already addressed and worked through, and so we are good for landing on space shuttle Discovery."
Unlike Columbia's tragic cross-country descent on Feb. 1, 2003, which ended with more than 85,000 pounds of wreckage raining onto Texas and Louisiana, Discovery will bypass most of the United States on landing day. The spacecraft will approach Florida from the southwest, flying over Nicaragua, Cuba, the western fringes of the Everglades and Lake Okeechobee, and on into Cape Canaveral.
Hale said there was no need to alter Discovery's flight path for Florida because it already poses low risk to populated areas, in the event of another shuttle breakup. The weather forecast looks favorable for Cape Canaveral, but if bad weather there forces Discovery to go to the backup landing site in California on Tuesday, then NASA will adjust the shuttle's course to avoid a flyover of Los Angeles, he said.
Factoring public safety into shuttle re-entries is a new topic for NASA, and a direct result of the Columbia disaster.