/ Source: The Associated Press
Police detained four men in connection with one of the world's biggest heists and recovered more than $2 million of the $70 million stolen from Brazil's Central Bank, officials said Friday.
The recovered cash was found hidden in three pickup trucks that were on a vehicle transporter truck located several hundred miles from the ransacked Central Bank vault in the northeastern city of Fortaleza.
Authorities said two men in the transporter and two others who own a car dealership have been placed under temporary arrest, allowing them to be held for 10 days without being charged.
Federal police spokeswoman Sabrina Albuquerque told The Associated Press that investigators have discovered that the dealership received cash for several vehicles.
When police intercepted the transporter near the southeastern city of Belo Horizonte, 1,180 miles from Fortaleza, it was carrying 11 vehicles. She said a tip prompted police to stop the truck.
'We think more cash will be found'
A search that followed uncovered about $2 million stashed inside the seats, bodywork and spare tires of the pickups.
"We still have to inspect eight cars on the transporter and we think more cash will be found," she added.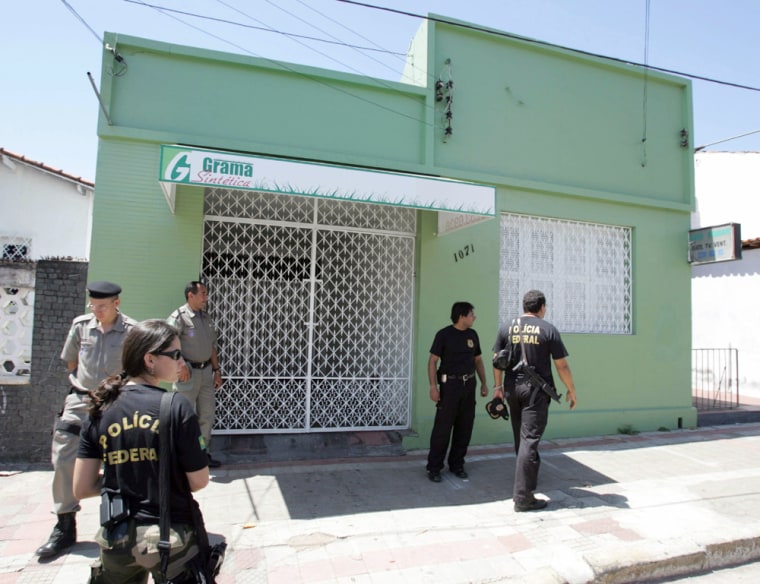 Police said the robbery occurred sometime last weekend when the bank was closed. They said about 10 men spent three months digging a tunnel — about 260 feet long and 28 inches high — from a house they had rented to the bank's vault.
The money stolen was Brazil's currency the real and was equivalent of $70 million. The money found so far was in stacks of 50 real notes and tied with Central Bank wrappers, Albuquerque said.
Authorities have said they are looking into the possibility the heist was pulled off by the First Capital Command, one of Brazil's most notorious organized crime groups.
While the amount taken surpassed the $65 million stolen in 1987 from the Knightbridge Safe Deposit Center in London, once recognized by experts as the planet's biggest robbery, it was dwarfed by the theft of $900 million in U.S. bills plus as much as $100 million worth of euros from the Iraq Central Bank in 2003.