/ Source: The Associated Press
The cabbie who picked up the couple suspected in a deadly courthouse escape in Tennessee said Thursday he did not buy their story that they needed to get to Ohio for an Amway convention.
A tip from cabdriver Mike Wagers led police to George and Jennifer Hyatte, who were arrested without a struggle Wednesday night at a budget motel in Columbus, Ohio, authorities said.
Wagers said the pair told him they were headed to an Amway convention and that he became suspicious because they didn't act like Amway representatives.
"Amway people are all about Amway, and when they didn't try any conversation further about it, that's when I pretty much thought, 'Well, they're not with Amway; they're doing something else.'"
But, he told reporters, "they gave me no cause for suspicion other than the Amway thing didn't really stick."
Wagers said he drove the Hyattes about 115 miles from Erlanger, Ky., to Columbus, and dropped them off at a budget motel. The fare was $185 and the couple handed him two $100 bills at the start of the trip, he said.
'Little bit light on the tip'
"In the cab business, technically that might've been a little bit light on the tip but when you're getting a $185 cash trip, when they only throw in another $15, you're not going to think anything bad. You're going to say you appreciate it and you're going to go on your way," Wagers said.
Jennifer Hyatte is accused of ambushing two prison guards Tuesday as they were leading her husband — a convicted robber — from a hearing in Kingston, Tenn., fatally shooting one before the couple sped away, authorities said.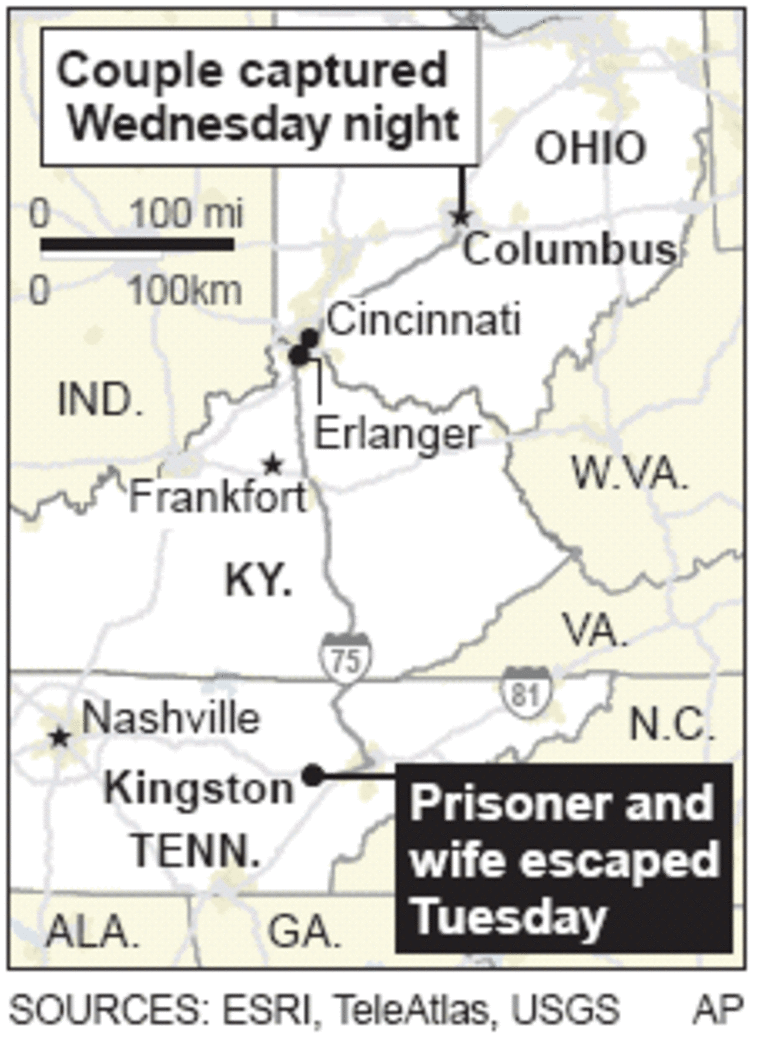 Wagers said he did not realize during the trip that Jennifer Hyatte had been shot in the leg by one of the guards.
He said she favored one side when she got out of the cab, and told him she had hurt herself in a car accident in northern Kentucky. She had colored her hair black from light brown.
Motel manager Kundan Desai said Wagers checked the couple in around lunchtime, paying cash for a three-night stay in a room that runs $52.99 a night.
Connection came later
Wagers said he didn't make the connection with the killing until he returned to Kentucky and a friend told him the fugitive couple's van had been found near where he had picked up his passengers.
"I was at home relaxing, playing video games, when I heard I might be the one," he said.
The Hyattes were arrested at the America's Best Value Inn in Columbus after at least 25 officers surrounded their room, ending a more than 300-mile manhunt, authorities said.
When police finally tracked the couple down at the motel, Deputy U.S. Marshal Nikki Ralston called their second-floor room and told them they were surrounded.
"A female answered the phone," Ralston said. "And I said, 'Hey, Jennifer.' She said, 'Yes,' and I knew it was her."
"I said you need to get George, both of you need to exit the hotel room and follow the directions of the officers who will be to your immediate right," Ralston said.
Witness: Fugitives showed no emotion
Motel guest Robin Penn, who was watching from across the parking lot, said Jennifer Hyatte was limping as she left the room with her hands up.
John Bolen, a supervisor for the U.S. Marshals Service in Columbus, said Jennifer Hyatte was concerned for her husband and asked officers not to hurt him.
"She was hollering in to him, 'Baby, baby, it'll be OK! It'll be OK!'" Bolen said.
George Hyatte then came out with his shirt pulled over his head, walked backward toward the stairwell, got on his knees and was handcuffed, Penn said.
"They really didn't show any emotion at all," Penn said.
Inside the couple's motel room, cans of Mountain Dew and Hawaiian Punch littered the nightstand, and bags of takeout food wrappers were on a desk. One of the two mattresses was pushed halfway off the box spring.
Authorities said they also recovered weapons.
Both suspects now in jail
George Hyatte was taken to the Franklin County jail, said John Bolen, a supervisor for the U.S. Marshals Service in Columbus. Jennifer Hyatte was treated for the bullet wound to the leg, then taken to the jail early Thursday, police said.
The couple was expected to be brought back to Tennessee on warrants for first-degree murder in the death of Wayne "Cotton" Morgan, 56, authorities said.
Earlier Wednesday, outside a motel in Erlanger, authorities had tracked down a van the couple was believed to have used. The couple was gone, but authorities knew then that they were getting close.
Blood had been found in the motel room, and an employee at a nearby restaurant told federal agents she had given directions that day to a couple she later recognized as the fugitives.
Escape artist
George Hyatte, 34, had been in court to plead guilty to a robbery charge before the escape Tuesday. He was two years into a 35-year sentence for robbery and assault.
The escape was at least the fifth time he had gotten away from law enforcement officials between 1990 and 2002.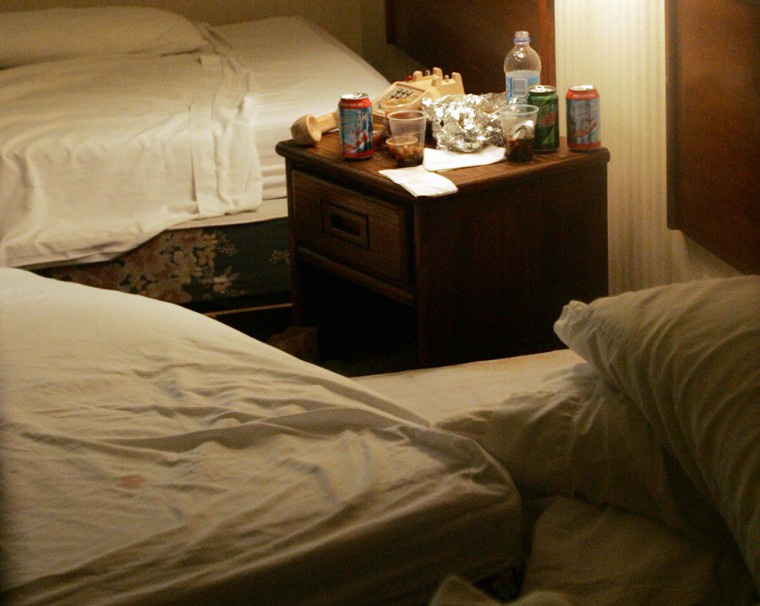 Jennifer Hyatte, 31, met her husband as a prison nurse and was fired last year for sneaking food to him. A few months later, she got permission from the warden to marry Hyatte, who has a long and violent criminal record.
Her ex-husband, Eli Gourdin, told the Deseret Morning News of Salt Lake City that he last spoke with her Monday when she told him she was excited because George was going to be released.
"We don't know George, we can't judge George ...," Gourdin's current wife, Katie, told the paper. "We only know what Jennifer's told us. She's very much in love with him."
Eli Gourdin said Jennifer Hyatte had custody of their three children, the oldest of whom is 12. The children have been staying with him for the summer, he said.